RV Owners
Last updated on June 16th, 2022. Originally published on June 21st, 2021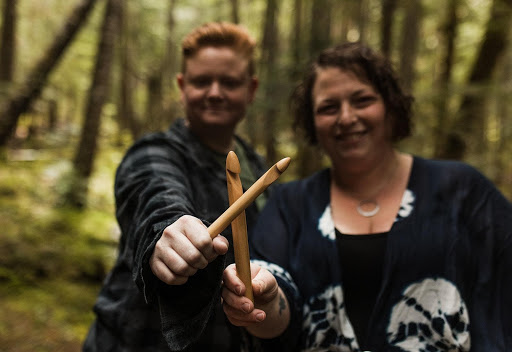 We have a lot of conversations with folks who are curious about how we make fifth wheel living work for a couple like us. After all, we are nowhere near retirement! We also get a lot of questions from people who are downsizing and transitioning to a life on the road. We love to support people in choosing the full-time RV lifestyle because it can be scary and overwhelming to make the shift to a home on wheels. There are so many wonderful resources available, and also so many different ways to make this life work for a variety of lifestyles.
Our first RV was a class A and we really didn't have any support around surviving the beginning of our journey on the road. We hadn't yet discovered social media and we didn't know anybody else who lived and traveled in a recreational vehicle. We had watched countless YouTube videos, read blog articles, and gone to several RV dealerships, but none of that compares to what RV Life is really like.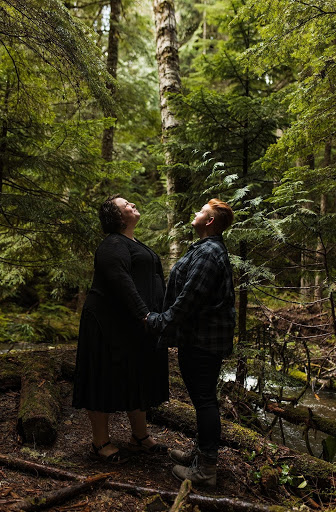 It's been 3 years since we started RV living and we can now say that we are two proud women capable of handling most of the complications that come along with this way of life! RV living has also made us more adaptable, handy, and confident in our abilities to face any challenges that come our way. As more and more young people and families are making the shift to a travel lifestyle, we find that we are getting this question a lot:
How do you make your BIG dreams work in a SMALL space?
These folks are not at a retiring age, and neither are we. We still hold dreams of new careers and businesses. Some people look forward to a growing family. And others are just used to the luxury of living in a larger space, with an abundance of personal effects around them. Some of the most common questions are:
Where do you put all of your stuff?
Where will my children sleep?
I can't do my job in an RV!
I have way too many shoes to live in an RV!
Don't you get on each other's nerves?!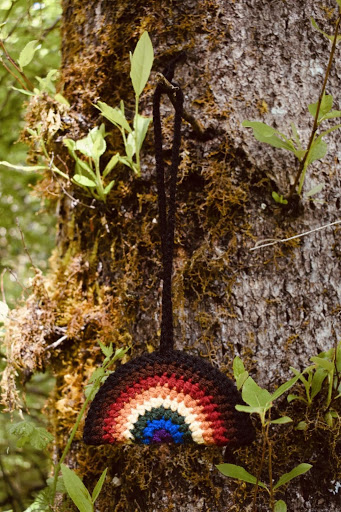 These are valid questions and concerns, especially because as a culture we have become so conditioned that bigger is better. But you don't need to cut your dreams in half just because you've cut your living space in half! There are many examples of full-time RVers, vanlifers, and travelers that are making big dreams come true in their small homes on wheels. Functioning in a tiny space is not as easy as day-to-day life in a traditional house, but we have some tips to get you on track.
In less than 500 square feet we are still able to flourish as crochet designers, entrepreneurs, teachers, and students. We cook large meals, host our family and friends, practice yoga, and care for our fur children (two shihtzus).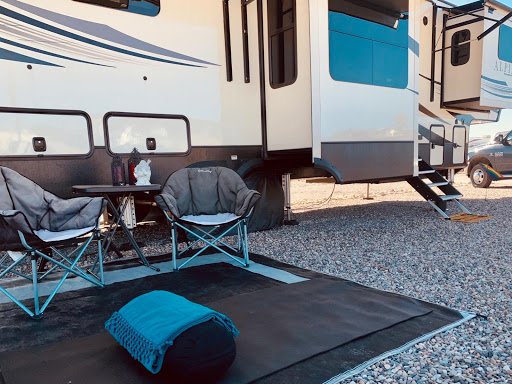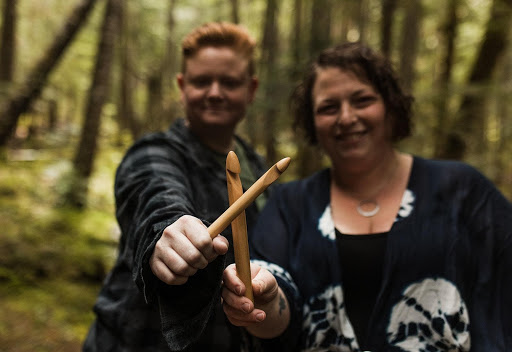 Starting Our Own Small Business
In 2018 we decided that we would try our hand at running a small business together. Allie was spending almost all of her time crocheting gifts for family and friends and Danella had some background in starting up a small business, so we hit the ground running with building up a small inventory of handmade crochet items to sell at local markets and through Etsy. Our small inventory has grown as our business has, and we currently store hundreds of skeins of yarn (all in vacuum-sealed bags) in our exterior storage bays. Since we live in the damp PNW, we keep them dry by using DampRid tubs and small dehumidifiers. We keep them organized by labeling and stacking storage bins of varying sizes in each bay. We can effectively run our small business because we have great storage solutions for different shapes and sizes, and we maximize our outdoor storage areas.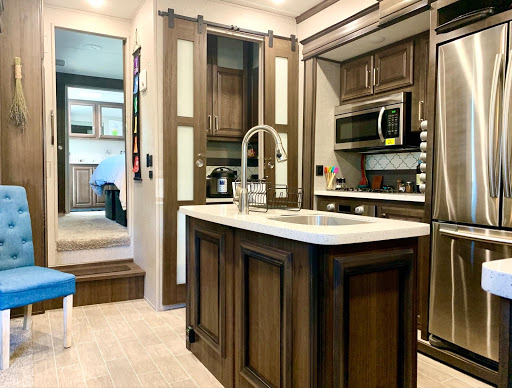 No Kitchen Compromise Here!
While Allie is busy cooking up new crochet patterns to make and sell, Danella has other creations in mind. She's a lover of all things culinary and was initially very worried that she'd have to sacrifice her joy of cooking in order to live and travel in an RV. This couldn't be further from the truth. Danella can whip up homemade bolognese in her cast iron dutch oven, or make soups and stews in her Instant Pot any day of the week. Danella had to get picky about her kitchen appliances when we moved into our RV, but she can ultimately make anything she wants on our three-burner gas stove, or in our toaster/air fryer appliance. Figuring out which meals you make the most will cue you into realizing what is important to take with you on the road. Counter space can be limited in some RV kitchens, but if you're willing to get creative, (for example Danella chops veggies at the dinette table) you can make anything you would make in a sticks and bricks kitchen.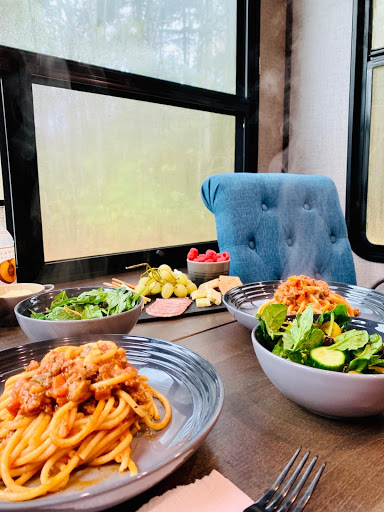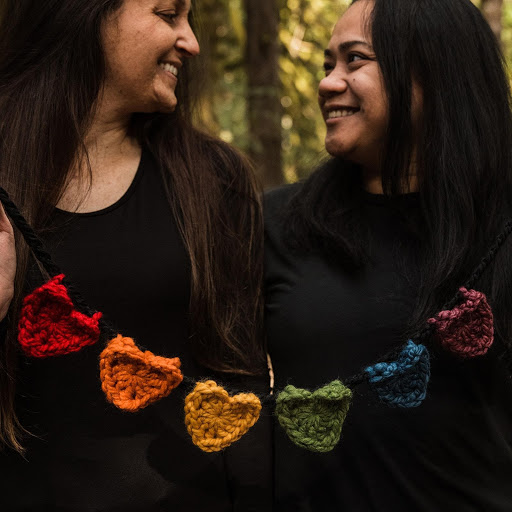 Establishing Two Separate Workspaces
We knew we needed two separate spaces for teaching in our RV. We both teach students via Skype, but our classes are at the same time! We have to have enough separation so that Allie's students don't hear Danella and visa-versa. We solved this by having two teaching spaces at opposite ends of the RV. This means that one of us teaches in the bathroom! We put our laptop desk over the sink and sit right there to teach English online for a few hours each morning. RV Life can mean having to set up and break things down more often to make sure your space doesn't become too cluttered, but it's worth the trade-off of having the freedom to travel.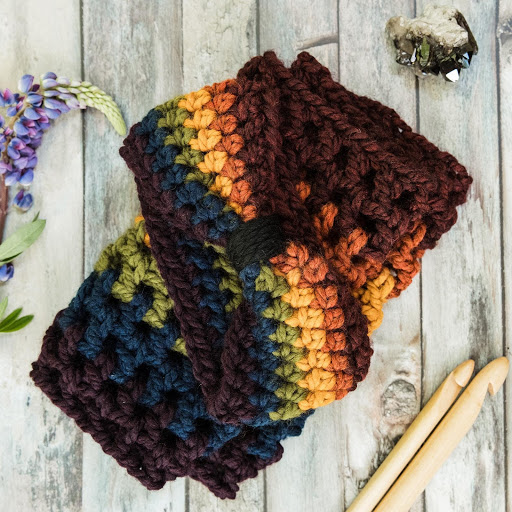 The best advice we can give you: Do your research!
Before you dive right into buying or renovating your first RV, it's important to do some research and critical thinking. We made the mistake of choosing our first RV based on the brand we wanted and not necessarily the floor plan that would work best for us. We didn't spend enough time thinking about our day-to-day lifestyle needs. We suggest doing a mental walkthrough of a typical day in your life. Envision how your tasks would work in a small space and then look at RV floorplans with those tasks in mind. Do you need a workspace? Do you need extra storage? Do you need a king bed because your dogs take up so much extra space? Check out our post on picking the best RV for you!
RV living doesn't have to mean sacrificing your big dreams, but it might mean you have to get creative in how you take on those big dreams in your small space.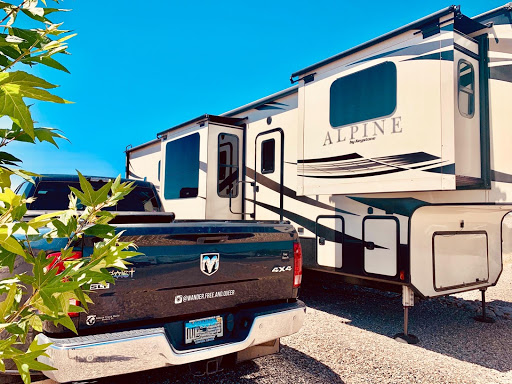 Meet the authors: We are Danella and Allie of Wander Free and Queer. We live and travel full-time in our Fifth Wheel with our two dogs. We started a small crochet business on the road in 2018 and we enjoy creating products that bring visibility to the LGBTQ+ community. In our travels, we enjoy hiking, rafting and visiting National Parks.