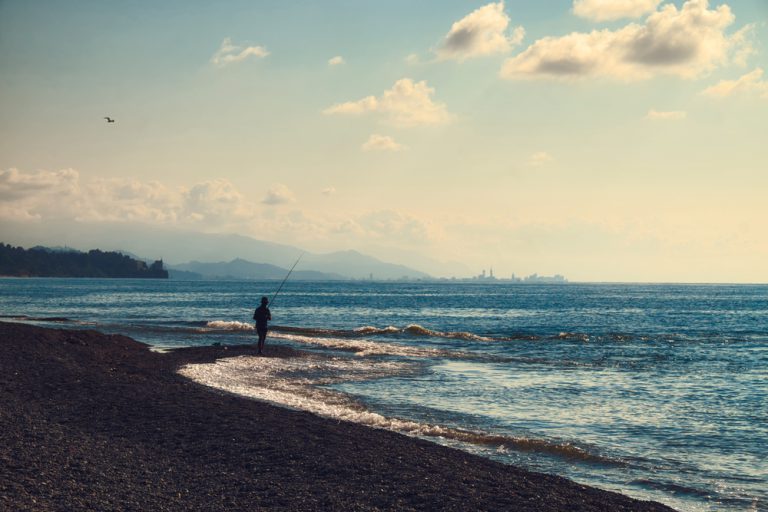 The wide variety of waters in Georgia implies a dizzying assortment of game fish. Georgia's waters have everything, from giant grouper on Jekyll Island to rainbow trout in the mountain streams of north Georgia to hand-size bluegill found just about anywhere. Whether you are into saltwater fishing or freshwater fishing, Georgia offers some of the best bass fishing, fly fishing, and trout fishing in the United States. However, everyone aged 16 years and above requires a valid fishing license to fish in Georgia.
Fishing Spots in Georgia
Lake Seminole
Lake Seminole is one of the good fishing spots that draws anglers from across the state. Sitting along the border of Georgia and Florida, this 37,500-acre reservoir is home to largemouth bass. The huge stands of timber and lush aquatic vegetation offer a perfect habitat. Besides largemouth bass, you will find bluegill, black crappie, redear sunfish, panfish, and more. Lake Seminole also gets stocked with striped and hybrid striped bass annually. There are numerous campgrounds with plenty of free parking around the lake that you can access with a marina and boat ramps.
The Chattahoochee River
If you are a devoted trout angler, then a trip to the Chattahoochee River is a must. Rainbow trout, catfish, and striped bass are some of the species that you will encounter in these pristine waters. The river remains cool and consistent throughout the year, making a perfect bass and trout habitat. The river inside Chattahoochee Bend State Park remains open to anglers 30 minutes before sunrise till 30 minutes after sunset. However, night fishing is not allowed within the park.
Golden Isles
Golden Isles is a perfect answer to where to fish in Georgia. Lying along the Atlantic coast, the Golden Isles give anglers all the fishing action they want. Snapper, tarpon, and redfish all thrive here. This fishing spot provides exceptional saltwater fishing whether you're fishing from a kayak, a charter boat, or the bank. There are numerous campgrounds around the site, including Golden Isles RV Park, with all the RV amenities that you require for a luxurious stay.
Lake Jackson
Situated in north-central Georgia, Lake Jackson is a top-rated fishing spot known for excellent bass fishing throughout the year. This 2,700-acre reservoir hosts a power plant that produces energy, keeping the waters warm throughout winter. Go to Lake Jackson even when the weather seems unfavorable for fishing, and you will find bass in these heated waters. You will also find plenty of RV rentals in the surrounding areas.
Lake Lanier
Located in northern Georgia, Lake Lanier is a 38,000-acre reservoir fed by the Chestatee River. It's the biggest lake in Georgia, with 700 miles of shoreline, making it a beloved fishing spot for beginner and experienced anglers alike. Here, you will encounter many fish species, including largemouth bass, bluegill, rainbow trout, walleye, crappie, striped bass carp, gar, panfish, and more. If you are into live bait, Lake Lanier is home to blueback herring, thread-fin shad, spottail minnows, and bigger gizzard shad. There are more than 45 parks and 10 campsites around the lake's shores. You will also find boat ramps, RV hookups, and picnic areas. Atlanta is just a 30-minute drive away.
Flint River
The Flint River, found in western Georgia, is a perfect fishing spot in Georgia, popular among anglers as the only destination where you will find shoal bass, an exceptional hybrid between the largemouth and smallmouth bass. Although you can find shoal bass everywhere on the upper Flint River, the stretch between Gay and Thomaston offers the perfect habitat for them. The period from March to November is the ideal time to fish for shoal bass. Besides shoal bass, you will find various flat water species, including crappie, bluegill, and catfish.
Big Lazer Creek
Located in Talbotton, Big Lazer Creek is a great fishing spot in Georgia. There is a fishing pier, fish cleaning station, boat ramp, and canoe access. This 195-acre water body is home to channel catfish, bluegill, crappie, and largemouth bass. It has over 15 acres of standing timber, and fish attractors are installed around the fishing pier to increase your chances of catching a monster.
Where to Fish in Georgia
Shellman Bluff is one of the best places to go fishing in Georgia. Situated south of Savannah, this historic town is among the oldest villages in Georgia. It's a quaint, charming town where fishing tends to be on everybody's mind. Here, you can spend your day fishing along the Julienton and Boro rivers, which meander along the coastal edge. In the morning, you can enjoy one of the most spectacular sunrises behind Harris Neck Wildlife Refuge. In the evening, you can capture the beauty of the sunset while enjoying your fresh seafood.
Camping and Fishing in Georgia
When preparing for fishing and camping in Georgia, make sure you check the weekly weather forecast. Also, look at a tide chart. In coastal Georgia, look for smaller tides, ranging between 6.5 and 7.5 feet as they are the best for overall inshore fishing. Additionally, ensure that you have the right gear for your fishing trip; if you are going with children, have a pole ideal for their size. You also need to ensure that you have everything you need, including a fridge, preservation containers, coolers, portable chairs, lights, and more.
The laid-back, spectacular state of Georgia offers unforgettable fishing adventures all year-round. Choose from artificial, well-stocked lakes teeming with crappie, bream, and bass, or head out to the scenic Golden Islands looking for tarpon and redfish. End your day with a delicious meal, a glass of wine, and some angler's stories at any of the state's many eateries. Before you head out on your trip, check out our blog for all you need to know about fishing.
With an RV rental, your fishing trip will be a little more comfortable! After you've spent a long day fishing, grill up your catch right at your campsite. Then, retire inside to enjoy all the comforts of home on board your RV. Plan your perfect fishing getaway with an RV rental from RVshare.