Travel Inspiration
April 14th, 2021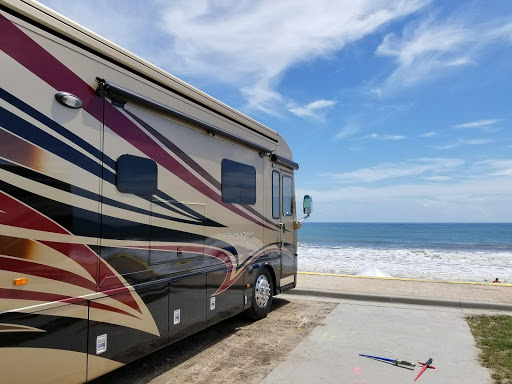 One of the best things about RVing is there's not one specific way you have to do it. There are so many different styles of RVing. You could be the kind of family that loves to go to the mountains and take in scenic hikes or simply by relaxing hearing the sound of a stream. Does the sounds of waves crashing get you excited? Then beach camping is definitely something you should try. The ocean waves and sounds can be such a renewing force. Not to mention the sunrises and sunsets or campfires on the beach.
There are so many options. Have you heard about urban camping? You can try to stealth camp inside a big city or grab a home base campground close to the city. You get the best of both worlds that way; while others are drawn to the seclusion of remote boondocking. The key is there's no one right or wrong way to RV.
So you're ready to jump in your RV and head out to one of these types of destinations but have no clue how to narrow down your choices. With all of these fabulous sounding destinations, anyone would need some assistance. So let us help you with some of our favorite destinations. These are places that we have visited and thoroughly enjoyed and hope to return.
Beach Camping Destinations
A very well known beach camping location is Myrtle Beach, SC. Lakewood RV Resort is a huge campground with all the amenities you could ask for. Try your best to score one of their beachfront sites, you won't be sorry. Their water slides can be thrilling and a lazy river is a great place to lay back and relax.
In Maine, we loved our oceanside site at the Bar Harbor Oceanside KOA. The views were just breathtaking and to be only minutes from Acadia National Park is priceless.
Talk about the perfect location with stunning sunsets; it's the perfect place to escape the summer heat. Warm enough days and cool nights make evening campfires an easy choice. Did I mention that you can buy fresh caught lobster right at the campground? Yummy!
But our favorite beach camping spot is shockingly in Florida. Florida has so many great beaches from the gulf shores to the Atlantic Ocean. Our winner is a little gem we discovered a few years ago called Beverly Beach and Camptown resort in Flagler Beach, FL.
We have camped there a few times with friends, and love their buddy sites where you can park with your awnings facing your friends and have a shared space in between the sites.
Ocean-front camping at its finest!
You get to park feet from the Atlantic Ocean only separated by the sea wall. The sunrises are amazing. Close to Dayton, if you are a racing fan, and a short ride to the oldest city in Florida, St Augustine. You'll love exploring the old charm of that city.
Mountain RV Travel Destinations
Mountain getaways give us a chance to really connect with our inner outdoorsman. The terrain yields some amazing hikes for all levels of fitness. You can usually find a hike that will reward you with some of the coolest waterfalls you'll ever see. The Smoky Mountain National Park is a great place to head to and to fulfill your mountain camping desires.
You can hike the Laurel Falls Trail to see a gorgeous 80-foot waterfall. Want more than hiking, try tubing or a white water rafting trip.
Our family had a blast. The Great Smoky Mountains National Park has so many great opportunities for outdoor fun. Make sure to check out Cades Cove. One of our highlights is heading to Clingmen's Dome. On a clear day you can take in the beautiful landscape roughly 100 miles out in the distance!
Just remember to take a coat; the temps can drop almost 20 degrees at the top. Want some tourist action? Gatlinburg and Pigeon Forge have all the trappings of NY and are quite the tourist destination. Check out The Island for a night out of dining, shopping, and entertainment.
Good food and "legal" moonshine, talk about the perfect combination.
Urban Camping Destinations
Big city, big lights! Urban camping is something our family really enjoys. Since we have a 43 foot motorhome, we find campgrounds close to the cities we want to explore. If your RV is small enough, you can certainly try to stealth camp within city limits. Our firm of Urban camping has worked great for our family and gives us the best of both worlds. It's really hard to narrow our list down to just one urban campground since each one offers some unique features. So here's a list of our top five.
Another incredible day at Normandy farms
Normandy Farms seems to make the top 10 RV resorts every year. It's a huge campground with every possible activity and amenity your family might desire. It's the perfect base camp to explore Boston.
The number one rule in real estate is location, right? Well, this campground is a parking lot with partial hookups, and proximity to NYC; not to mention the views of the Statue of Liberty from the marina. With no discounts, this RV park can take a bite out of your budget. Although, you cannot get closer and more convenient to explore the Big Apple.
Sometimes NJ gets a bad wrap, but when you need a base camp to explore Philadelphia, this campground should be an easy choice. Thus this KOA has everything you have come to expect from a KOA, which allows you to explore the city during the day and a campfire at night. This is less than a 15 minute ride over the Walt Whitman Bridge and drops you into downtown Philadelphia. So much history to enjoy including the Liberty Bell, Constitution Hall, and so much more.
Visiting our Nation's Capital can be an overwhelming experience. Cherry Hill will give you the perfect balance of sightseeing and relaxing at a premier campground. It features multiple playgrounds, pools, and many other activities. Our kids loved the lower level splash pad pool.
It's a large campground, so you will have different levels of sites to choose from. The college park metro station is only a few miles away. So no need to fight the traffic driving. Hop on the metro train and pick your spot as you take in all the sights, museums, and monuments in DC.
Boondocking RV Destinations
This is a new type of camping for our family. Boondocking simply means camping without any hookups (no water, electric, or sewer), being 100% self-contained. We have dipped our toes into the world of Boondocking by attending the Florida balloon festival, and a recent FMCA Rally. On our Boondocking bucket list is enjoying the dark skies out West and Alaska. We have the least experience in this type of RV camping, but that hasn't lessened our excitement for giving it a try.
Balloon Festival
FMCA Rally – Perry, GA
We hope that these suggestions get you started on your RV adventures. RVing is such a wonderful way to travel and definitely has something for everyone. Don't forget to lean on the RV community if you need support. There are so many RVers who won't hesitate to offer a helping hand. Also, remember you can bring your pets along with you, most campgrounds are pet friendly. Enjoy and see you out on the road…
About the author: We are an African American family loving the RV lifestyle and traveling as we homeschool our 3 preteen boys exploring all this great country has to offer. Keep up with the Soulful RV Family on Instagram!