Travel Inspiration
October 26th, 2022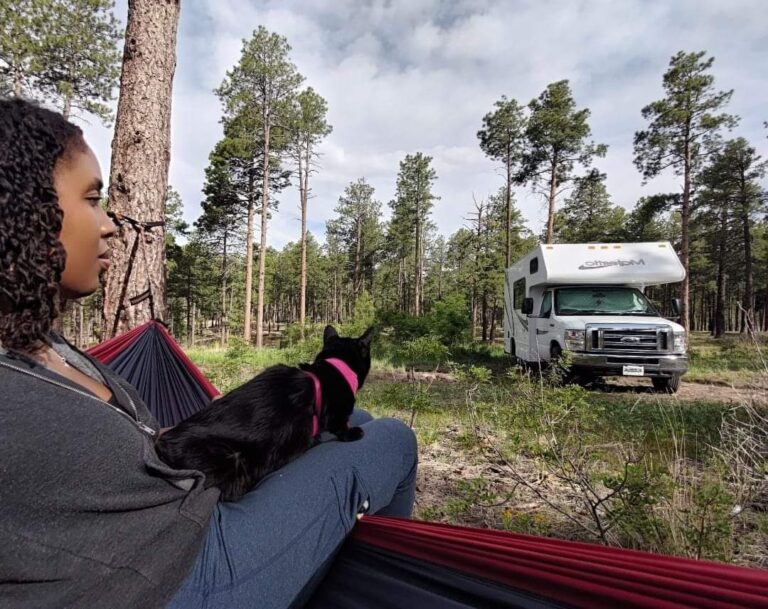 With the freedom to camp in so many places off-grid, you can take your camper almost anywhere. But what are the best of the best places to boondock? In this article, I wanted to share my personal list of favorite boondocking spots I've explored so far.
While visiting these gorgeous boondocking sites, it's essential to prepare yourself and your rig for it! If you would like to learn more on how to boondock, check out my guide on 6 Boondocking Basics and a guide on How to be a good boondocking neighbor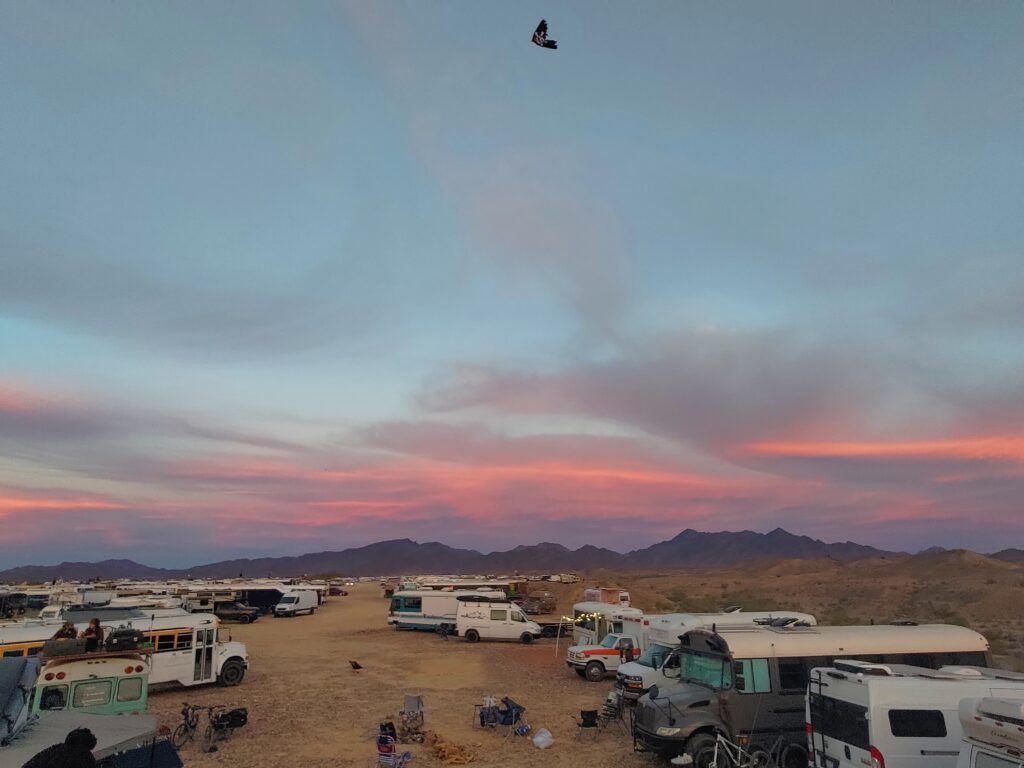 Quartzsite, Arizona
Quartzsite, known for being one of the top places to boondock during the winter, might not look like much while passing it on the i10 or i95. But hidden between the gas stations and fast food restaurants is a thriving community for nomads.
The choices to boondock in Quartzsite are endless. You have the choice of staying in short-term boondocking spots (14 days max), most short-term parking can be found on the i95 heading north, only 10-15 minutes away from the center of town.
You also have the choice to invest in getting long-term camping through the La Posa Long-Term Visitor Center (LTVA).  For $180, this long-term pass includes access to vault toilets, water faucets, a dump station, and water services. This long-term parking is good from September 15th to April 15th.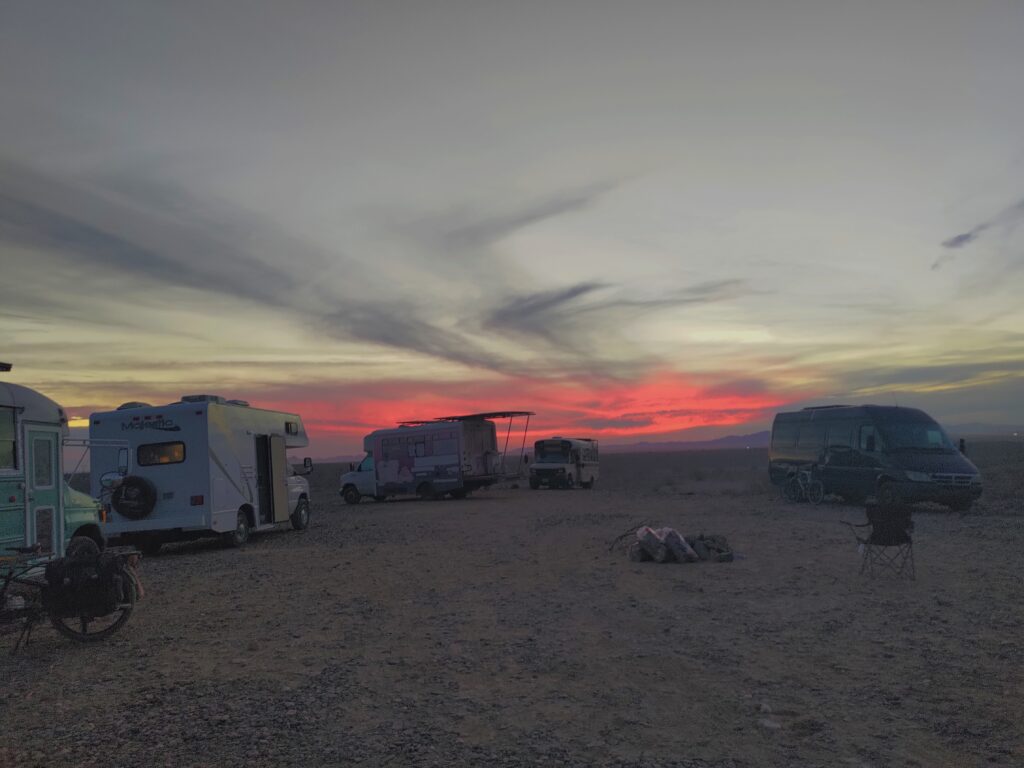 Camping in Quartzsite during the winter is very nice. What I love most about camping in the desert is its vastness and spaciousness, making it easy for any size rig to find a good camping spot. You have the choice to park close to people or far away. As the events around Quartzite start picking up, you will find there is more traffic and people camping, but you can still find a good spot and explore new areas to boondock all around Quartzsite. 
Events in Quartzsite
What makes Quartzsite my favorite place to stay is how much the town comes alive during the winter months and caters to nomads and campers. With many events happening in the winter months, there are plenty of opportunities to socialize and be a part of the nomadic community. With events like "The Big Tent" one of the biggest RV Shows in the country. For more educational events like "Rubber Tramp Rendezvous" (aka RTR and Women's RTR) You can learn all about how to live the nomadic lifestyle. There's something for everyone when going to Quartzsite. 
Quartzsite Weather
Quartzsite also stays relatively warm and dry through the winter months. It's a great spot to camp from December through January. The average temps reach highs in the 60s and cool off to the high 30 – 40s at night. By February, the desert starts warming up, reaching the 70s during the day and the high 40s to 50s at night. With the ample amount of sunlight during the day, your RV is sure to stay nice and toasty.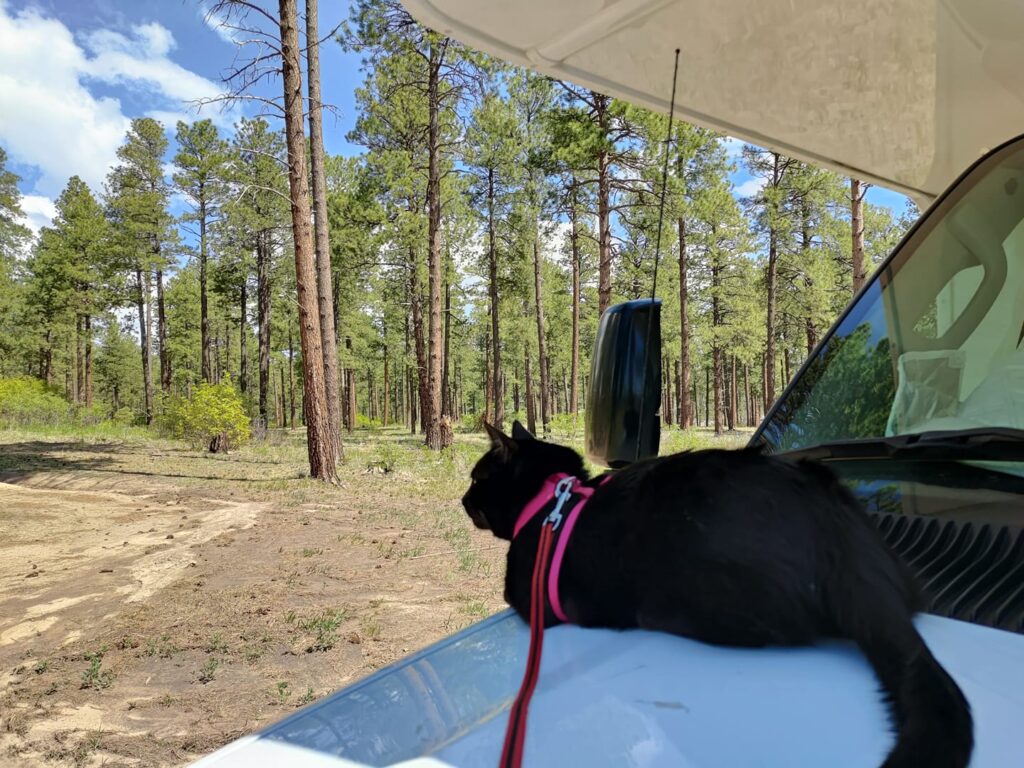 Santa Fe National Forest, New Mexico
New Mexico is a treasure for any nomad to explore, with its variety of landscapes and terrains and colorful cities and highways full of art and color. New Mexico is a state that holds a special place in my heart.
If you find yourself exploring the Santa Fe area during the day, you're in luck, there are plenty of amazing boondocking sites only 30 minutes from Santa Fe, nestled in the mountains of Valles Caldera National Preserve. The best part of Sante Fe National Forest is there is plenty of free forest primitive sites to stay in. 
Using the app iOverlander, I was able to read reviews of the area and find a campsite that was comfortable for me and Indigo to relax for a week. The dispersed camping was deep in the mountainous forest, with gorgeous views everywhere we looked. With excellent cellphone service, I was able to stay in touch with my loved ones while boondocking in nature.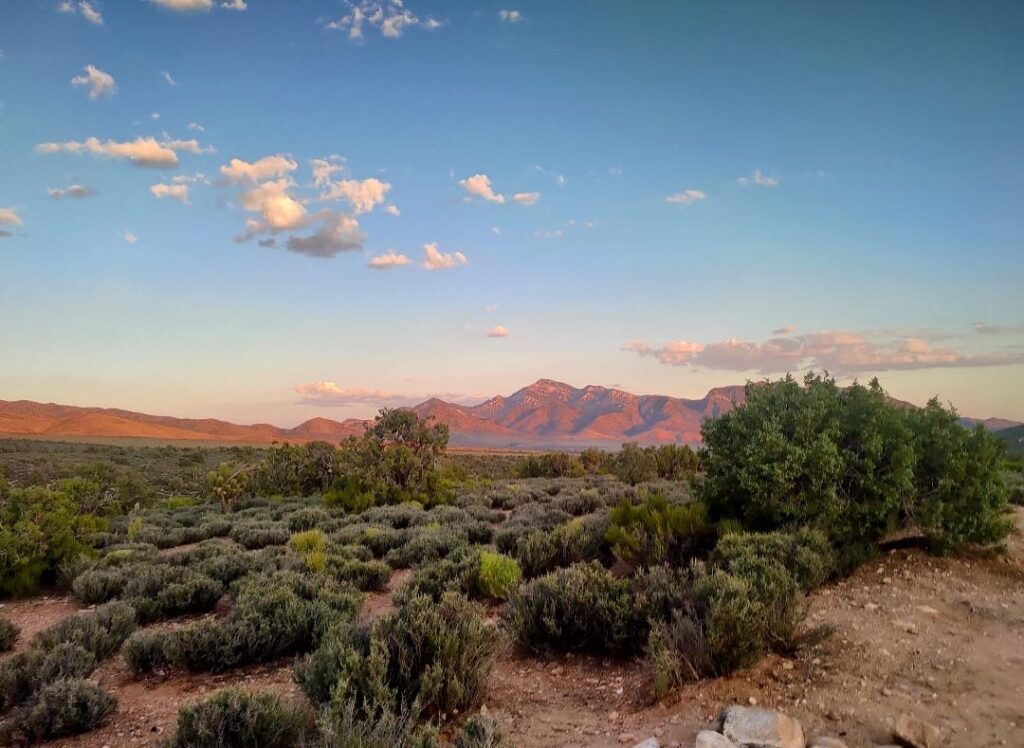 Lovell Canyon, Nevada 
A hidden gem right outside of Las Vegas NV sits Lovell Canyon. This was one of the first places I boondocked. With the higher elevation, you can beat the hot Las Vegas heat. Because it's not too far from the city of paradise, you can find a good range of cell phone service and stay connected while enjoying nature.
Finding a boondocking site in Lovell Canyon might take some time. The area has one main dirt road and plenty of side roads you can wander to find a spot. For this area, it's best to temporarily park your rig, take a walk/bike up any of the side roads and see if your camper can make it. Some areas are flat, but some are bumpy, so it's best to take your time and have your levelers ready.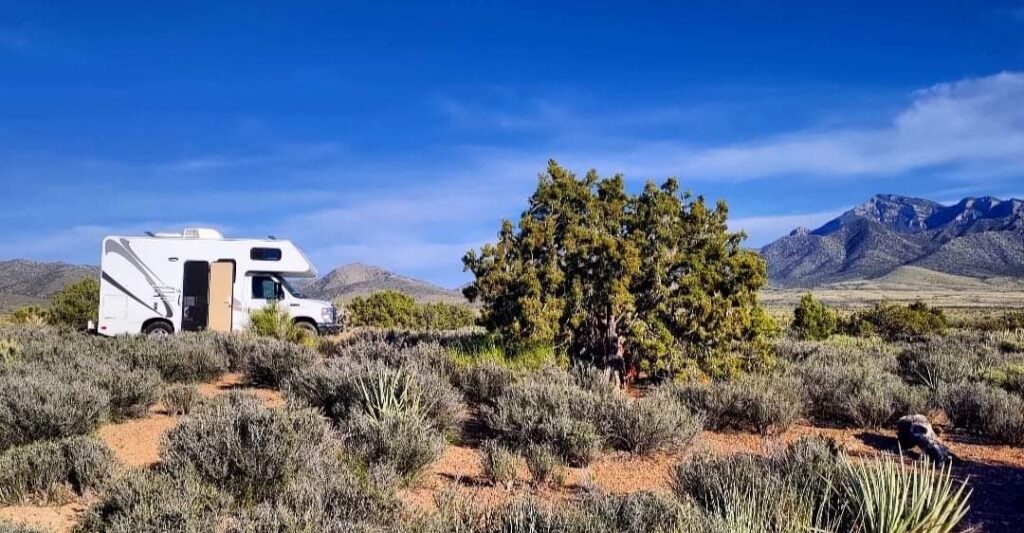 Lovell Canyon has some of the most gorgeous sunsets in Nevada, surrounded by majestic mountains and plenty of vegetation, you can spend your day taking in the sunset.
This area is primitive camping, with no facilities, so make sure to have your own bathroom and shower on deck, leave no trace and enjoy the breathtaking views.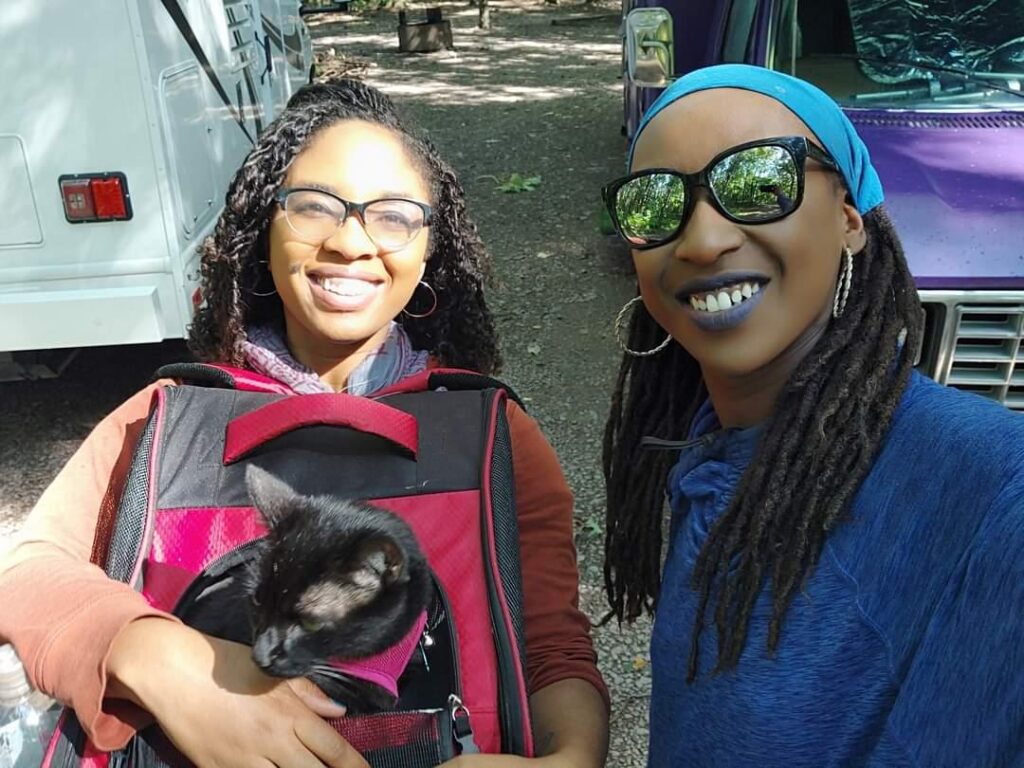 Moon Lake Recreation Area, Pennsylvania 
The East Coast can be a tricky place to find boondocking spots, but they do exist! I had the chance to visit a hidden gem not too far away from the world-famous Scranton, Pennsylvania. 
I was invited to tag along with fellow RV Life Youtuber Queen Tasha. Tasha owns a beautiful RV called the "Purple Palace". It's a 1987 26ft Jayco Class C motorhome that she customized from head to toe!
I was thrilled when she asked me to join her for a boondocking trip! She was passing through Pennsylvania, on her way to sunny Florida to snowbird. She found Moon Lake Campsite by using iOverlander. Moon Lake has free boondocking sites that you can reserve on their website. Moon Lake Campground has traditional campgrounds. Because of this, you have to make a reservation in advance to save a spot.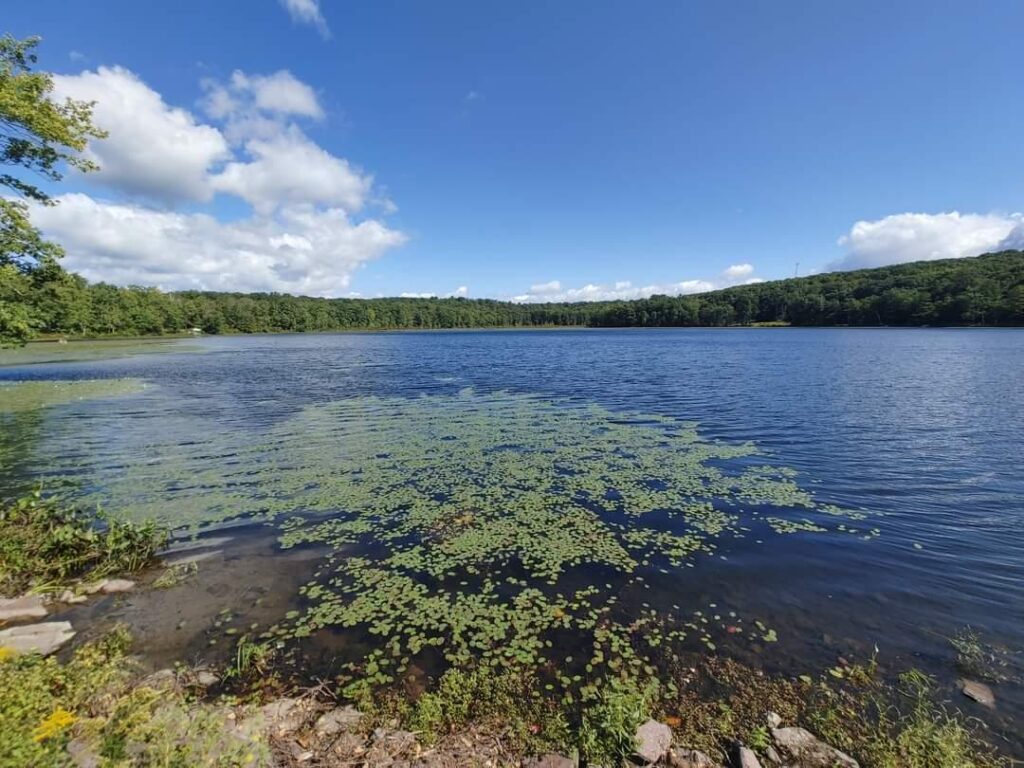 Moon Lake has very spacious campgrounds. We were able to fit both of our Class C RVs side to side in one campsite. Our leveled campsite also included a firepit, picnic bench, enough space, and privacy from other campers. Because the terrain was in the forest, we made sure that there were no weak or dead tree limbs above our RVs. There were also vault toilets not too far from our campground.
In the morning, we took a walk down to the Lake, which was about a mile away from the campsite. But well worth the exercise, the area is surrounded by tall trees, giving you plenty of shade during your walk. Once at the lake, you can take a loop hiking trail and enjoy the beautiful forest lake view.
These are just some of my favorite free boondocking sites across the country. I hope you have the chance to stop at these sites and enjoy the view!