Travel Inspiration
June 22nd, 2020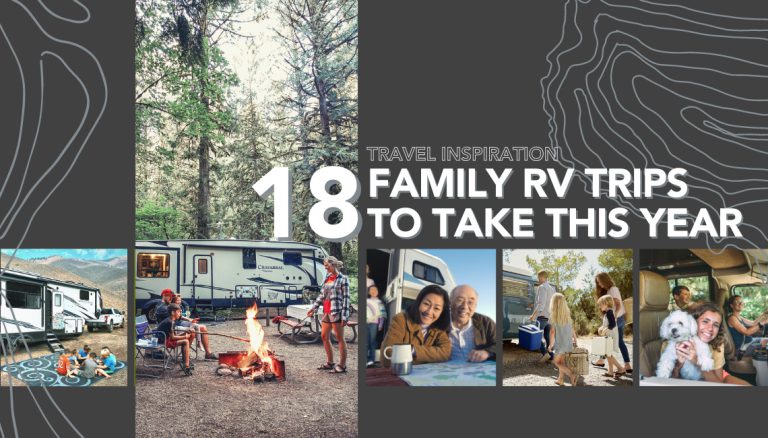 Here at RVshare, we know that traveling is as much about who you go with as where you're going. And who better to take that epic journey with than the people you know the best and love the dearest?
As much fun as it can be to take a solo adventure or even to head out for a romantic getaway, there's something about a family trip that just can't be imitated by any other kind of travel. And with their ample room for leg-stretching and extra-person-sleeping, RVs are perhaps the most ideal way to go when you've got more than just a few passengers.
Of course, as wonderful as family trips are, the process of planning them is sometimes a whole different story. Figuring out where to go is just the tip of the iceberg — there's also your budget, schedule, and personal travel preferences to contend with.
Playing RV Family Trip Planner This Year?
There's a lot to love about RV travel… but sifting through the endless options for vacation spots can easily turn from an exciting brainstorming session into an overwhelming hassle. As much fun as it is to pour over your favorite road atlas or read through top-10 "must see" lists, you've only got so much time and energy to devote to planning your family travels.
Plus, when you're traveling with kids, not all destinations are created equally. You want to make sure that the places you go have kid-oriented entertainment options to keep the kids engaged throughout your vacation. (Because, trust us: if your kid's not a happy camper, no one else in the RV is.)
So we put together this list of some of the best U.S. spots for kid-friendly family vacations — spots that offer ample opportunities for fun for visitors of all ages. Whether it's outdoor explorations, children's museums, or high-flying roller coasters, these destinations make for out-of-this-world family trip experiences… whether you head out for a week or two or you're just looking for a few quick weekend getaways.
18 Family-Friendly Vacations You Don't Want to Miss
Ready for family fun?
Here are the 18 top American family vacations on our travel bucket lists this year.
1. Boston, Massachusetts
This New England metropole might not instantly jump to mind when you're pondering the best family vacation destinations. But with large-city amenities, small-town feel, and an unbeatable historical and cultural record, Boston's just about the perfect storm of great family vacations.
Along with giving your kids a hands-on look at the sites they're learning about in their history textbooks, Boston's also home to a world-class children's museum, as well as tons of family-friendly public parks and other attractions. Once you're done with your urban adventure, head up to Martha's Vineyard for some beautiful, quiet beaches — and well-deserved R&R.
Click here to see RVshare rentals near Boston, Massachusetts.
2. Yellowstone National Park, Wyoming
Here's a fun fact: Yellowstone National Park was not only the first federally-designated national park in America — it was the first in the world.
So you'd better believe the northwestern corner of Wyoming is pretty darn special; it inspired one of the largest and most unanimously-agreed-upon political motions in the world. Whether it's watching Old Faithful erupt right on schedule, hiking along one of the park's many trails, or just driving through its variety of ecosystems, don't let your kids miss out on the chance to experience the magic of the caldera.
Click here to see RVshare rentals near Yellowstone National Park in Wyoming.
3. Walt Disney World, Orlando, Florida
When it comes to fun family vacation ideas, Walt Disney World is basically a synonym. The Orlando mega-attraction is home to not one or two, but six separate theme parks, including two water parks for cooling off on a hot Florida day. As if that weren't enough, there's also the nearby Universal Studios, home to the beloved and much-anticipated Wizarding World of Harry Potter … and more frozen butterbeer than you can stomach. 
But staying at the mouse's house is undeniably the most attractive option for RVers — not only because it's arguably the most famous of the area's many theme park options, but also because its on-site campground, Fort Wilderness, has just about every comfort and amenity you could want. And, central Florida's got unparalleled outdoor activity options, like hiking the oak-hammock trails or floating and basking in the nearby springs and rivers… but we'll stop selling you now.
Click here to see RVshare rentals near Walt Disney World in Orlando, Florida.
4. Walt Disneyland, Anaheim, California
Looking for the west-coast equivalent of Mickey's Orlando adventure? Although it's much smaller, Anaheim's Disneyland was the original resort — and the only of the franchise's many parks whose design and construction was completely overseen by Walt Disney himself.
Click here to see RVshare rentals near Walt Disneyland in Anaheim, California.
5. Washington, D.C.
Every American citizen should pay at least one visit to our nation's capital, and doing so while you're young is a great way to spark an interest in history, politics, and even social justice. Plus, since many of D.C.'s vast array of museums and cultural exhibits are free to enter, this destination couples educational fun with affordability.
Click here to see RVshare rentals near Washington, D.C.
6. Grand Canyon National Park, Arizona
While any of the national parks would make a worthy family venture, what list of family vacation spots would be complete without the one attended by Clark Griswold and his kin in National Lampoon's Vacation?
All jokes aside, there's something magical about the Grand Canyon — enough to bring instant tears to even the most jaded of eyes. Give your kids the chance to experience it before jadedness has the opportunity to set in, and you might just change their lives for the better.
Click here to see RVshare rentals near Grand Canyon National Park in Arizona.
7. Williamsburg, Virginia
Even if your kids are failing history at school, chances are they'll adore a trip to Colonial Williamsburg, where period-dressed re-enactors bring those textbook-dry stories to vibrant and decidedly-un-boring life. The town also offers a wide range of outdoor attractions, from paddling at Powhatan Creek Park to taking a spin on the Historic Jamestowne Bike Trail.
Click here to see RVshare rentals near Williamsburg, Virginia.
8. Minneapolis, Minnesota
If you've got kids with you on a Twin City trip, a visit to the Mall of America is a given — but Minneapolis is also home to hundreds of other family-friendly activities, including museums, arboretums, and even a children's theater company.
If you've still got any doubts about the cultural and educational potential of this northern metropolis, keep in mind that it was once voted the "most literate city" in America. And, hey, if there's one thing everyone in the family can agree on, it's probably deep-fried dairy — and cheese curds are everywhere in Minnesota.
Click here to see RVshare rentals near Minneapolis, Minnesota.
9. Charleston, South Carolina
While simply strolling down this southern charmer's seaside streets is enough to make anyone smile, curious kids will love a trip out to Charles Towne Landing — a historical park situated on the site of the original Charleston settlement, which makes history into a fun and interactive experience.
Looking for the date night treatment once Junior's asleep? Charleston's home to a stunning array of world-renowned bars and restaurants. Our suggestions: FIG, Avondale Wine and Cheese, and Chez Nous.
Click here to see RVshare rentals near Charleston, South Carolina.
10. Gatlinburg, Tennessee
The gateway town to the most-visited national park in America is a sight to see in its own right. Take high-flying rides on the Gatlinburg SkyLift and the elevator to the Gatlinburg Space Needle, or take a surprisingly nautical adventure at Ripley's Aquarium of the Smokies.
And, of course, there's Great Smoky Mountains National Park itself, beckoning you and your family to explore its hundreds of miles of hiking trails.
Click here to see RVshare rentals near Gatlinburg, Tennessee.
11. Saint Petersburg, Florida
Miami and Orlando might get all the glory, but for a perfect family vacation to remember, don't overlook this southwestern 'burg. Saint Pete, as the locals call it, is a vibrant beach town filled with world-class restaurants, tons of shopping, and so much art there's absolutely no way to take it all in. It's even got the largest collection of Salvador Dali works in the world.
Take the kids for a walk around downtown in the daytime to explore some of the city's cultural ventures — and then head out as a couple for some nighttime fun once the little ones are all tucked in. And don't forget: whenever you're tired of urban adventures, some of the most beloved beaches in the entire world are just a ten-minute drive away.
Click here to see RVshare rentals near Saint Petersburg, Florida.
12. Galveston, Texas
You don't have to go to the Atlantic coast for a picturesque beach vacation — or to expensive Santa Barbara, for that matter. This Texas Gulf gem has the same sandy sweeps and high-flying Ferris wheels of busier ocean boardwalks, and many of the attractions are a fraction of the price. Cool off at Schlitterbahn Waterpark for a day full of exhilarating fun for the whole crew.
Click here to see RVshare rentals near Galveston, Texas.
13. Erie, Pennsylvania
From the Erie Maritime Museum to the Flagship Niagara, this northern lake port city boasts a bounty of interactive educational opportunities — none of which will feel as tedious as history class. Erie also hosts a variety of community events and is adjacent to stunning state parks and lake beaches, so it's no overstatement to say it's got something for everybody.
Click here to see RVshare rentals near Erie, Pennsylvania.
14. Portland, Oregon
What makes Portland a kid-friendly city, you ask?
Well, aside from its plethora of public parks and unparalleled outdoor adventure access, there's also the emergence of family-focused attractions, like PlayDate PDX. The town is also home to an excellent zoo and children's museum — but honestly, all you need to do is drive half an hour out into the Gorge for the most intimate of natural education opportunities.
Click here to see RVshare rentals near Portland, Oregon.
15. Redwood National and State Parks, California
No matter how long it's been since your own childhood, these epic arboreal landscapes will make you feel teeny-tiny — so imagine how impactful they'll be for actual kids. Plus, a day of meandering through some of the world's last remaining redwoods is a surefire way to get your kids interested in ecology and conservation.
As at all the national parks, be sure to check out the NPS-directed Junior Ranger program while you're at Redwood. Mom and dad can participate, too, whether it's by taking a guided kayak tour or collecting stamps in their National Parks Passports.
Click here to see RVshare rentals near Redwood National Park in California.
16. St. Louis, Missouri
If you want to spark the spirit of adventure in your kids, there's no better place than St. Louis, the gateway to the west — and the best spot to wave goodbye to the mighty Mississippi, for those of us who make our homes east of it.
Aside from the obviously-necessary trip to the Gateway Arch (did you know it's actually got a national park designation?), you'll also want to swing the kids by the City Museum, a sprawling children's museum and activity center that's been voted the #1 family attraction in the world.
Click here to see RVshare rentals near St. Louis, Missouri.
17. Atlanta, Georgia
Savannah gets a lot of press as a vacation destination, and for good reason. But there's something to be said about the Peach State's capital, too.
For one thing, there's the Georgia Aquarium, one of the largest of its kind in not just America, but the world. Your kids will also get a kick out of the World of Coca-Cola, and a stroll through the Atlanta Botanical Garden should be a life experience everyone gets to have — especially during fall. Once you're done with the urban hustle, head to Sweetwater Creek State Park for easy (but beautiful) hiking opps.
Click here to see RVshare rentals near Atlanta, Georgia.
18. Niagara Falls, New York
It's hard to think of something more awesome (in the literal, actual sense of the word) than Niagara Falls, one of the largest and most powerful waterfalls in America. Standing at 176 feet, a shocking 3,160 tons of water flows over the edge every single second… and you and your family can experience it first hand, whether perched on the observation deck or huddled in a poncho on the deck of one of the park's tour boats.
If your family's got up-to-date passports, this destination also provides a great point of entry for a visit to our neighbors to the north. Hang out in the Canadian town of the same name, or venture further to Toronto, Montreal, or Quebec City.
Click here to see RVshare rentals near Niagara Falls, New York.
How to Find Family-Friendly Campgrounds
Alright, so you've got an idea of where you want to go. But where will you stay once you get there?
When you're traveling with kids, there's more to choosing a campground than simply finding an affordable place with hookups. For the happiest family camping experience, it's nice to have some on-site extras and amenities to keep the brood entertained on those days when you just don't feel like taking an off-site adventure.
Swimming pools, horseshoes, mini golf, clubhouses with ice cream socials… there are many resort-style campgrounds that offer so many things to do, leaving the campsite almost becomes entirely unnecessary. But here at RVshare, our very favorite of the many wonderful family-friendly camping resorts out there is the Jellystone Parks franchise, which boasts more than 80 locations across the U.S. (and even a few spots in Canada!).
Along with souped-up swimming pools and water attractions that often include slides, splash zones, and more, Jellystone Parks feature other fun activities that'll keep your kids smiling no matter how long you stay — and sleeping like babies, to boot. They can bounce themselves to oblivion on jumping pads and pillows or get in the game with community sports. Rainy day? No problem: just press a few quarters into their hands and tell them to head to the game room. Jellystone locations even host family-friendly themed events and weekends for many of your favorite holidays and seasons. In other words, if you and yours find yourselves bored at a Jellystone Park… well, we hate to say it, but you're just not trying hard enough!
To find a Jellystone Park near you, click here. And if there isn't one near your next destination — or you want to look into your other options — check out our full directory here  or simply run a Google search for "private RV parks near me" or "RV parks + [your destination's zip code]." Thanks to the ubiquity of user review sites like Yelp, you can learn a whole lot about what you're signing up for before you ever call the front office to make a reservation. So don't be afraid to shop around to find the best spot for your family trip!
Affordable Family Vacation Isn't an Oxymoron
Another common consideration when planning a family vacation: how on earth will you afford it? Travel is expensive enough when you've only got one or two mouths to feed — and attraction ticket entries to purchase. Even with discounts for young children, taking a trip with a big family in tow can add up quickly. To make matters worse, many campgrounds now charge extra per-person fees, even at family-friendly campsites.
But "cheap family vacations" doesn't have to be an oxymoron… or mean sacrificing the amenities and activities you want. There are lots of ways to save money on your next RV road trip, even if you're traveling with children.
We've written about easy, clever ways to save money on the road before, and even a few ways to earn more of it. But one of our very favorite secrets for those looking to save a whole lot with one simple transaction is to purchase a Passport America membership.
While there are tons of discount camping clubs out there, Passport America is the only one that gets you a full 50% off your campsite accommodation fees at almost 1900 campgrounds across the country, including some locations in Mexico and Canada. Your whole year's membership costs you less than $50 — and considering that we routinely see campsites going for as much as $75 per night these days, it's easy to see how quickly the investment pays for itself.
What's more, Passport America campgrounds are some of the best-maintained and most amenity-packed in the country. (In other words, they're the kinds of places you want to go during your family trip, anyway.) To learn more about this valuable camper's secret, visit Passport America's website — and if your big trip is coming up soon, sign up today!
The Best Motorhome Rentals for Family Fun
So, we've been talking throughout this entire post as if traveling by RV is a given. But if you don't already own a travel trailer or motorhome, you may be hesitant to rent one — especially given the astronomical prices you'll find at some conventional RV rental agencies today. It's not uncommon to see rigs listed for over $300 per night, and that's before all of the additional fees and charges they don't tell you about until you're signing. (And before you factor in gas, food, campsite fees, and activities!)
But an RV really is an ideal way to take a family trip. You only have to pack and unpack once, and everyone on board can enjoy their own cozy sleeping space. No need to worry about strict noise policies at hotels; if your kids happen to be kicking up a ruckus, there are no thin, shared walls connecting you to neighbors just waiting to complain.
RV travel is comfortable, convenient, and offers the space you need to bring along everybody's favorite gear… which as any parent knows is crucial when you're road tripping with children. So how do you go about finding an RV rental you can afford?
Spoiler alert: This is the part where we're going to talk up RVshare.
Sure, you could say we're biased, but you don't have to take our word for it. The magic of the peer-to-peer rental market speaks for itself. Think about it: private RV owners in popular cities like Orlando, San Diego, Phoenix, etc… are individuals, often with families, just like you. The RVs they list for rent are actually vacationed in and loved… which means they're usually both more comfortable and better-maintained than some of the big, corporate vehicles.
What's more, private owners don't have to worry about keeping the lights on at a big dealership floor or paying an extensive customer service team. They're just looking to put a little bit of extra cash into their pockets to fuel their own adventures… which means they can list their rigs for a fraction of the price you see at the big name franchises.
Finally, renting through RVshare is as hassle-free as it gets. The platform's unique suite of benefits means you can take your vacation totally worry-free. All payments and communication transactions are performed through the platform, so your information is always safe and secure; your rental is covered by A-rated comprehensive insurance and 24/7 roadside assistance for the entirety of your vacation. All you've got to do is take the keys, pack your stuff, and go. (After you've decided where you're going, of course — which is why you're reading this post!)
Renting through RVshare gives you the unique opportunity to explore vehicle types that may not be readily available through commercial means. Want to see what camping's like in a pop-up camper or sleeper van? Been on a motorhome trip, but ready to try the trailer life? Or maybe you've heard the hubbub about Airstreams and are ready to see what all the fuss is about for yourself. Either way, there are all sorts of RV makes, models, sizes, and styles on the peer-to-peer market. (And sometimes, the owner will even haul the rig to your destination and set it up for you! Talk about plug and play, right?)
Need Even More Info on Kid-Friendly Vacations?
We hope this post has helped make planning your next family vacation just a little bit easier. But if you're still hungry for more information about planning successful vacations for kids, never fear! Check out the following RVshare blog posts for even more insider secrets.
Enjoy your family vacation, and don't forget: even when they drive you crazy, they're still the best people you know… so enjoy your chance to reconnect and experience this big beautiful world with them.
This post contains affiliate links. RVshare may receive compensation if you make a purchase after clicking on a product link.