Travel Inspiration
Last updated on September 22nd, 2023. Originally published on June 22nd, 2020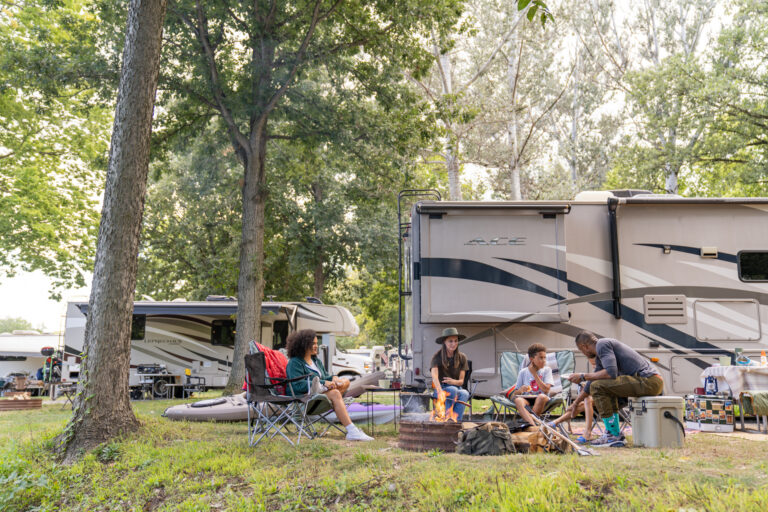 Here at RVshare, we know that traveling is as much about who you go with as where you're going. And who better to take that epic journey with than the people you know the best and love the dearest? As much fun as it can be to take a solo adventure, there's something about a family trip that just can't be imitated.
And with their ample room for leg-stretching and extra-person-sleeping, RVs are the ideal way to go when you've got more travelers in your party.
As wonderful as family trips are, the process of planning them is a whole different story. Figuring out where to go is just the tip of the iceberg — there's also your budget, schedule, and personal travel preferences to consider.
Playing RV Family Trip Planner This Year?
There's a lot to love about RV travel! But sifting through the endless options for vacation spots can easily turn from an exciting brainstorming session into an overwhelming hassle. As much fun as it is to pour over your favorite road atlas or read through Top 10 "must-see" lists, you've only got so much time and energy to devote to planning your family trip.
Plus, when you're traveling with kids, not all destinations are created equal. You'll want to make sure the places you go have entertainment for kids to keep them engaged on your vacation. (Because, trust us: if your kid's not a happy camper, no one else in the RV is.)
So we put together this list of some of the best U.S. spots for kid-friendly family vacations — spots that offer fun for visitors of all ages. From outdoor explorations and children's museums to high-flying roller coasters, these destinations make out-of-this-world family trip experiences!
Family-Friendly Vacations You Don't Want to Miss
Ready for family fun?
Whether you head out for a week or two or you're just looking for quick weekend getaways, here are the 18 top American family vacations on our travel bucket list this year.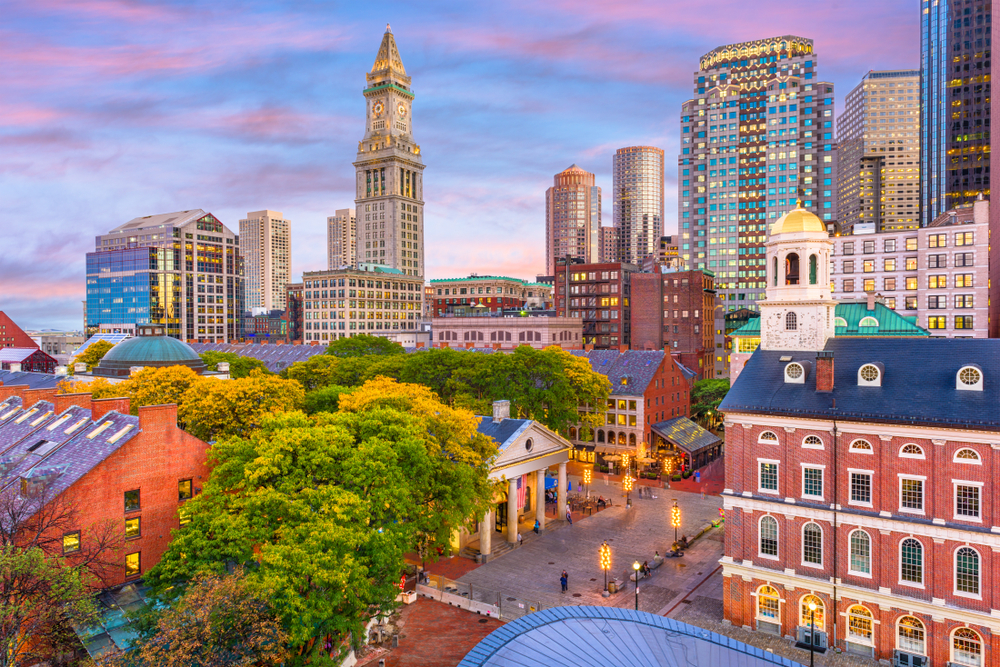 1. Boston, Massachusetts
This New England city might not instantly jump to mind when you're pondering the best family vacation destinations. But with large-city amenities, a small-town feel, and historical and cultural attractions, Boston has everything you want in a great family vacation.
Give your kids a hands-on look at the sites they're learning about in history class. Check out Boston's world-class children's museum. Visit the tons of family-friendly public parks and other attractions. Once you're done with your urban adventure, head up to Martha's Vineyard for some beautiful, quiet beaches — and well-deserved R&R.
There are plenty of RV campgrounds in Cape Cod. You can stay there and take a ferry to get to the island of Martha's Vineyard.
Click here to see RVshare rentals near Boston, Massachusetts.
2. Yellowstone National Park, Wyoming
Here's a fun fact: Yellowstone National Park was not only the first federally designated national park in America — it was the first in the world.
So you'd better believe the northwestern corner of Wyoming is pretty darn special! It inspired one of the largest and most unanimously agreed-upon political motions in the world. Whether you're watching Old Faithful erupt, hiking one of the park's many trails, or just driving through the variety of ecosystems, don't let your kids miss out on the chance to experience the magic of the caldera.
Click here to see RVshare rentals near Yellowstone National Park in Wyoming.
3. Walt Disney World, Orlando, Florida
When it comes to fun family vacation ideas, Walt Disney World is basically a synonym. The Orlando mega-attraction is home to not one or two, but four separate theme parks, and two water parks for cooling off on a hot Florida day. As if that weren't enough, there's also nearby Universal Studios, home to the beloved Wizarding World of Harry Potter and all the frozen butterbeer your heart desires.
Staying at the mouse's house is undeniably the most attractive option for RVers. It's arguably the most famous of the area's many theme park options. Also, the on-site campground, Fort Wilderness, has just about every comfort and amenity you could want. And Central Florida's got unparalleled outdoor activity options, like hiking the oak-hammock trails or floating in the nearby springs.
Click here to see RVshare rentals near Walt Disney World in Orlando, Florida.
4. Disneyland, Anaheim, California
Looking for the West Coast equivalent of Mickey's Orlando adventure? Although it's smaller, Anaheim's Disneyland was the original resort. It's the only of the franchise's many parks whose design and construction were completely overseen by Walt Disney himself.
Click here to see RVshare rentals near Disneyland in Anaheim, California.
5. Washington, D.C.
Every American citizen should pay at least one visit to our nation's capital! Doing so while you're young is a great way to spark an interest in history, politics, and even social justice. Plus, since many of D.C.'s museums and cultural exhibits are free to enter, this destination combines educational fun with affordability.
Click here to see RVshare rentals near Washington, D.C.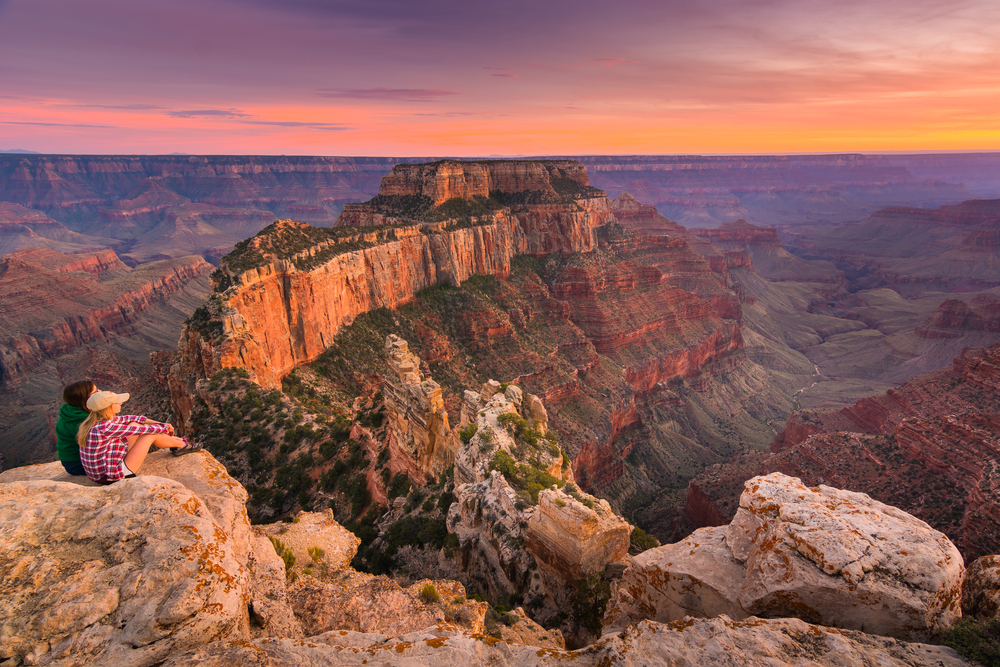 6. Grand Canyon National Park, Arizona
While any of the national parks make a worthy family trip, what list of family vacation spots would be complete without the one attended by Clark Griswold in National Lampoon's Vacation? Jokes aside, there's something magical about the Grand Canyon. Give your kids the chance to experience it, and you might just change their lives for the better.
Click here to see RVshare rentals near Grand Canyon National Park in Arizona.
7. Williamsburg, Virginia
Even if your kids aren't history lovers, chances are they'll adore a trip to Colonial Williamsburg where re-enactors bring those textbook stories to vibrant and decidedly unboring life. The town also offers a wide range of outdoor attractions, from paddling at Powhatan Creek Park to taking a spin on the Historic Jamestowne Bike Trail.
Click here to see RVshare rentals near Williamsburg, Virginia.
8. Minneapolis, Minnesota
If you've got kids with you on a Twin City trip, a visit to the Mall of America is a given! But Minneapolis is also home to hundreds of other family-friendly activities, including museums, arboretums, and even a children's theater company. If you still have any doubts about the cultural and educational potential of this northern metropolis, keep in mind that it was once voted the "most literate city" in America. And, hey, if there's one thing everyone in the family can agree on, it's probably deep-fried cheese — and there's no shortage of cheese curds in Minnesota!
Click here to see RVshare rentals near Minneapolis, Minnesota.
9. Charleston, South Carolina
Simply strolling down this southern charmer's seaside streets is enough to make anyone smile. Curious kids will love a trip to Charles Towne Landing — a historical park situated on the site of the original Charleston settlement. Looking for the perfect place for a night out on the town once the kiddos are asleep? Charleston's home to a stunning array of world-renowned bars and restaurants. Our suggestions: FIG, Avondale Wine and Cheese, and Chez Nous.
Click here to see RVshare rentals near Charleston, South Carolina.
10. Gatlinburg, Tennessee
The gateway town to the most-visited national park in America is a sight to see in its own right. Take high-flying rides on the Gatlinburg SkyLift and the elevator to the Gatlinburg Space Needle. You can also take a surprisingly nautical adventure at Ripley's Aquarium of the Smokies. For a more exhilarating experience, try the Treeventure challenge course, go ziplining, or take a ride on the Gatlinburg alpine coaster! And, of course, there's the Great Smoky Mountains National Park itself, beckoning you and your family to explore its hundreds of miles of hiking trails.
Click here to see RVshare rentals near Gatlinburg, Tennessee.
11. Saint Petersburg, Florida
Miami and Orlando might get all the glory, but for a perfect family vacation, don't overlook this southwestern 'burg. Saint Pete, as the locals call it, is a vibrant beach town!. It has world-class restaurants, tons of shopping, and so much art there's absolutely no way to take it all in. It's even got the largest collection of Salvador Dali works in the world. Sunken Gardens is a must-see living museum featuring a butterfly garden and over 50,000 tropical plants. Grab an ice pop at The Hyppo Gourmet for an afternoon treat, and end the day at Engine No. 9 with an award-winning burger. Don't forget: when you're tired of urban adventures, some of the most beloved beaches in the entire world are just a ten-minute drive away (some even offer horseback riding and jumbo water slides!).
Click here to see RVshare rentals near Saint Petersburg, Florida.
12. Galveston, Texas
You don't have to go to the Atlantic Coast for a picturesque beach vacation — or to expensive Santa Barbara, for that matter. This Texas Gulf gem has the sandy sweeps and high-flying Ferris wheels of busier ocean boardwalks, and many of the attractions are a fraction of the price. Cool off at Schlitterbahn Waterpark during a day full of exhilarating fun for the whole crew. Camp and hike at Galveston Island State Park for incredible views of the gulf. No trip to Galveston is complete without a trip to La King's Confectionery, where you'll find copious amounts of candy, ice cream, antique arcade games, and old-fashioned Coke!
Click here to see RVshare rentals near Galveston, Texas.
13. Erie, Pennsylvania
From the Erie Maritime Museum to the shores of Lake Erie itself, this northern lake port city boasts a bounty of interactive educational opportunities and recreational activities. Erie is adjacent to stunning state parks and lakefront beaches, so it's no overstatement to say it's got something for everybody. Experience a panoramic view of Lake Erie at the Port Erie Bicentennial Tower, head to Waldameer Park & Water World for the ultimate family fun day, and if you're lucky, catch a show at Warner Theater.
Click here to see RVshare rentals near Erie, Pennsylvania.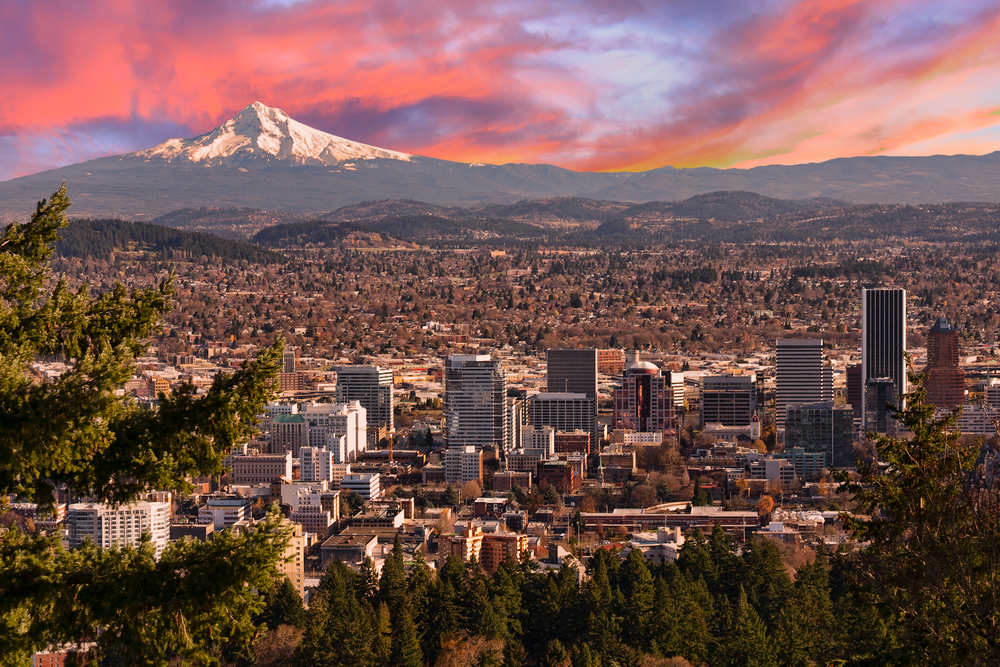 14. Portland, Oregon
What makes Portland a kid-friendly city, you ask?
Well, aside from its plethora of public parks and unparalleled outdoor adventure access, there's also the emergence of family-focused attractions like PlayDate PDX. The town is also home to an excellent zoo and science museum — but honestly, all you need to do is drive half an hour to the Columbia River Gorge National Scenic Area for the most intimate of natural education opportunities.
Click here to see RVshare rentals near Portland, Oregon.
15. Redwood National and State Parks, California
No matter how long it's been since your own childhood, these epic arboreal landscapes will make you feel teeny-tiny. Imagine how impactful they'll be for actual kids! Plus, a day of meandering through some of the world's last remaining redwoods is a surefire way to get your kids interested in ecology and conservation.
Be sure to check out the NPS-directed Junior Ranger program while you're at Redwood National Park. Parents can participate, too, whether it's by taking a guided kayak tour or collecting stamps in their National Parks Passports.
Click here to see RVshare rentals near Redwood National Park in California.
16. St. Louis, Missouri
If you want to spark the spirit of adventure in your kids, there's no better place than St. Louis, gateway to the West! It's also the best spot to wave goodbye to the mighty Mississippi for those of us who make our homes to the east.
Aside from the trip to Gateway Arch National Park, you'll also want to swing the kids by the City Museum, a sprawling children's museum and activity center.
Click here to see RVshare rentals near St. Louis, Missouri.
17. Atlanta, Georgia
Savannah gets a lot of press as a vacation destination and for good reason. But there's something to be said about the Peach State's capital, too.
For one thing, there's the Georgia Aquarium, one of the largest of its kind in not just the U.S., but the world. Your kids will also get a kick out of the World of Coca-Cola, and a stroll through the Atlanta Botanical Garden should be a life experience everyone gets to have — especially during fall. Once you're done with the urban hustle, head to Sweetwater Creek State Park for easy (but beautiful) hiking opportunities.
Click here to see RVshare rentals near Atlanta, Georgia.
18. Niagara Falls, New York
It's hard to think of something more awesome (in the literal, actual sense of the word) than Niagara Falls! It's one of the largest and most powerful waterfalls in America. Standing at 176 feet, a shocking 3,160 tons of water flows over the edge every single second. You and your family can experience it firsthand, whether you're perched on the observation deck or huddled in a poncho on one of the park's tour boats.
If your family has up-to-date passports, this destination also provides a great point of entry for a visit to our neighbors to the north. Hang out in the Canadian town of the same name, or venture further to Toronto, Montreal, or Quebec City.
Click here to see RVshare rentals near Niagara Falls, New York.
Favorite Family Trips with Grandchildren
Perhaps you're looking for a very specific kind of family vacation – one you can do with your grandchildren! In addition to the above suggestions, here are a few great choices for road trips with your grandkids.
San Diego, California
It would be hard to argue against any coastal California city, of course. But San Diego is especially well-suited for youthful visitors! It's home to a renowned zoo, a Sea World theme park, and Legoland, along with the naturally occurring awesomeness of beaches lined with sea lions and other marine life.
San Diego is also a special city with some pretty stellar RV parks close to the downtown area. You won't have to stay far afield and drive in (and find parking!) to see everything. You can just stay at the scenic Mission Bay RV Resort for the perfect combination of sea, surf, and skyline.
Click here to see RVshare rentals near San Diego, California.
The Black Hills – South Dakota
Stunning hiking trails suited to every level, historical monuments like Mount Rushmore, and a totally free, totally whacky roadside attraction perfect for young dinosaur lovers? Western South Dakota really does have it all when it comes to an adventure fit for both six-year-olds and sixty-year-olds and thanks to its Midwest location, it's readily accessible by a huge chunk of our nation's residents.
Click here to see RVshare rentals near the Black Hills in South Dakota.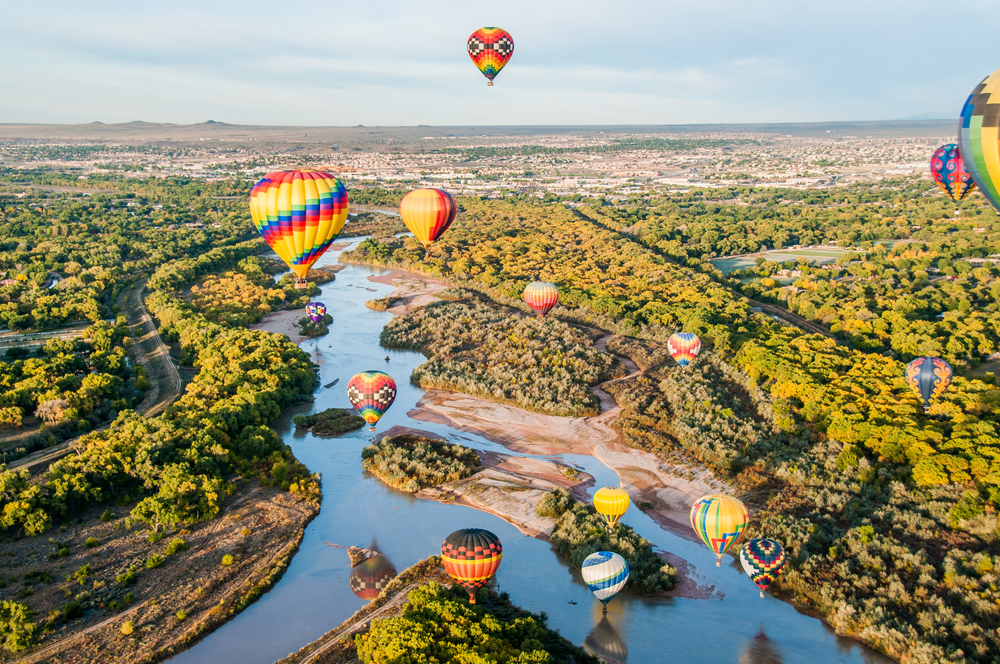 Albuquerque, New Mexico
If you ask us, just about any southwestern adventure is going to be well worth your time. This is, after all, the region that's home to the famous Grand Circle tour of national parks and monuments.
But if you're looking for a city to call home base during your southwestern exploration, we highly recommend Albuquerque! This New Mexico gem offers a great balance of urban adventure and desert solitude. Along with delicious eats (don't go easy on the green chile!), Albuquerque is also host to the world-famous International Balloon Fiesta. And even if you can't make it for Fiesta season — which is in the fall — you can probably still catch the one-of-a-kind Fractal Friday event that takes place each First Friday at the New Mexico Museum of Natural History and Science.
Click here to see RVshare rentals near Albuquerque, New Mexico.
Road Scholar Trips with Grandchildren
Looking for an adventure that's equal parts educational and fun?
You may have heard about the Road Scholar program, which matches adventurers of every age and activity level with a wide variety of world tours and experiences that can provide one-of-a-kind, eye-opening interactions with new destinations and people.
The programs take place all across the world and are suited for all different types of travel styles and preferences. For example, you might find yourself paddling a foreign river, climbing a mountain, or enjoying a slew of Broadway shows you never thought you'd have access to.
The Road Scholar program does offer specific tours and excursions for grandparents, which make it easy to share an educational experience with your grandkids. That said, you can also easily create an RV tour around some specific theme or educational focus and make it into a Road Scholar trip of your own!
How to Find Family-Friendly Campgrounds
Alright, so you've got an idea of where you want to go. But where will you stay once you get there?
When you're traveling with kids, there's more to choosing a campground than simply finding an affordable place with hookups. For the happiest family camping experience, it's nice to have some on-site extras and amenities to keep the brood entertained on days when you just don't feel like taking an off-site adventure.
Swimming pools, horseshoes, mini golf, clubhouses with ice cream socials… there are many resort-style campgrounds that offer so many things to do that leaving the campsite almost becomes entirely unnecessary. But here at RVshare, our very favorite of the many wonderful family-friendly camping resorts out there is the Jellystone Parks franchise, which boasts more than 80 locations across the U.S. (and even a few spots in Canada!).
Along with souped-up swimming pools and water attractions that often include slides, splash zones, and more, Jellystone Parks feature other fun activities that'll keep your kids smiling no matter how long you stay — and sleeping like babies, to boot.
To find a Jellystone Park near you, click here. And if there isn't one near your next destination — or you want to look into your other options — check out our full directory here or simply run a Google search for "private RV parks near me" or "RV parks + [your destination's zip code]." Thanks to the ubiquity of user review sites like Yelp, you can learn a whole lot about what you're signing up for before you ever call the front office to make a reservation. So don't be afraid to shop around to find the best spot for your family trip!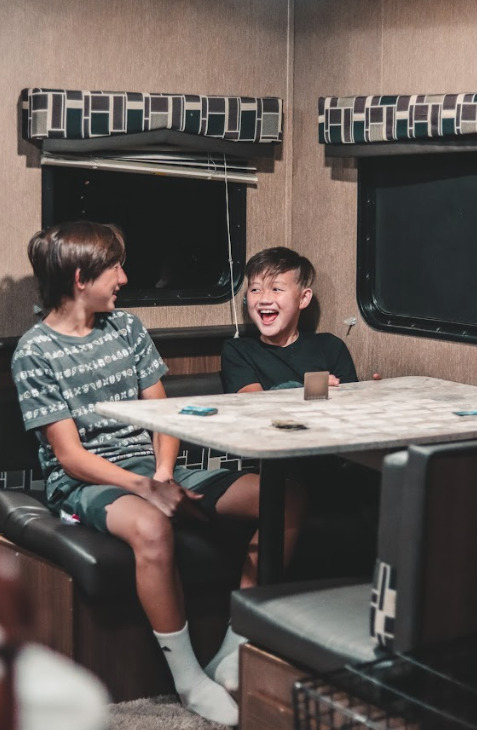 Road Trip Games for Kids (and Adults!)
Depending on your destination, you may have a lot of time to spend on the road with your kids. They might be on electronics for much of it, but you'll also want some screen-free time. After all, that's why you're getting away on this trip together! Here are some classic road trip games to play in the car or RV.
21 Questions
21 Questions gives you the chance to try to read the mind of your opponent!
To play:
One person thinks of something.
The other players take turns asking yes or no questions.
The first player must answer all questions truthfully.
Those asking questions try to figure out what the first player is thinking of in under 21 questions.
Whoever guesses correctly starts the next round.
The Alphabet Game
The Alphabet Game is another classic that many know and love. It's simple enough that even the youngest riders can participate, but interesting enough to keep the adults engaged. The goal? To find every letter in the alphabet in order.
To play:
Watch road signs carefully, looking for the letter "A".
When the letter "A" is found, move on to letter "B".
Continue in this way until the entire alphabet has been found on road signs.
License plates do not count…although for a variation, you could also play this with only license plate letters.
The Singing Game
People who love music will adore the Singing Game. Not only will you get to sing to one another, you'll also get to show off your repertoire of songs.
To play:
One person sings a song.
The next person has to pull a lyric from the first person's song and jump in to connect it to another song.
The next player does the same.
Play continues until somebody messes up or is stumped.
Categories
This is a game of quick thinking that is sure to challenge everyone in your vehicle and give everyone a few giggles to boot. The idea is to list items in a preselected category in alphabetical order without skipping a beat.
To play:
Decide on a category such as food, cars, animals, or anything else you like.
Everyone begins clapping an agreed-upon rhythm together.
The first player says something within the category that starts with the letter "A".
The second person says something within the category that starts with the letter "B" while staying on the rhythm and without skipping a beat.
The play continues this way until someone messes up or the alphabet is complete.
Cows on My Side
Cows on My Side is an absolutely ridiculous game that can be played for the duration of the trip, even when other games are going on. It's totally silly, yet challenging—in that it requires players to pay attention—and is sure to get some laughs.
To play:
When you see a cow on your side of the road yell, "cows on my side" before the players on the opposite side notice and collect a point for your side of the vehicle.
When you see a cow on the opposite side of the road yell, "cows on your side". If you say it before the players on the opposite side you gain a point for your team.
When anyone sees a cemetery, they can call "ghost cow" and steal all the points from the other side of the vehicle.
Fortunately/Unfortunately
The final game on our list requires just as much fast thinking as Categories and just as much silliness as Cows on My Side. Fortunately/Unfortunately gives players a chance to make one roller-coaster ride of a story.
To play:
One person starts by saying something is fortunate. Example: "Fortunately, we're in an RV right now."
The next person follows up by saying something unfortunate about the situation. Example: "Unfortunately, the RV belongs to a witch."
The next player will then point out something fortunate. Example: "Fortunately, the witch has no idea we're here."
Keep playing at a fast pace until someone is stumped.
Statements can be true or completely fictional, but fictional ones tend to be more fun.
RV and Camping Jokes
Is it even a true road trip if you haven't made your kids groan and roll their eyes at your terrible jokes and puns? Here are a few RV and camping-related jokes to tell on the drive!
George loved his RV, but he dreamed of going to Hawaii. One day, while walking along the beach, George stumbled over a genie in a magic lamp who granted him a single wish. "I've always wanted to explore Maui in my motorhome, but I can't afford to ship it there. I wish for you to build a bridge from Oregon to Hawaii so I can fulfill my dream." The genie replied, "That's impossible. The ocean is far too deep to build a bridge across. Even a genie such as I can't do it. You have to wish for something else." George thought for a moment, then he said, "I don't understand women. I wish to understand how they think and what they want." The genie paused, then said, "Do you want two lanes or four?"
"Knock, knock!" "Who's there?" "RV." "RV who?" "RV there yet?"
Why didn't the elephant carry a suitcase on his RV trip? Because he already had a trunk!
I want to hang a map of the United States in my house. Then I'm going to put pins into all the locations that I've traveled to in my RV. But first, I'm going to have to travel to the top two corners of the map, so it won't fall off the wall.
It was late in the day when a fully loaded minivan pulled into the only remaining campsite. As soon as it stopped, the doors flew open and four children jumped out. They began to unload gear and worked feverishly to set up the tent. Next, some kids ran to gather firewood while others set up the camp kitchen area. The camper in the space next to them marveled to the children's father, "I've never seen such teamwork nor a camp that was ready so quickly. I'm impressed." The father turned to the neighbor and nodded sagely. "I have a system," he said. "No one goes to the bathroom before the camp is set up."
After Little Johnny came back from another walk on the nature trail, he told his mother that he learned why ants don't get sick. "Because they have little anty-bodies," he said.
Little Johnny stood outside the tent and called to his mom. "Hey, Mom, can a frog jump higher than an average tent?" "I don't know," she replied. "Of course," he said. "An average tent can't jump!"
When Little Johnny went back to school, his teacher, knowing his love of camping, decided to use something Johnny was familiar with to teach him math. She said, "If I gave you two tents and then another two tents and then another two, how many tents would you have?" Johnny replied, "Seven." The teacher said, "No, listen carefully. If I gave you two tents, and then another two tents, and then another two, how many would you have?" Again, Johnny said, "Seven." So the teacher said, "Try this instead. If I gave you two apples, and then another two apples, and then another two, how many apples would you have?" Johnny answered, "Six." So, the teacher began again, "Okay, so if I gave you two tents, and another two tents, and another two, how many tents would you have?" Johnny immediately answered, "Seven!" The teacher looked at him and asked, "Johnny, where do you get seven from?" And Johnny told her, "Because I already own a tent!"
These road trip games and jokes, plus store-bought games such as road trip bingo and Mad Libs, can make time fly by and give you an excellent opportunity to spend quality time with those you love.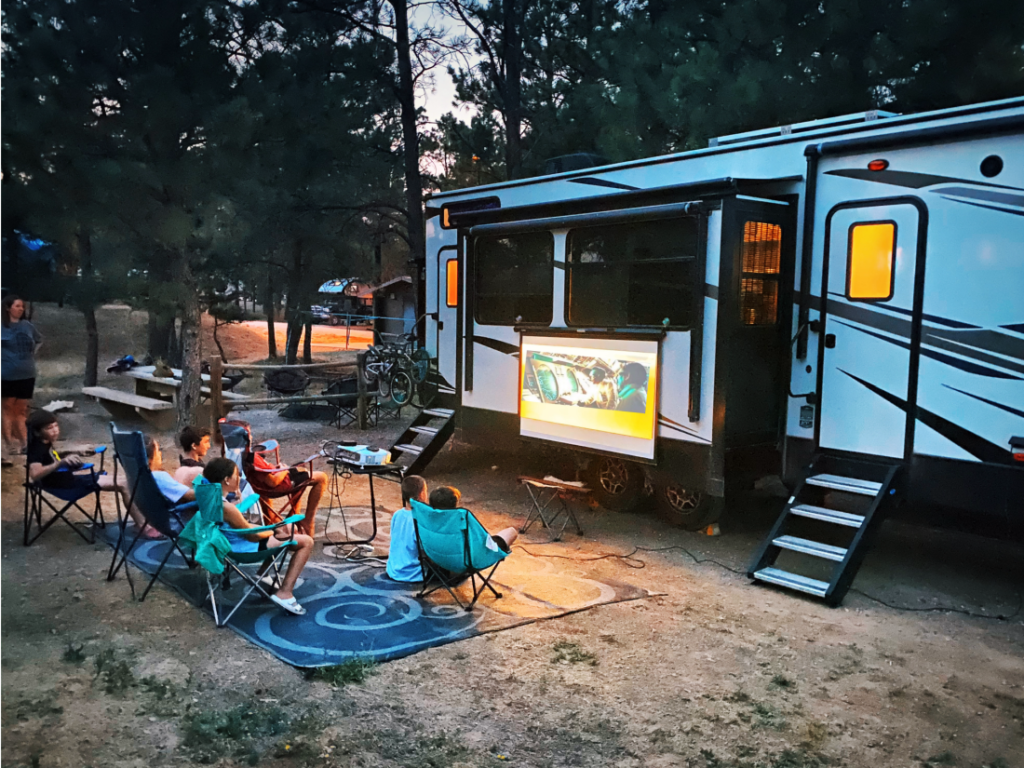 The Best Beach Games
Traveling to the beach on your family trip? Here are a few fun games you can play when you get there! You can also play some of these right at your campsite as well.
1. Beach Bocce Ball
When it comes to classic beach party games, bocce ball is near the top of the list! It's simple, but it stays fun and unpredictable no matter how many times you play it.
Here's how it works. Up to four individual players or two group teams can play, and all you need to get started is a set of beach bocce balls. Grab your group and draw a "shooting circle" in the sand, approximately 5-8 feet in diameter. It can be helpful to mark out this circle using sticks, rocks, or a tangible object rather than the sand itself. A player stands inside and tosses the jack, or smallest ball, outside of the circle. The object of the game is to be the person or team who can throw their bocce ball closest to the jack from within the circle. Super simple — in fact, it almost sounds boring, right? But you could be winning the whole time and suddenly have your ball misplaced or be one-upped by an opponent with no warning.
2. Beach Frisbee
Here's a classic you likely already have the gear for: beach frisbee. One of the coolest parts about this option is that it can be as low-key or as competitive as you want; just toss a frisbee back and forth between friends or make it into a serious competition. It's up to you!
If you're not sure how to make frisbee-throwing into an actual game, take heart: there are plenty of fun ways to go about it. Check out this list of more than 15 fun frisbee games, from Tic Tac Toss to frisbee beach tennis.
3. Portable Corn Hole
Everyone's favorite classic pub game can come with you these days, thanks to the magic of portable corn hole sets. Made of lightweight, durable materials, this carry-and-go kit will stay with you for many camping trips to come.
5. Bucket Ball
There are all sorts of beach ball games out there, but this one bears a striking resemblance to a… well, a different kind of ball toss. That's right, it's basically life-size beer pong. (Though we can't recommend you actually shotgun a whole sand pail's worth of beer at a go!)
Instead of wasting gallons of beer and potentially landing yourself in the hospital, the makers of Bucket Ball offer easy-to-use fill lines for sand and water. That way, the buckets stay in place and nobody gets sick. Plus, you can still have a *normal*-sized amount of beer to sip on in your beach koozie.
6. Kite-Flying
It may not be a game, per se, but there's something to the simple magic of watching your kite float on air. And as long as your kids have a patient adult to help them steer clear of any string tangles, flying a kite could easily keep them occupied for a whole beachy afternoon, particularly if it's a kite as visually interesting as these adorable octopuses.
Along with being a classic outdoor activity for the beach and beyond, kite-flying is affordable, simple, and super reusable — if you take care of them, your kites will last you for years of fun flying. All you have to do is get out there and catch the wind!
7. Ring Toss
Whether you're traveling with a group of friends, a family, or even just as a couple, ring toss is a perfect game for literally any camping party. This set comes complete with a base and pegs made of durable wood, the rings themselves, and a water-resistant bag to carry it all in. You can set it up and get tossin' literally anywhere you go camping, whether it's on the beach, in the woods, or even just in your own backyard.
8. Water Gun Fights
Who doesn't have a fond summer memory involving getting soaked by someone who purportedly loves them? These water guns make it easy to recreate those memories with your own kids — and it's the perfect way to cool down on a hot beach day under the sun. We like this simple set because it comes with not one or two but four super-soakers, foregoing the fancy and unnecessary add-ons in favor of the real purpose of this toy: to soak others!
Affordable Family Trip Isn't an Oxymoron
Another common consideration when planning a family vacation: how on earth will you afford it? Travel is expensive enough when you've only got one or two mouths to feed and attraction tickets to purchase. Even with discounts for young children, taking a trip with a big family in tow can add up quickly. To make matters worse, many campgrounds now charge extra per-person fees, even at family-friendly campsites.
But "cheap family vacations" doesn't have to be an oxymoron, and it doesn't have to mean sacrificing the amenities and activities you want. There are lots of ways to save money on your next RV road trip, even if you're traveling with children.
We've written about easy, clever ways to save money on the road before, and even a few ways to earn more of it. But one of our very favorite secrets for those looking to save a whole lot with one simple transaction is to purchase a Passport America membership.
While there are tons of discount camping clubs out there, Passport America is the only one that gets you a full 50% off your campsite accommodation fees at over 1,100 quality campgrounds across the country, including some locations in Mexico and Canada. Your whole year's membership costs less than $50 — and considering that we routinely see campsites going for as much as $75 per night these days, it's easy to see how quickly the investment pays for itself.
What's more, Passport America campgrounds are some of the best-maintained and most amenity-packed in the country. (In other words, they're the kinds of places you want to go during your family trip, anyway.) To learn more about this valuable camper's secret, visit Passport America's website — and if your big trip is coming up soon, sign up today!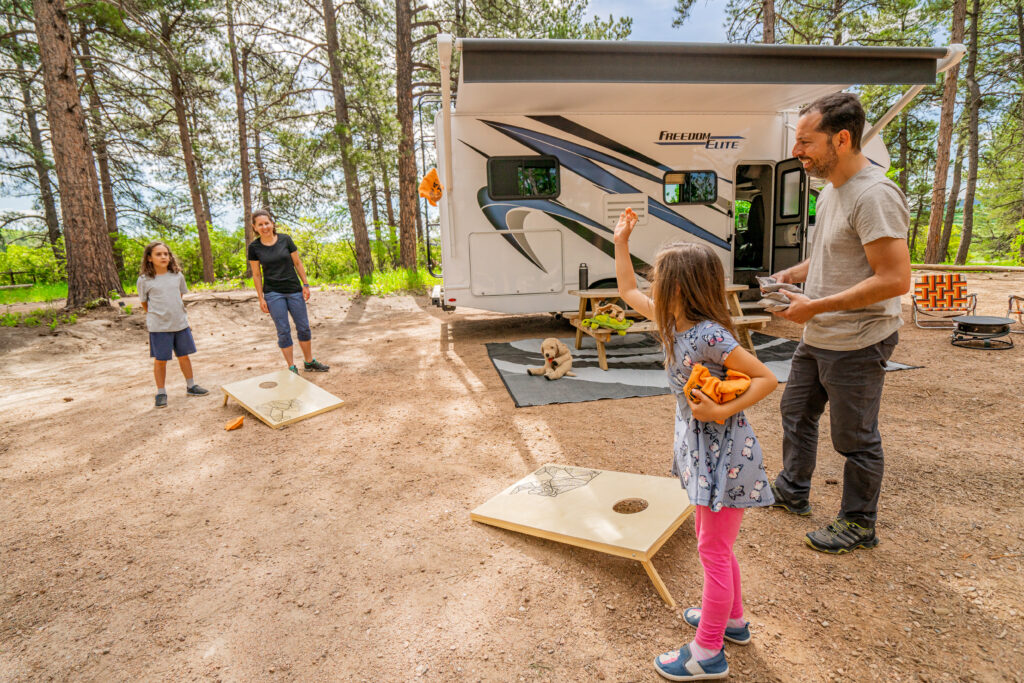 5 Things You Should Know About Safe RV Travel With Kids
Traveling with kids does require some considerations that traveling with older passengers does not. Kids need adults to look out for them and remind them of safety procedures. They're also smaller and have different safety needs. Here are some things you need to know for safe RV travel with kids.
1. The Type of RV You Have Matters
Class B & C motorhomes are built on the base of a commercial-type truck or van chassis with the same front driver's area, or cockpit. These types of motorhomes adhere to the same type of safety requirements that typical trucks and vans must adhere to, at least in the driver's area.
These types of requirements do not carry over to Class A RVs because of the difference in how they are built. Consult the safety features of your individual RV to understand the safety and restraint features that it is equipped with to determine if it's safe for traveling with kids.
2. Remain Seated
While traveling with kids in an RV, with all of its amenities, comforts, and room to spread out, it's sometimes easy to forget that you're riding in a moving vehicle. Even though an RV is equipped with the comforts of home, turns, bumps, braking, and unexpected movements can cause things in your RV to fall or cause cabinets to open.
For this reason, it's important to make sure that your kids stay seated and buckled while the RV is in motion. It might be tempting for the kids to jump up and run across the living room, but it's just not safe when the living room is going down the highway at 60 miles an hour.
3. Buckle Up
Most RVs are equipped with seat belts in the living area of the coach, and they are the best seats to ride in while the RV is in motion. These seatbelts can typically be found either in the dinette area, in the cushions of a couch, or perhaps in an RV chair or recliner secured to the floor.
Kids riding in the living area of the RV should also be buckled at all times while the vehicle is in motion.
Although your RV comes with seat belts installed, these seat belts are NOT required to comply with federal standards for seat belts in the same way as cars. While vehicle seat belts are required to be fastened to the frame of the vehicle, RVs do not have the same requirement. Seat belts in an RV may only be secured to the floor or wall, so be sure to understand where your seat belts are fastened. Be sure to check the RV seat belt laws by state.
4. Car Seats
While it's difficult to find specific information about RV car seat laws, you should follow federal recommendations for what size child should ride in a car seat and where car seats should be placed.
Also, be sure to follow the instructions of your car seat's manufacturer when securing it to a seat — whether it be in a passenger car or RV. Child safety seats should generally not be used in a side-facing seat or any seat that may turn or swivel.
It is generally recommended that children do not ride in the front seat of passenger vehicles, but you may find that the front passenger seat provides the safest option for your child and his or her car seat if there are no airbags or they can be disabled.
Many child safety seats require a shoulder harness in addition to a lap belt, and in many RVs, only the driver's and front passenger seats provide this level of restraint.
5. Riding in a Passenger Vehicle May be the Safest
Depending on the age, size, and number of your children, in comparison to the available safety restraints in the motorhome, you may end up determining that having your children in a passenger vehicle is the safest option.
In that case, you will want to drive a second vehicle so that any kids traveling with you can be restrained properly.
Another option is to consider a pull-behind RV, such as a travel trailer or fifth-wheel, instead of a motorhome.
With a pull-behind RV, you get the same comforts of having an RV to camp in, but you also get all of the safety features that are inherent to your passenger car, truck, or van.
How to Camp with a Baby
If you're a frequent camper and new parent, chances are you're aching to get back to your favorite travel lifestyle. But how do you camp with a baby?
Camping with a baby can present some unique challenges and obstacles even for the savviest camper… and can be downright overwhelming for a first-timer.
Fortunately, you don't have to wait for your little one to grow up before you head out into the wilderness. You can pass on your passion for the outdoors while they're still very young!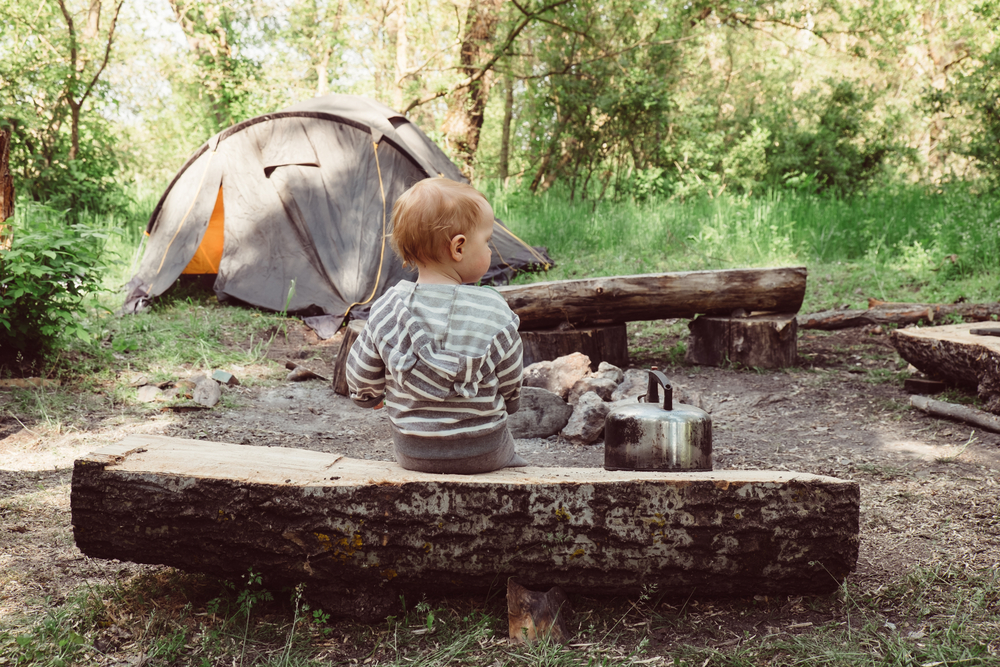 Things to Consider When Camping with a Baby
While you might think that camping with a newborn is impossible, it can be done under the right circumstances. For instance, one family explained on Fatherly how they successfully took their five-week-old infant on a camping trip.
But the younger and more helpless your baby is, the more planning and effort will need to go into your camping preparations. For instance, it's critical to ensure your baby is protected from insects and the sun, but you shouldn't use bug sprays or sunscreen on a child until they're a few months old, which means you'll have to be sure there's enough shade and consider mosquito netting.
Basics like finding a clean and reliable source of water and having a nearby bathroom can make all the difference when it comes to taking your baby camping, and an RV simplifies that. (After all, you'll have your very own private bathroom on board, not to mention a kitchen sink and refrigerator!) RVing also gives you sleeping space; it's easy to set up a crib in an RV living room, for instance.
Generally, you'll want to keep the following items in mind when planning a camping trip with a baby — each of which we'll go into in more detail below.
Choose a location close to home and which offers as many amenities as possible.
If you're tent camping, go big — and consider upgrading to an RV.
Plan meals ahead of time, and keep it simple!
Dress your baby properly and ensure they're protected from the elements.
Where to Camp with a Baby
Choosing a camping location is always a fun (and admittedly sort of overwhelming) task. There's so much to keep in mind, from figuring out which destination will offer the best activities to deciding what's feasible and affordable. When you've got a baby in the mix, things get more interesting and choosing the right campsite can go a long way towards making your family-oriented trip more doable.
The rules of thumb for the first campout are simple: choose a place that's relatively close to home and well-developed, and once you arrive, look for a secluded and shady campsite.
By staying close to home, it won't be that big of a deal if you have to bail because things just aren't working. It also limits your driving time, which can be stressful for baby and driver alike.
You want a developed campground, as opposed to a backcountry campsite, because having access to running water and a bathroom is a godsend when you're traveling with an infant. If you've really got your heart set on roughing it, at least try out camping in a developed locale once or twice before venturing further into the wilderness. (Keep in mind, though, that this guideline doesn't rule out state parks, national parks, and other public camping locations! Many of these have basic amenities, though you may not have water or electricity at your individual site.)
At any campground, choosing a site some distance from your neighbors will help you feel more comfortable about the inevitable noise that comes with kids. (Chances are those neighbors will also be thankful for your choice!)
Tips for Sleeping in an RV with a Baby
If you're gearing up to take your baby on their first camping trip, you may be wondering what the sleeping arrangements will be. This is why we suggest choosing the most spacious RV (or tent) you can get your hands on. And you're likely going to want a portable crib to give your child a safe and secure place to sleep. (As far as staying warm, yes, baby sleeping bags are a thing and can be used for camping. You'll want to make sure it's the right size, and never bring an infant into your own sleeping bag with you! It would be too easy to accidentally injure or suffocate the child in your sleep!)
Having a large RV or tent allows you to set up your portable crib without feeling cramped and will generally make for a more relaxing experience. RVing can make this a whole lot easier than trying to jam a Pack N' Play into a tent.
Speaking of portable cribs, we really like the Guava Lotus Travel Crib, which also converts into a play yard and folds down into a small backpack for easy storage. Baby sleep sacks for strollers come in a wide range of sizes and styles, including this weatherproof version which could make a helpful accessory when you're out and about.
Even after you've gotten the sleeping situation figured out and settled, camping with a newborn still won't be perfect. Chances are you'll be up during the night, just like you are at home — and you may need to forego normal bedtimes and routines.
Bringing some familiar toys and other favorite items can help to minimize the stress of transitioning to camping in an RV or tent. No matter what, just remember that it's for a limited time, which can help you keep your patience and hopefully enjoy the experience.
Meal Planning for a Baby While Camping
You'll likely want to keep the menu very similar to what it's like at home. If you use formula, this is where that running water and bathroom come in handy. You'll want to ensure you're able to keep everything clean by boiling bottles to sterilize them, and potable water is essential for mixing up the formula.
Alright, we've got sleep covered; what about food? How do you ensure your baby stays well-nourished on your camping trip?
If your baby is a little bit older, this part gets easier. There are tons of convenient child-friendly foods you can easily take camping, including squeezable baby foods, eggs, cereal, and finger foods like precut fruit and crackers. You can prep ahead of time by putting things in airtight containers and ziplock baggies. The most important rule of thumb: try to keep things as similar to "normal" life as possible.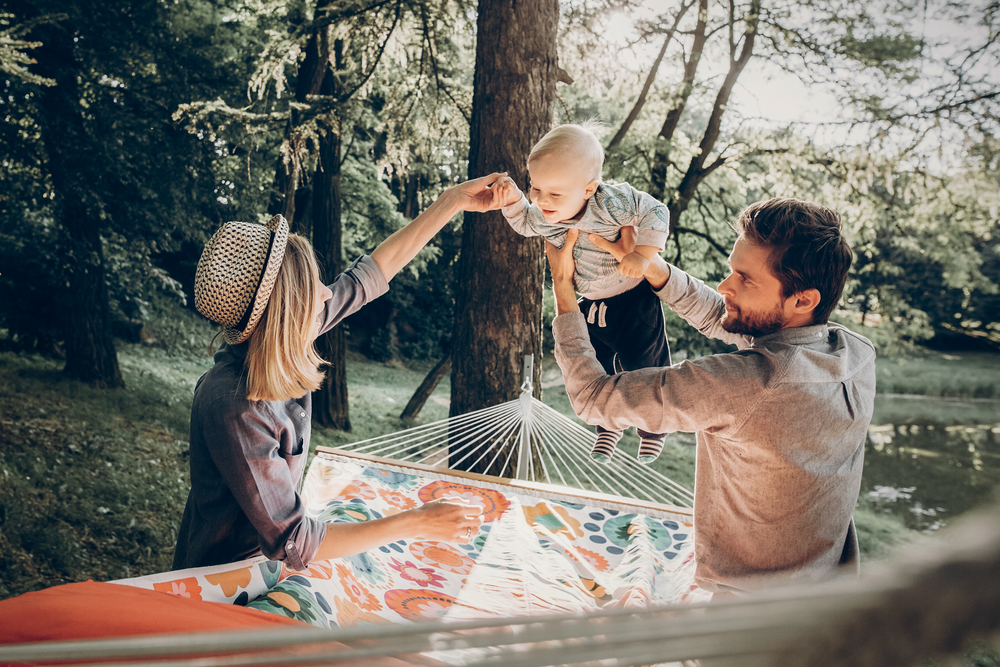 How to Dress Your Baby for Camping
Keeping your kid in the right duds will keep them safe, dry, and comfortable.
You'll want to avoid cotton, which may seem breathable and comfy but also traps moisture next to the skin in a way that can be dangerous when wet. Just as you dress yourself in layers, dressing your baby in layers helps you adjust their clothing to regulate their body temperature, depending on what the weather is doing.
Keep in mind that your baby is sensitive to the sun, and again, might be too young for the use of sunscreen — though if they're old enough, definitely use it!
But if you're relying solely on shade and other physical barriers to keep your kiddo's skin soft and safe, consider long-sleeved garments and pants, which will limit skin exposure. That said, you also want to avoid overdressing (or underdressing) your baby, which could make them uncomfortably hot (or cold) — and that's something to keep in mind even overnight while the temperatures drop.
Other tips for Camping with a Baby:
Enlist the help of a service like BabyQuip. BabyQuip lets you rent baby gear from nearby families during your trip, so you don't have to lug it along. They can even deliver right to your RV or campsite. Get 10% off with code RVSHARE.
Keep in mind that it's just one adventure… and even if things go badly, you can always go home and try again when they're a little bit older! Traveling with kids can be challenging at any age, but it's especially tricky with infants… which is one reason we recommend spending your first camping trip relatively close to home. That way, if it goes truly badly, you can bail — and try again when your kid's got a few more months under their belt.
Need Even More Info on Family-Friendly Vacations?
We hope this post has helped make planning your next family vacation just a little bit easier. But if you still need more information about planning successful vacations for kids, never fear! Check out the following RVshare blog posts for even more insider secrets.
Traveling as a family to enjoy RVing is a wonderful adventure. It creates lasting memories and a lifetime of close relationships. But it's important to make sure that you keep everyone, especially children, safe and secure.
Enjoy your family vacation, and don't forget: even when they drive you crazy, they're still the best people you know… so enjoy your chance to reconnect and experience this big beautiful world with them.
Here's to a whole new generation of outdoor lovers, and adventures filled with happy campers of all ages!
This post contains affiliate links. RVshare may receive compensation if you make a purchase after clicking on a product link.