RV Owners
March 9th, 2021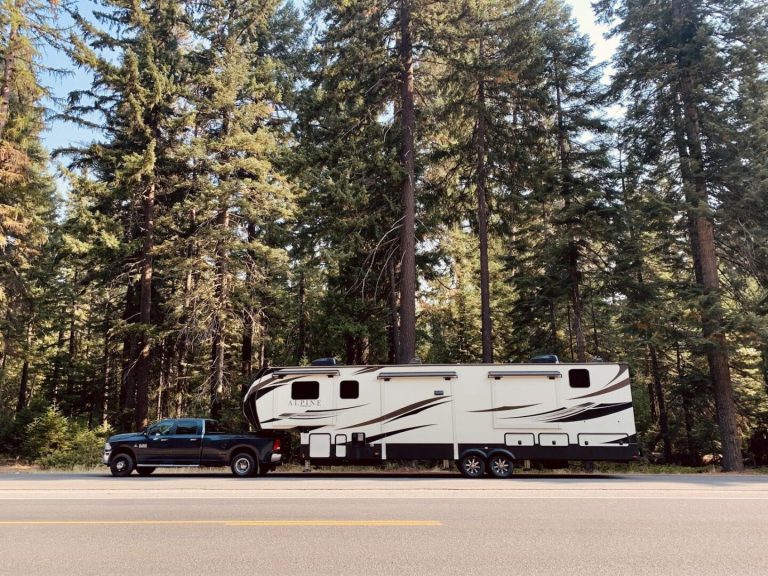 Deciding which RV is right for you can be an overwhelming process. There are so many types of rigs out there, and if you are a first-time RV owner it can be difficult to understand what your living and travel needs might be.
We began our full-time travel journey in a Class A. After only one year on the road we transitioned to a Fifth Wheel. Here's why:
Space
We love the residential feel of the Fifth Wheel floor plans. They tend to offer more living space and room for storage. We appreciate the clear division of rooms within our RV. A sliding door completely separates our bedroom and bathroom from the rest of the home. Danella can be practicing yoga in the front of the RV without being disturbed by Allie's online ESL classes in the back.
Cost
We were happy to eliminate the cost of maintaining a Class A engine. When we bought our Class A, we had no idea how costly engine maintenance would be, in addition to maintenance costs for our tow vehicle. These expenses added up quickly and we struggled to stay within our budget during our first year on the road.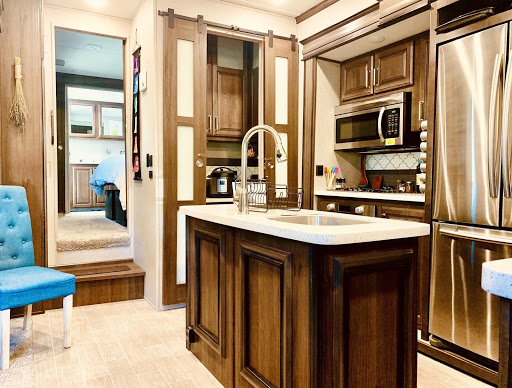 Ease
We fell in love with the ease of travel in our Fifth Wheel. Contrary to what most people assume, our truck and Fifth Wheel combo is much easier to drive, park, set up, and break down. We don't feel any sway while driving on expressways and we enjoy the simplicity of driving our truck, as opposed to the rig itself. Navigating a back-in site with a Fifth Wheel is an entirely different story, however, but anything is possible with a little bit of practice in a large, empty parking lot!
Upgrades
Our Class A had some of the traditional upgrades that come in a new RV, such as tank heaters, high-end fixtures, and a built-in generator. These items were nice to have, but couldn't make up for the user-friendly interface in our Fifth Wheel. Our Alpine uses a command center that has bluetooth connectivity, which means we can do anything on the command center from an app on our phones. Our Fifth Wheel also has an electric fireplace, dual awnings, and a televator that stores our large flat screen TV. These upgrades make us feel like we have our own small slice of paradise.
We feel so comfortable in our Fifth Wheel home today and we expect to live in it full-time for several more years to come. But our comfort and proficiency didn't happen overnight. We consumed hundreds of YouTube videos, read dozens of blog posts, and connected with tons of seasoned RVers before we abandoned our sticks-n-bricks home for a life on the road. Looking back now, here are some important questions we would consider when deciding on your first RV.
Questions to Consider When Buying (or Renting!) an RV
Do you want to drive it or tow it? Deciding on a drivable RV (Class A, B, or C) means you also need to consider the need for a tow vehicle, and the budgeting-in of maintenance expenses. Also, look into what kind of accessories are included in drivable models (for example: a lot of these RVs come with a built-in generator). If you're looking to tow your home on wheels then you've got to factor in the vehicle (likely, a truck) that will be towing it (weight and towing capacity become very important here). In what features of an RV might you find value? Many towable RVs do not come with hydraulic jacks, heated storage bays, or that big panoramic windshield you get with a drivable RV. These are all things to consider when weighing your options.
What sort of floor plan makes sense for you and your family? No matter what RV type you choose, we feel the most important factor in your decision should be floor plan, floor plan, floor plan! We can't emphasize enough the importance of choosing a floor plan that works for your daily living. We suggest reflecting on your daily life habits when deciding on a floor plan. Do you make coffee in the morning? If so, then what sort of counter space is available for that? Do you need an office space for a remote job? Then ensure your rig has a dinette area or table space for work and school. Is there room for your children to play and sleep? Where will your dog sleep? These simple questions about your lifestyle can greatly impact the type of rig and floor plan that will be right for you and your family.
Ask yourself the 5 W's:
Who will you be traveling with? The size of your RV family can impact the size and floorplan you may pick out.
What type of traveling do you want to do? Will you be on the move every few days, or stay longer at each destination? Some RVs are better equipped for a quick transition from stationary to in-motion.
When will you be traveling? Are you going full-time, taking longer trips, or will you be an occasional weekender? The more time you plan to spend in your RV, the more comforts of home you might find necessary.
Where will you be traveling? Not all RVs are made for all seasons. Make sure to think about if you will be braving the cold winter weather, or moving with the warm winds in your tiny home on wheels.
Why are you choosing to buy an RV? This is a question that deserves some contemplation. Some people choose RV life because it will cut back on their cost of living. Other people choose to go full-time because they want to explore more and incorporate travel into their lifestyle. Whatever your reason is, keep it in the front of your mind when you are RV shopping.
Being mindful of your lifestyle needs is essential when you are going full-time, or if you will be spending a significant amount of time in the RV. The rig will be your home, after all! We studied hundreds of RV models online and in-person before it was purchasing time. Although our first RV, a 35-foot Newmar Baystar (Class A) didn't work for us, it might be the perfect home on wheels for you!
Ultimately, the Fifth Wheel has been much more functional for our lifestyle. We felt cramped in the Class A, and we didn't have enough space to manage our small crochet business. Our limited storage bays were overflowing with yarn, clothing, and shoes, and the single wall slide out made it feel as though we were residing in a hallway. In our Fifth Wheel, we have the spaces we need to watch TV on our 52" screen, do laundry in our washer and dryer, play with our puppies, and store supplies for our growing business. There is even a residential fridge and walk-in pantry! Perfect if you're a foodie and cook, like Danella. Some higher end Class As have these features as well, but many folks don't have half a million dollars to spend on an RV.
"Let's go big or go home." we said to each other when we finally decided on Athena, our Keystone Alpine Fifth Wheel. The truth is, we did both and we couldn't be happier.
Meet the authors: We are Danella and Allie of Wander Free and Queer. We live and travel full-time in our Fifth Wheel with our two dogs. We started a small crochet business on the road in 2018 and we enjoy creating products that bring visibility to the LGBTQ+ community. In our travels, we enjoy hiking, rafting and visiting National Parks.