Travel Inspiration
May 16th, 2023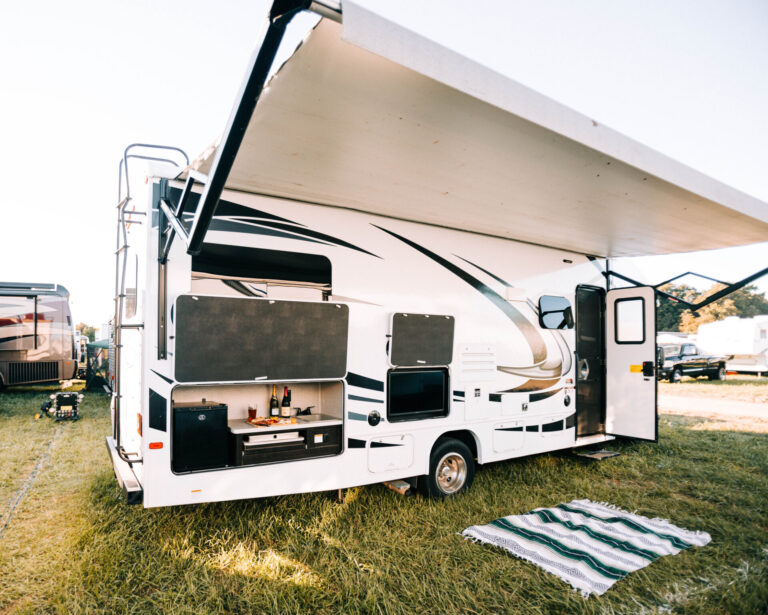 Camping at events is the ultimate way to experience your favorite performers, allowing you to immerse yourself in the festivities while having a quiet and private place to escape to when you need it. However, finding suitable accommodations can often be a challenge. That's where RVshare comes to the rescue. With a wide range of RVs available for rent, we make event camping easy, fun, and safe. Because we love RVing at events as much as you do, we went one step further and created packages to help you plan for the ultimate festival experience! Check out our available packages here. We are always adding new and exciting ways to attend and stay at your favorite events, so be sure to check back often!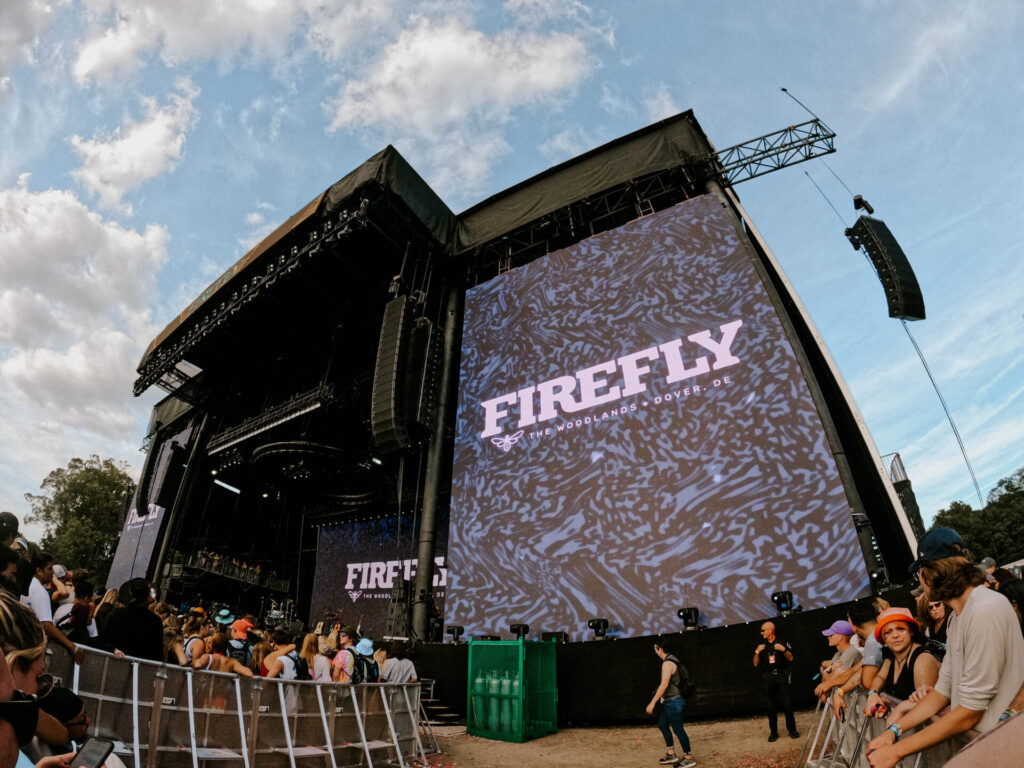 RVing at Events is Comfy and Convenient
One of the standout features of RVshare is the convenience we offer when it comes to event camping. No longer do you need to worry about securing a hotel room or finding a campsite near the event venue. We bring the comfort of home right to the event grounds.
Our extensive inventory of RVs caters to various needs, ensuring that you find the perfect vehicle for your event camping adventure. Whether you prefer a cozy camper for a small group or a spacious motorhome for a larger gathering, RVshare has you covered. Our site allows you to browse and book RVs easily, making the reservation process a breeze.
We also provide flexible rental options, enabling you to choose the duration of your stay. Whether you plan to camp for a weekend festival or extend your trip for a week-long event, there are rentals to suit your schedule, allowing you to maximize your experience and truly immerse yourself in the event atmosphere.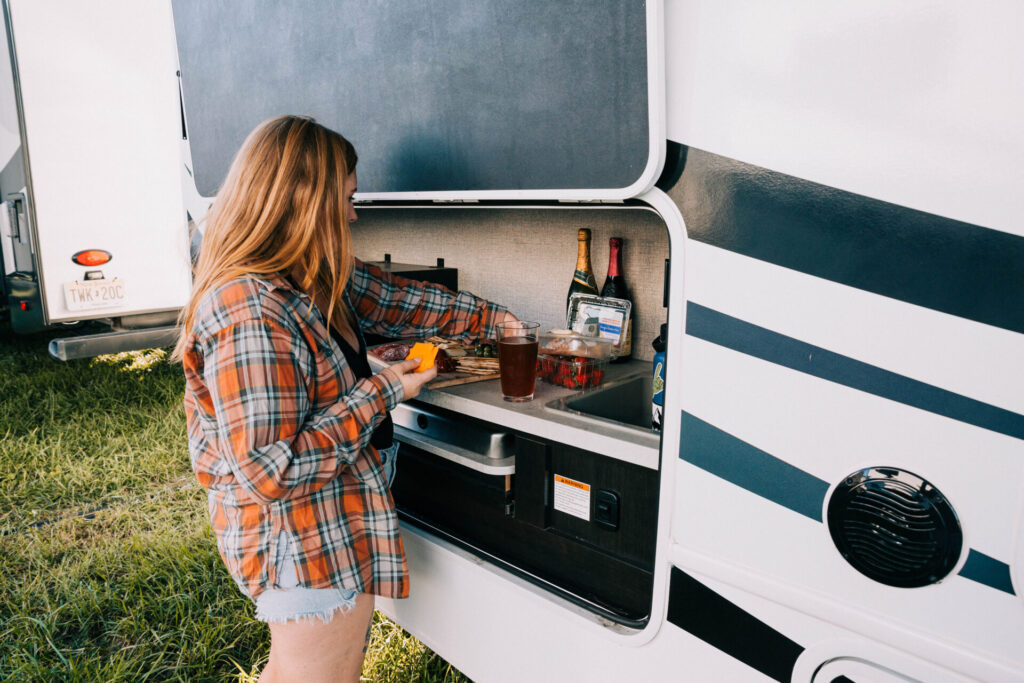 Amp Up Your Festival Experience
Renting an RV from RVshare adds a whole new dimension to the camping experience at events. Imagine having your own private retreat, complete with comfortable sleeping quarters, a fully-equipped kitchen, and bathroom facilities. Renting an RV not only provides a convenient place to stay but also enhances the overall enjoyment and camaraderie of the event.
With an RV, you can create lasting memories with friends and family, gathering around the campfire, cooking delicious meals together, and sharing stories under the starry night sky. It offers the freedom to explore nearby attractions and scenic routes, making your journey to the event just as exciting as the event itself.
You'll discover RVs with modern amenities and luxurious features. From high-speed internet connectivity and entertainment systems to air conditioning and cozy sleeping arrangements, these vehicles ensure your comfort and relaxation throughout your stay. Renting an RV allows you to tailor your experience to your preferences, creating a personalized camping oasis.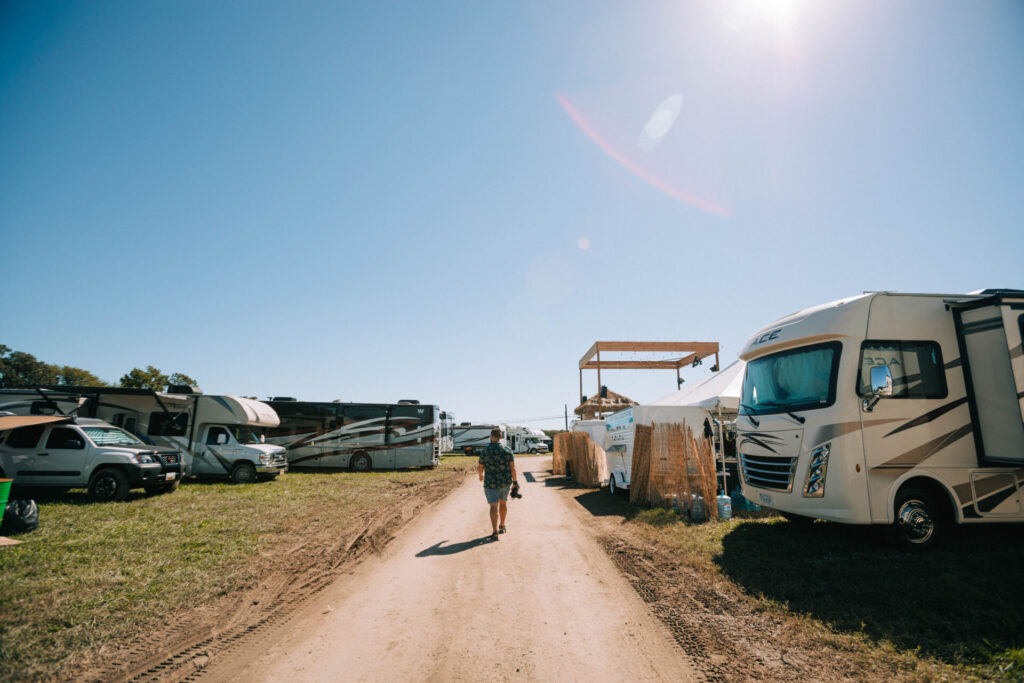 RVing Blends Safety and Fun
When it comes to event camping, safety is paramount, and RVshare understands that. Our platform prioritizes the safety and security of our renters, providing peace of mind during your adventure.
All RVshare rentals undergo a thorough vetting process, ensuring that they meet strict standards for quality and reliability. The platform verifies the owner's identity and conducts background checks, giving you confidence in the legitimacy of the rental and the condition of the RV.
In addition, RVshare offers a comprehensive insurance package for all rentals. This coverage includes liability and collision protection, as well as 24/7 roadside assistance, ensuring that you are protected throughout your trip. With RVshare, you can rest easy, knowing that professional support is just a phone call away, should you encounter any issues during your event camping experience.
Renting an RV is a fantastic option for event camping, making the process easy, fun, and safe. With its convenience and flexibility, an RV rental allows you to fully immerse yourself in the event atmosphere without sacrificing comfort or amenities.
Packing for a Festival Road Trip
You don't want to be caught at a festival without the essentials, or bring an important item only to find out the venue or campsite doesn't allow it. Be sure to check the venue rules and also double-check your RV rental listing to see what will be included for your stay. Find our detailed checklist here.