Travel Inspiration
September 7th, 2021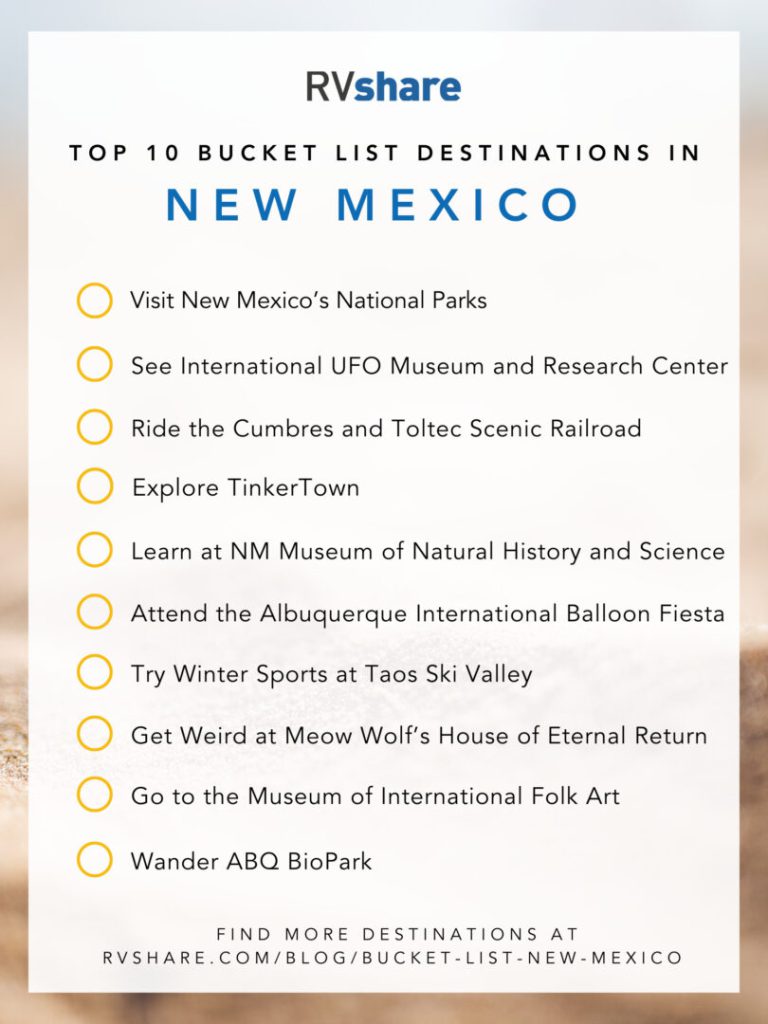 There's a reason New Mexico is often referred to as The Land of Enchantment. This amazing place is chock-full of some of the most wonderful natural sites our country has to offer. Not only that, there are also plenty of museums, zoos, gardens, and other attractions to keep any traveler busy for days on end. For this reason, we highly recommend a New Mexico bucket list to anyone planning on visiting the state.
Not sure how to begin making a travel bucket list for New Mexico? No worries! Below, we've provided some information on bucket lists, as well as a number of fantastic New Mexico bucket list ideas to get you started.
What is a Bucket List?
Before we begin, let's talk a little about what a bucket list is. If you aren't already aware, a bucket list is a collection of places to visit and things to do in your lifetime. A lifelong to-do list, of sorts.
Some people keep one bucket list for everything they wish to see and do. However, we prefer to keep a travel list for each destination we plan to visit. This helps keep things organized when it comes time to plan our trips.
Today, we are going to show you our New Mexico bucket list to help you get started creating one of your own.
— Bucket List Vacations: New Mexico's National Parks —
Some of the very best places to visit in this entire country are the many national parks sites. New Mexico's national parks are absolutely incredible and definitely deserve a place on any New Mexico bucket list. Which ones will you add?
#1. Aztec Ruins National Monument
Aztec Ruins National Monument gives visitors the opportunity to travel back in time as they step foot in a 900-year-old Pueblo great house. Here you can see the original timber holding up the roof, find the fingerprints of the people who built the ancient building, and explore a reconstructed great kiva.
#2. Bandelier National Monument
Absolutely gorgeous rugged canyon-and-mesa country can be found at Bandelier National Monument. If that's not enough, be sure to check out the evidence of human presence over 11,000 years ago in the form of petroglyphs, dwellings, and more.
#3. Capulin Volcano National Monument
Have you ever seen a volcano? If not, a visit to Capulin Volcano National Monument is a must. See four different states from the rim of this enormous volcano, and be sure to stay late to experience one of the darkest night skies in the US.
#4. Carlsbad Caverns National Park
Hidden beneath the surface of the Chihuahuan Desert there are more than 119 caves. These caves were formed when sulfuric acid dissolved limestone, creating caverns of all shapes and sizes. Have a blast exploring these caverns and learning about the bats that call the place home at Carlsbad Caverns National Park.
#5. Chaco Culture National Historical Park
Learn about the Ancestral Puebloan people as you explore the place many of them called home between 850 and 1250 A.D. Take a guided tour to gather more information, or explore the area on your own by following hiking or biking trails.
#6. El Malpais National Monument
Known to some as "the land of fire and ice", El Malpais National Monument is home to another New Mexican volcano. Explore the diverse and sometimes bizarre features created by lava many, many years ago, and learn about the animals and people that have called this harsh terrain home for centuries.
#7. El Morro National Monument
El Morro was once an incredibly important place for travelers. This is because it was home to one of the only reliable waterholes in the dry and dusty desert. See the signatures, petroglyphs, and other messages carved by over 2,000 travelers when you visit this national monument.
#8. Fort Union National Monument
Explore the remains of the largest 19th-century military fort in the region. Fort Union was an agent of political change in the southwest for a full forty years (from 1851–1891). While the fort and the people in it were not always welcome in the area, they did create history that needs to be learned. Learn this story at the Fort Union National Monument.
#9. Gila Cliff Dwellings National Monument
The caves located along the Gila River were used as temporary shelter by travelers for thousands of years. Then, in the 1200s, a small community of people of the Mogollon Culture decided to call the caves home. They stayed for 20 years before moving on, leaving behind them a peek into the past that we can all still enjoy to this day.
#10. Manhattan Project National Historical Park
World War II was a complicated conflict that went on for quite some time. One of the things that helped end it was the creation of the atomic bomb. Visit the Manhattan Project National Historical Park to learn about the people, events, and science behind this history-making invention.
#11. Pecos National Historical Park
Another wonderful place to explore the remains of Native American Pueblo homes, Pecos National Historical Park offers an exciting journey into the past. Gather information about the culture of the people who once lived here and learn about the geographic features of the area.
#12. Petroglyph National Monument
Petroglyphs are an incredibly valuable tool for studying history and an awesome look at what life might have been like for those who left them behind. See dozens of petroglyphs created 400–700 years ago as you explore the sacred grounds that we now call Petroglyph National Monument.
#13. Salinas Pueblo Missions National Monument
The perfect place to study the early encounters of Spanish and Pueblo people, Salinas Pueblo Missions National Monument features three distinct sites. Each of these sites gives you a glimpse of a unique period of history when cultures were meeting, borrowing from one another, and working through terrible conflict.
#14. Valles Caldera National Preserve
Over a million years ago, a huge volcanic eruption occurred, leaving behind a 13-mile depression in the land. This depression is now known as the Valles Caldera and is absolutely beautiful. Explore mountain meadows, see wildlife, and follow meandering streams in this lovely place.
#15. White Sands National Park
The world's largest gypsum dune field can be found at White Sands National Park. This place features 275 square miles of glistening white sand and is an incredible sight to see. It's also a wonderful place to experience sand sledding, an activity we 100% recommend.
#16. National Historic Trails
New Mexico also has its fair share of National Historic Trails. Each of these trails is beautiful to follow and features some wonderful history lessons that everyone should learn.
These trails include:
Santa Fe National Historic Trail
Old Spanish National Historic Trail
El Camino Real de Tierra Adentro National Historic Trail
— More New Mexico Bucket List Experiences —
Need more ideas for your New Mexico bucket list? Not to worry! We have tons of suggestions. The options below are some of the best of the best when it comes to attractions in The Land of Enchantment.
#17. Go Out of This World at International UFO Museum and Research Center
Visit ground zero for the infamous Roswell UFO Incident of 1947 and learn everything you could possibly want to know about UFOs. Be sure to watch for a UFO while you're there—you never know when one might turn up!
#18. Ride the Cumbres and Toltec Scenic Railroad
Featuring a cute and cozy train and a route that takes you all the way to Colorado, the Cumbres and Toltec Scenic Railroad is a wonderful way to relax while taking in the beauty of New Mexico. Rolling hills, mist-filled mountains, and some of the most beautiful views in the southwest can be seen from this train. Why not check it out yourself?
#19. Explore TinkerTown
TinkerTown is a quirky little attraction that is part museum and part art installation. With glass bottle walls, gnome guards, and totem poles, the place is bizarre—in the very best way possible. It was built by one man over the course of 40 years, and is one of those things you really have to see to appreciate.
#20. Learn at New Mexico Museum of Natural History and Science
Life-size dinosaur displays, replica volcanoes, spectacular gemstone collections, and fossils galore are just some of the wonderful things you'll find at the New Mexico Museum of Natural History. Visit this place to escape bad weather or cool off during the summer while still getting to appreciate the beauty of nature.
#21. Attend the Albuquerque International Balloon Fiesta
We've yet to find an event that can compare to the Albuquerque International Balloon Fiesta. During this weeklong event, balloon lovers from all over the world gather to fly and view some of the most beautiful hot air balloons out there. Wake up to a sky full of balloons and make memories that'll last a lifetime.
#22. Try Winter Sports at Taos Ski Valley
Most people don't think of skiing and snowboarding when they think of New Mexico, but the state actually has some really great options for those who enjoy winter sports. One of our favorite spots for enjoying the snow is Taos Ski Valley. Have fun on the slopes, and then enjoy the adorable village and its restaurants, sauna rooms, and more.
#23. Get Weird at Meow Wolf's House of Eternal Return
Ready for a mind-bending experience that the whole family can enjoy together? Meow Wolf's House of Eternal Return is an enormous art installation that features bizarre rooms, unexpected passageways, and live performers in colorful and wacky costumes. It's the place to go if you've ever wished for an adventure in Wonderland, and you're sure to come out the other side a changed person.
#24. Go to the Museum of International Folk Art
Looking for art that is more traditional but still incredibly interesting? Head to the Museum of International Folk Art. Here you can see art from all over the world. Our favorite part of this museum is the Girard Wing, which features an enormous collection of more than 100,000 toys from various countries.
#25. Wander ABQ BioPark
Part zoo, part aquarium, and part botanical garden, ABQ BioPark is the perfect place to learn about the natural world and get up close with some of its most wonderful plants and animals. Favorite exhibits include the polar bears, koalas, and monkeys, but the whole place is worth exploring.
#26. Hike the Bisti Badlands
The national parks aren't the only amazing natural areas in New Mexico. Another fantastic natural site is the Bisti Badlands. Here you'll find beautiful and amazing rock formations that tower above the desert sands. Check out a sunrise or sunset from the site, and be sure to keep an eye out for petroglyphs.
#27. Relax at Ojo Caliente Mineral Springs Resort and Spa
All of this exploring is sure to leave you feeling a little sore and tired. This is where Ojo Caliente Mineral Springs Resort and Spa can help. This place is home to the oldest hot springs in New Mexico, and relaxing in these outdoor hot springs is simply divine.
#28. Be Awed by the Kasha-Katuwe Tent Rocks
The gorgeous white cliffs at this natural spot might be what the park is named for, but they aren't the only thing that people go to see. In fact, the rock formations in the canyon between the cliffs are way more fascinating. These formations are shaped like cones, an incredibly unique shape caused by volcanic eruptions.
#29. Experience Santa Fe
Definitely the cutest town in the state, and probably one of the most adorable in the country, Santa Fe is a must-visit place while in New Mexico. Walk the streets of the historic downtown area, check out the many art galleries and boutique shops, dine at Cafe Pasqual's (or one of the many other local eateries), try some locally made chocolate, and of course, check out the beautiful Cathedral Basilica of St. Francis of Assisi, as well as the Loretto Chapel and its seemingly impossible staircase.
#30. Stand in Four Places at Four Corners Monument
Have you ever been in four states at the same time? That might sound impossible, but it actually isn't. If you get down on all fours at the Four Corners Monument, you can be in New Mexico, Utah, Arizona, and Colorado, all at the exact same time. Be sure to take a camera to document this moment.
#31. Try Something New at Tiwa Kitchen
Those who want to try some authentic local cuisine need not look any further than Tiwa Kitchen. This place serves up delicious Pueblo and New Mexican foods that people love. You will want to make sure you taste the blue corn fry bread, as well as their chile.
#32. Dive into Blue Hole
Looking to cool off on a hot New Mexico summer day? Blue Hole might be just the place for you. This swimming hole is just gorgeous, and the water is wonderfully refreshing. The hole is a full 80 feet deep, and people love to practice freediving here. Additionally, it is a popular place for scuba divers to do their thing.
Clearly, you aren't going to get bored very quickly when hanging out in New Mexico. You'll likely get tired though, meaning it's important to have a comfortable place to stay while completing your New Mexico bucket list. This is where New Mexico RV rentals come into play.
Traveling in an RV makes it easy to see and do everything the state has to offer without sacrificing comfort. Sound good to you? Book your rental RV today and get ready to see this amazing state!