Travel Inspiration
August 10th, 2021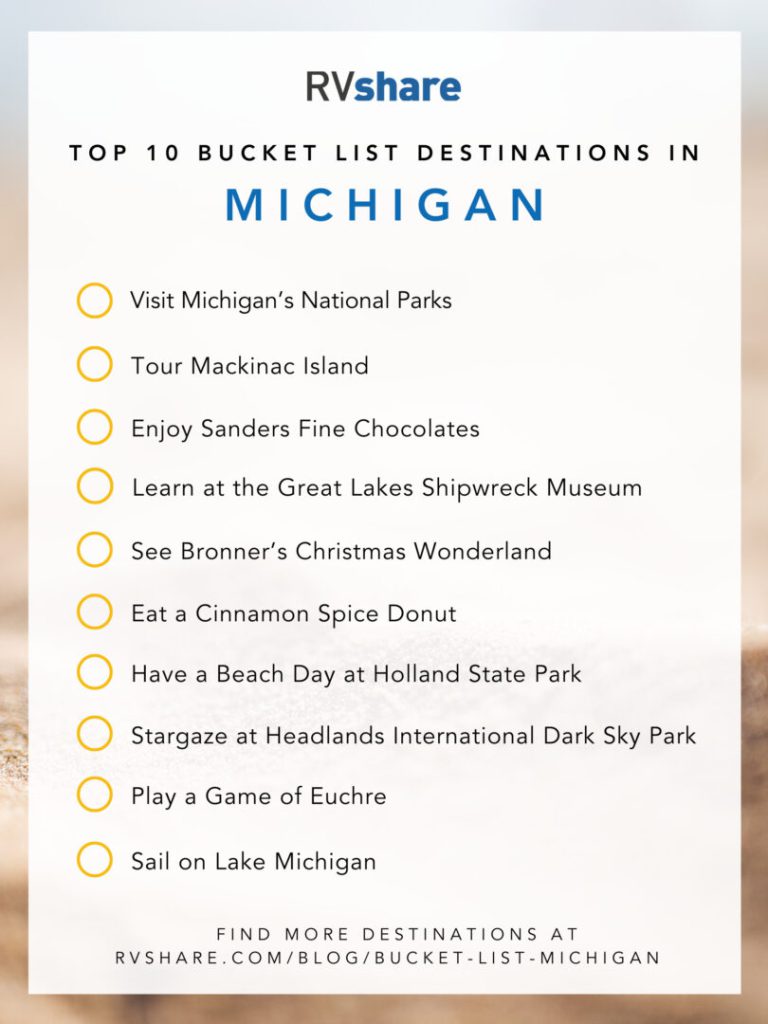 Have you ever been to Michigan? If not, it's high time you went to check it out. It's a truly wonderful place full of spectacular sights, plenty of fun things to see, and places to visit. In fact, there are so many options, we recommend making a Michigan bucket list in order to keep track of the things you find most interesting.
Not sure where to start when making a Michigan bucket list? Not to worry! In this article we will show you our travel list for the state so you can get some bucket list ideas of your own and create the perfect Michigan to-do list. 
What is a Bucket List?
Not sure what a bucket list is? It's a list of things to do before you kick the bucket, of course! Many people use a single list for everything they wish to accomplish during their lifetime. However, we much prefer to keep a travel bucket list for each state we hope to visit someday.
The list you see below is our Michigan bucket list. By picking and choosing attractions and experiences from this list, you're sure to have an amazing time during your visit.
— Bucket List Vacations: Michigan's National Parks —
National parks are always bucket list-worthy destinations, and Michigan's national parks sites are up there as some of the great ones. Whether you're looking to see beautiful sites or learn something new, there is an NPS site for you in the Great Lake State.
#1. Isle Royale National Park
Isolated and completely natural, Isle Royale National Park is the place to go when you want to escape from it all. This is the place where artists and writers are inspired and nature lovers feel truly at home.
#2. Keweenaw National Historical Park
Keweenaw Historical Park is the perfect place to learn more about the history and amazing uses for Keweenaw copper in the area. Learn about how this mineral was used by the Native Americans and how it helped create thriving industries and communities.
#3. Pictured Rocks National Lakeshore
Like Isle Royale, Pictured Rocks National Lakeshore is an absolutely gorgeous natural area that is sure to inspire anyone who visits. Sandstone cliffs, lovely beaches, large sand dunes, deep forests, shining lakes, and beautiful waterfalls call this park home. Come experience it all.
#4. River Raisin National Battlefield Park
Working to preserve and commemorate the January 1813 battles of the War of 1812, River Raisin National Battlefield Park presents the perfect learning opportunity. Learn about the victory of the Tecumseh's American Indian confederation and the origin of the rally cry, "Remember the Raisin!"
#5. Sleeping Bear Dunes National Lakeshore
Located on the shore of Lake Michigan, Sleeping Bear Dunes National Lakeshore is home to green forests, crystal clear lakes, and of course, high sand dunes. Native plants and animals are scattered throughout the park, and an island lighthouse and coastal villages reflect the area's rich history.
— More Michigan Bucket List Experiences —
NPS sites aren't the only awesome things to see and do in Michigan. The options listed below are fantastic choices of things to do while in this amazing state. Lucky for you, there are plenty to choose from, so finding one that suits your fancy should be a cinch.
#6. Tour Mackinac Island
Easily one of the most beautiful places in the state—and even the country, really—Mackinac Island is one place you simply have to visit. Be sure to take a tour of the island in a horse-drawn carriage, and don't forget to try some of the amazing fudge served up in this place.
#7. Enjoy Sanders Fine Chocolates
Speaking of delicious treats, another you will want to try are the incredible Sanders Fine Chocolates made at the Morley Chocolate Factory in Clinton Township. These yummy chocolates are sure to please the palate. Besides, the shop gives away free samples. What could be better than that?
#8. Learn at the Great Lakes Shipwreck Museum
The Great Lakes are chock-full of history. Unfortunately, some of that history involves shipwrecks. Visit the Great Lakes Shipwreck Museum to explore exhibits on the stories behind some of the shipwrecks of the Great Lakes, as well as the sailors behind them. You'll also want to check out Whitefish Point Light Station, which just so happens to be the oldest operating lighthouse on Lake Superior.
#9. See Bronner's Christmas Wonderland
It's always Christmas at Bronner's Christmas Wonderland. This is the world's largest Christmas store, and while most choose to visit during the holiday season, it's open year-round. Here you can shop for ornaments, nativity scenes, Christmas lights, and more, and the selection is the best you'll find anywhere.
#10. Eat a Cinnamon Spice Donut
Yes, we know we've already mentioned two different treats to try. However, cinnamon spice donuts from Franklin Cider Mill definitely deserve a spot on this list. Grab a hot apple cider and fresh-made donut, and get ready for an incredible culinary experience you won't soon forget!
#11. Have a Beach Day at Holland State Park
One of the best things about Michigan is the fact that it has so many amazing beaches. One of the best can be found at Holland State Park. Don your swimsuit, grab the sunscreen, and get ready for an absolutely amazing beach day when you visit this beautiful park.
#12. Stargaze at Headlands International Dark Sky Park
Stargazing in a dark sky park is an awesome experience, and the Headlands International Dark Sky Park is no exception. Stop by this Mackinaw City park after sunset to get some amazing views of the night sky. If you're lucky, you might even catch a glimpse of the Northern Lights while you're there!
#13. Play a Game of Euchre
Have you ever played euchre? If you live in Michigan, you likely have, but those from out of state have probably never heard of the card game. In that case, you will want to make sure to try your hand at the game while you're in the state. Find a euchre meetup in your area and join in.
#14. Sail on Lake Michigan
Another thing the locals love to do that visitors should also experience is sail on Lake Michigan. There are plenty of sailing charters available, so you're sure to find one that suits your needs, and we know you'll adore being out on the water, experiencing sailing for yourself.
#15. Explore Hell
Feeling bored? Why don't you go to Hell? Hell, Michigan, that is! Hell is a tiny town that fully appreciates its humorous name and has the signage to prove it. Take a photo with one of these signs to prove you went to Hell and then explore the rest of the town to see what else you can find to do.
#16. Wander through the North American International Auto Show
Seeing as it's the car capital of the world, it should come as no surprise that Detroit is home to the North American International Auto Show. This event is a car lovers' dream come true, but honestly, it's even fun for somebody who doesn't care about cars in the least.
#17. Sip a Vernors Ginger Ale
Feeling thirsty? Why not sip on a Vernors? This tasty ginger ale originated in Michigan, and while you can find it in some other states, the locals take great pride in the drink, claiming it as their own. Once you taste it, you'll understand why.
#18. Visit the Henry Ford
One of the best attractions in the state, the Henry Ford is an amazing history museum, living history museum, and factory tour. See how Ford cars are made, step back in time in Greenfield Village, and explore the history of American innovation through well-presented exhibits.
#19. Stroll the Frederik Meijer Gardens and Sculpture Park
You've likely heard of Fred Meijer and his surnamed grocery stores (not to be confused with Fred Meyer grocery stores—we know, crazy right?). However, most people are unaware of the sculpture park named after him. This 158-acre garden, sculpture park, and art museum is full of beautiful things to see and a visit to the place makes for a great day.
#20. Chow Down on a Detroit Coney Dog
Hungry for lunch or dinner? A Detroit coney dog might be just the thing. These hot dogs are served with chili sauce, mustard, and diced onions and are a favorite of locals and visitors alike. Pick one up at the many hotdog restaurants in the area and enjoy.
#21. Climb the Big Sable Point Lighthouse
An impressive and beautiful lighthouse that holds many wonderful stories, the Big Sable Point Lighthouse is located in Ludington, MI. It's 148 years old, stands over 100 feet tall, and is definitely worth a visit. While you're at it, add a few extra miles in order to see Little Sable Lighthouse, Ludington North Breakwater Lighthouse, and the White River Light Station for a day full of lighthouse fun.
#22. Skate on Ice at Campus Martius Park
Planning a winter visit to Michigan? If so, ice skating at Campus Martin Park is a must. This downtown Detroit ice skating rink is surrounded by Christmas decor and all kinds of winter festivities, making it a very exciting place to be during the holiday season.
#23. Check Out the Soo Locks
The Soo Locks in Sault Ste. Marie see a total of almost 5,000 vessels each year. It's over 160 years old and is one of the most interesting places to visit in the entire state. Be sure to check out the visitor center for information on the history and construction of the Soo Locks.
#24. Scale the Ledges at Fitzgerald Park
Fitzgerald Park is located in Grand Ledge and is the perfect place for rock climbers. Why? Because of the ancient ledges the park features. These sedimentary rock formations are perfect for climbing and beckon climbers to take on the challenge of making their way up.
#25. Spend Time at the Motown Museum
If you're a fan of Motown music (and even if you're not), you might want to consider a visit to the small but amazing Motown Museum. This museum is home to Studio A—the studio that recorded a number of worldwide classics—and guests are able to stand in the studio, putting themselves in the shoes of Motown legends.
#26. Attend the Tulip Time Festival
Take part in the traditions of the Netherlands at the Tulip Time Festival in Holland, MI. During this event, hundreds of gorgeous tulips are displayed around every corner, filling the entire area with color and beauty. Traditional Dutch garb is worn by many, and traditional Dutch dancing is done in the streets.
#27. Take in the Views on M-22
Those who appreciate a good view will adore a scenic drive on the M-22. This state Highway twists and turns through some of the most beautiful scenery in Michigan, offering plenty of gorgeous views and perfect picnic spots.
#28. Head to Michigan's Adventure Amusement Park
Want to fill a day with thrills? Head to Michigan's Adventure for some serious fun. Roller coasters are available for the most adventurous members of your party. Meanwhile, those who prefer something tamer can enjoy the family and kiddie rides. If it's hot out, be sure to spend some time at the in-park water park as well.
#29. Take a Seat in the Fox Theater
The Fox Theater of Detroit is one of the most famous in the country. It has hosted a huge number of big name performers such as Frank Sinatra, Sammy Davis Jr., Liza Minnelli, Elvis Presley, and more. Visitors can still check out the beautiful historic theater today by seeing one of the many shows that play here throughout the year.
As you can see, Michigan is a state well worth visiting. That said, trying to see and do all the state has to offer can be difficult. A Michigan RV rental rvshare can help by offering you comfortable accommodations while you hop from one area to another, having the time of your life.