Travel Inspiration
June 29th, 2021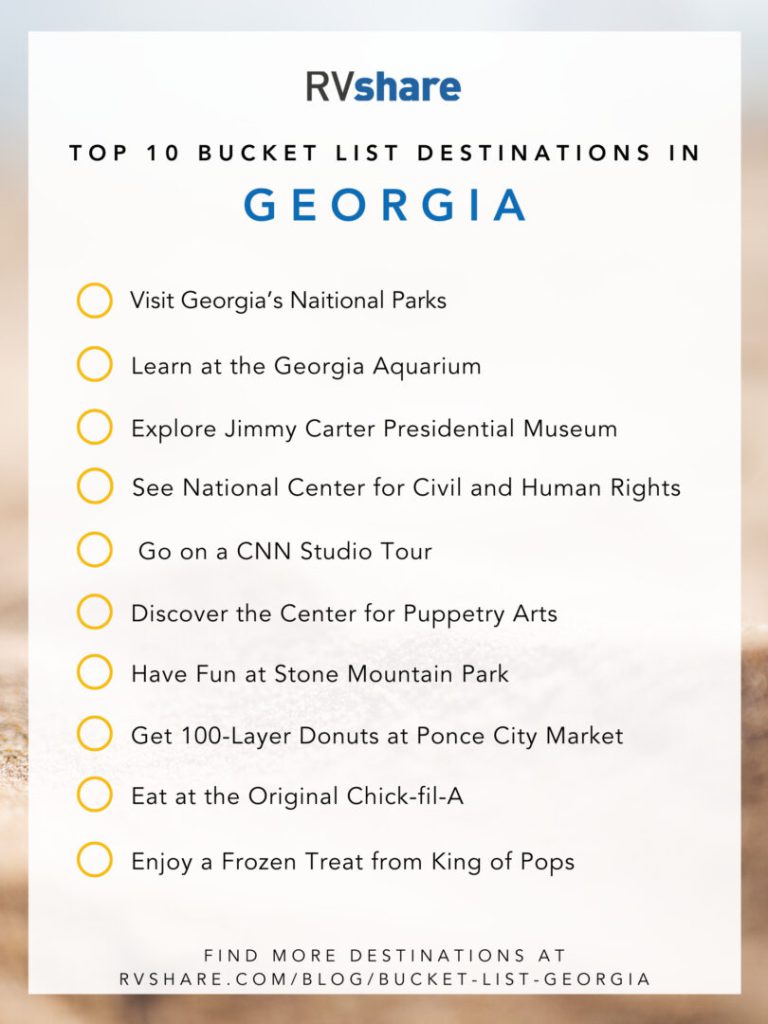 Georgia is a beautiful state that is chock-full of amazing things to do and see. Unfortunately, many people are unaware of this fact, leading them to skip over the Peach State entirely. Don't make this mistake! Not only do we recommend planning a trip to this super cool place, we think it's best to start making your Georgia bucket list right away.
Not sure how to begin making your Georgia travel list? You've come to the right place. In this article we will discuss our top bucket list ideas for this southern state so you can pick and choose the perfect sights and attractions for your own to-do list.
What is a Bucket List?
If you haven't heard of the term "bucket list" before, you may be wondering what we're talking about. A bucket list is a list of things you want to do before you kick the bucket. It might include places to go or things to do. It might also include food to try or people to meet. Whatever it is you want to accomplish in your lifetime, that goes on the bucket list.
Most people keep a single bucket list that covers every aspect of their lives. We find that it's better to keep a travel bucket list for every location we plan to visit. If this sounds appealing to you, you can start by making a bucket list for Georgia using the suggestions below.
— Bucket List Vacations: Georgia's National Parks —
We love national parks sites and find that they make absolutely fantastic bucket list items. Parks run by the National Parks Service are always fun, well put together, and well run. Not only that, but visiting national parks means visiting some of the most beautiful, interesting, and unique places in the world.
Below are some of the best national parks sites to add to your Georgia bucket list.
#1. Chattahoochee River National Recreation Area
An excellent place to get outdoors and enjoy all that Georgia's natural environment has to offer, Chattahoochee River National Recreation Area is fun for everyone. Some of our favorite activities to enjoy in this park include river rafting, fishing, and walking in nature.
#2. Cumberland Island National Seashore
Another fantastic place to enjoy Georgia nature, Cumberland Island National seashore is absolutely gorgeous. It's the perfect place to enjoy a stroll along the beach, and the wide variety of wildlife is fascinating. We especially love the wild horses who roam free in the park.
#3. Fort Frederica National Monument
The troops of Fort Frederica helped shape the state of Georgia way back in 1742 when they won a battle against the Spanish. This battle ensured Georgia's future as a British colony, making this an important part of the state's history.
#4. Fort Pulaski National Monument
Another important fort in the state, Fort Pulaski was used during the Civil War. Important battles were fought here, battles that helped shape our country as well as the future of our military and the ways we fight.
#5. Jimmy Carter National Historic Park
A fantastic place to learn about our nation's 39th president, the Jimmy Carter National Historic Park dives deep into the childhood and adult life of President Carter. It discusses the ways in which his upbringing molded his character and gives visitors a chance to peek into the past.
#6. Martin Luther King, Jr. National Historical Park
The Martin Luther King, Jr. National Historical Park is an absolutely amazing place to learn about an absolutely amazing man. Discover the story of Martin Luther King, Jr., visit the home of his birth, see where he played as a child, and walk in his footsteps as you learn about all the amazing things he did in his lifetime.
#7. Ocmulgee Mounds National Historical Park
For thousands of years, American Indians occupied the land that is now Ocmulgee Mounds National Historical Park. Various tribes lived and passed through the area through the years, and many left their mark. One of those marks? Large mounds which were constructed for the elite, which still remain to this day. Learn about these mounds and the cultures surrounding them at this park.
— More Georgia Bucket List Experiences —
Need more ways to pass the time while spending your vacation in Georgia? We've got you covered. The options below are the best of the best when it comes to Georgia bucket list choices. They are our absolute favorite things to do in the state, and we are confident you will enjoy them as well. 
#8. See the Georgia Aquarium
Easily one of the best aquariums in the country, the Georgia Aquarium in Atlanta should definitely be on your must-do list. Here you will see hundreds of different kinds of water animals residing in 10 million gallons' worth of tanks. It's an awe-inspiring experience for sure!
#9. Explore the Jimmy Carter Presidential Museum and Library
We make a point of seeing presidential museums wherever we can. These awesome learning spots have never disappointed, and the Jimmy Carter Presidential Library and Museum is no exception. Here you will learn all about the life and times of this fascinating man, including details of his presidency.
#10. Learn at the National Center for Civil and Human Rights
Another learning opportunity that is well worth taking is a visit to the National Center for Civil and Human Rights. This is the perfect place to learn more about the history of civil rights in our country. Get a glimpse at how far we've come, but leave more aware than ever of how far we have yet to go.
#11. Go on a CNN Studio Tour
TV and the way TV shows come together is a fascinating thing. Peek into this process during a 55-minute tour of the CNN studios. This is a super fun and informative tour that is sure to interest anyone who watches television, and is the perfect family vacation option and Georgia bucket list item.
#12. Discover the Center for Puppetry Arts
A super niche museum, the Center for Puppetry Arts may seem like a silly place to visit, but it's actually quite fascinating. Here you can look at the history of puppetry, see some famous puppets on display, and even attend live puppet performances. This place is tons of fun for adults and kids alike!
#13. Have Fun at Stone Mountain Park
Stone Mountain park is a popular Georgia attraction. Offering a variety of activities such as a train ride, a dinosaur park, a super cool indoor playground, mini golf, and a 3D movie, it's something like an amusement park, but with fewer rides and more different types of entertainment. We find that a visit to Stone Mountain is the most fun with kids in tow.
#14. Get 100-Layer Donuts at Ponce City Market
Ponce City Market is an exciting place to get some Atlanta eats. We especially love the 100-layer donuts at Five Daughters Bakery. They are flaky, just sweet enough, and absolutely delicious.
#15. Eat at the Original Chick-fil-A
Looking for lunch or dinner? Why not check out the first ever Chick-fil-A? Seeing where this popular eatery started is tons of fun. Of course, the food is reliably delicious and the service is superb, meaning you really can't go wrong with a meal here.
#16. Enjoy a Frozen Treat from King of Pops
Yet another treat that we highly recommend adding to your Georgia bucket list is a frozen treat from Kings Pops. These yummy popsicles can be found all over Atlanta. They come in a wide variety of flavors and are the perfect way to cool off on a hot southern summer day. 
#17. Attend the Music Midtown Festival
The biggest festival in Georgia, the Music Midtown Festival is one you won't want to miss. This festival features several big-name artists in any given year. The music is great, the vibe is exhilarating, and you're sure to have an awesome time when attending this festival.
#18. Pay a Visit to Babyland Hospital
Ever wonder where Cabbage Patch Kids come from? From Babyland Hospital, of course! Visit this doll hospital in north Georgia to witness the birth of a Cabbage Patch Kid, and find a Cabbage Patch Kid to adopt. This is the perfect stop for the baby doll fanatic in your life.
#19. Check Out North Georgia Waterfalls
Other wonderful things to see in northern Georgia are all its amazing waterfalls. We especially love Toccoa Falls, Minnehaha Falls, and DeSoto Falls, but any fall you can find is sure to be magical.
#20. Go to Oktoberfest is Helen
The little German town of Helen is fun to visit any time of year. Here, you can steep yourself in German culture without ever leaving the US. The best time to visit though is during their annual Oktoberfest event. During this festival, you can join in the celebration by enjoying some delicious food, wonderful beer, upbeat music, and even some German dancing.
#21. Pick Apples in Ellijay
Apple picking is an incredible way to spend an afternoon during the autumn months, and Ellijay, Georgia is the perfect place to do this. Pick as many or as few as you like and be sure to cap off the day with a locally made apple cider donut.
#22. Ride the Blue Ridge Railway
There's no arguing the fact that the Blue Ridge Parkway is absolutely incredible to see. We love driving this scenic byway, but in our opinion, an even better way to see this beautiful piece of the country is by riding the Blue Ridge Railway. This is especially gorgeous during the fall when the leaves are changing, turning the whole area into an orange-and-yellow wonderland.
#23. Stroll the Streets of Savannah
Savannah, Georgia is well known for its lovely historic architecture. Stroll the streets of this gorgeous city, enjoying the beautiful buildings as well as the statues and monuments found throughout town. Be sure to stop in some of the shops and eateries, make time to stroll Forsyth Park, and get some ice cream at Leopold's.
#24. Have a Beach Day at Tybee Island
Any day at the beach is a good day, and Tybee Island is a spectacular place to have just such a day at the beach. Grab your sand toys, don your swimsuit, and get ready for a day of fun in the sun when you visit this lovely Georgia island.
#25. Spend Time at Driftwood Beach
Want a more unique beach experience? A visit to Driftwood Beach on Jekyll Island might be more your style. This is a strange and otherworldly beach that is home to several white trees that drifted onto the land.
#26. Pick Georgia Peaches
Considering it is often called the Peach State, it only makes sense that one would want to try a Georgia peach while visiting there. If you visit between May and August you might even be able to pick some peaches of your own. "Pick-your-own" peach farms can be found across the state, and the peaches grown on these farms are some of the best in the world.
#27. Hike Providence Canyon State Park
Like a mini Grand Canyon, Providence Canyon is an absolutely stunning natural wonder. Visit this state park and hike around the canyon for some seriously awesome views. Be sure to take a camera!
#28. Save the Date for the Cherry Blossom Festival in Macon
Did you know Georgia is home to a cherry blossom festival? Oddly enough, Macon, GA puts on a fabulous festival each and every year that is all about the cherry blossoms. Be sure to save the date so you can attend their next fun and beautiful event.
#29. Visit the School Bus Graveyard
A school bus graveyard might sound creepy and uninviting, but it's actually a pretty fun thing to see. Each year, artists transform the exteriors of buses that would otherwise be left to rust and rot into gorgeous and colorful pieces of art. A visit to this strange roadside attraction is almost like a visit to an outdoor art museum.
#30. Sip a Southern Sweet Tea
No trip to the south would be complete without at least one tall cold glass of southern sweet tea. Luckily, this delicious concoction can be found at nearly every eatery in the area, so all you have to do is make sure to order one during your visit.
As you can see, Georgia is a great place to visit. Of course, the best way to ensure you see as much of your Georgia bucket list as possible is to travel by RV so you can move from one spot to another easily. Lucky for you, we have tons of amazing Georgia RV rentals available, making a Georgia RV adventure a cinch!