Travel Inspiration
September 23rd, 2019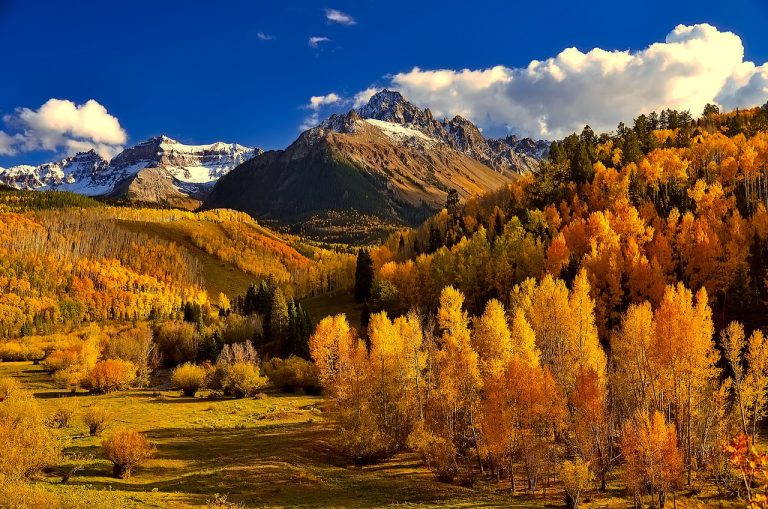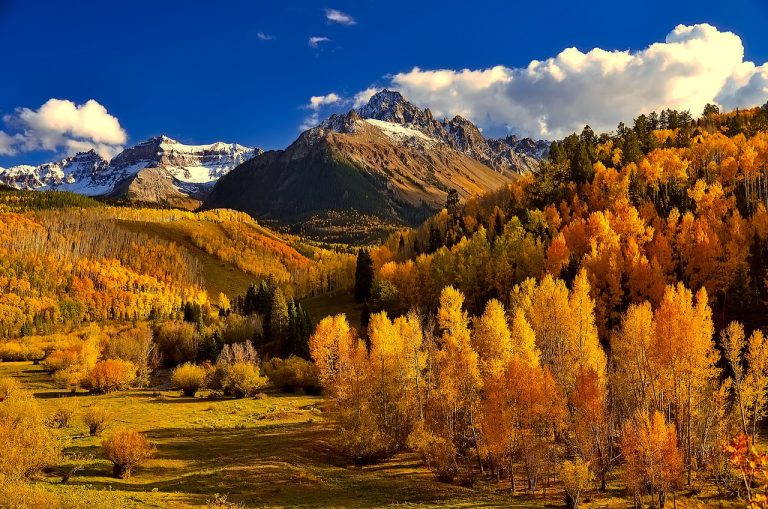 For many RVers, making a tour of multiple national parks is one of the very best ways to organize a camping trip. But as popular as a national parks tour may be, it's often considered a summertime activity.
Well, if you ask us, that's a nearsighted viewpoint! Many of the U.S. national parks are just as beautiful once high summer is over… not to mention cooler and less crowded.
We put together this short list of some of the best national parks to visit in fall, perfect for those of you looking for a quick pre-winter-break getaway. (Of course, even if none of these will work with your travel plans, there are plenty of beautiful places to camp in once the leaves start changing, both inside and outside of the NPS system!)
Here are the Best National Parks to Visit This Fall
Here are the best national parks to visit in October — or any other time in the fall.
1. Grand Canyon National Park, Arizona
If you haven't already been — and perhaps even if you have — chances are good that Grand Canyon National Park is on your to-visit list. It's one of the most popular and renowned national parks in the country for a darn good reason.
But trust us when we say that visiting in June, July, or August can be more sweat than it's worth… particularly if you're planning to do some hiking while you're there. Many would-be adventurers end up needing to be rescued when they attempt serious endeavors, like the rim-to-rim hike, during Arizona's brutal high summers.
Visiting in fall will give you the dual benefit of slightly cooler weather and at least slightly smaller crowds… though when you're talking about a park this popular, you're going to be battling it out for a clear Instagram shot no matter when you get there. And unlike many of the national parks, Grand Canyon has the additional benefit of an RV-friendly campground that offers both water and electrical hookups and is open year-round — though you'll certainly want to make your reservation as early as possible.
Click here to see RVshare rentals near Grand Canyon National Park in Arizona.
2. Great Smoky Mountains National Park, North Carolina and Tennessee
Well known not only as one of the best eastern national parks, but the most popular national park in the entire system, Great Smoky Mountains National Park is the perfect place for those who live along the eastern seaboard to enjoy the changing fall foliage. The sprawling wilderness encompasses huge swaths of the Appalachian Mountains, offering a variety of entry points and vistas for visitors from a wide variety of states and cities… and also, it's one of the only national parks that doesn't require an entry fee to get in. Score!
Of course, if you plan on camping inside the national park, you'll still be responsible for the nightly fee — and not all the campgrounds are RV accessible. The ones that are many not offer hookups, but it's still well worth it to be so close to the scene of the action, at least in our opinion.
Do remember that the Great Smoky Mountains are bear country, so be sure to take extra precautions with your garbage, food, and — when hiking — yourselves! Carrying bear spray and hiking in groups can both increase the safety factor for both you and the wildlife, and turn a bear encounter from a fearsome experience to an exciting one.
Click here to see RVshare rentals near Great Smoky Mountains National Park in North Carolina and Tennessee.
3. Acadia National Park, Maine
Simultaneously one of the most stunning national parks out there and one of the most often overlooked, Acadia National Park is kind of a hike for much of the country, given its position on the coast of Maine.
But this dramatic wilderness does well to reward those who make the effort, pairing majestic granite peaks with seasides given to crashing on the lighthouse-punctuated shore. (Oh, and did we mention there are also wild blueberries? Because there are.)
While there is camping on-site at Acadia National Park, including sites which do accommodate travel trailers and motorhomes, reservations go quick — and according to the NPS website itself, "Finding a campsite upon arrival is a rare occurrence during good weather." You might be better served by patronizing a private campground in the area, of which there are many to choose from.
Click here to see RVshare rentals near Acadia National Park in Maine.
4. Yosemite National Park, California

One of the most frequently visited national parks in the country, let alone the state of California, Yosemite National Park is even more popular these days given the skyrocketing popularity of rock climbing — a sport whose history in the United States owes a lot to this unique landscape. But if you'd like to see it at a time when it's A: not overrun by tourists and B: not as hot as it is in the high summer months, you might try moving your trip dates up a month or two. (We didn't mention benefit C: the dramatic colors of the fall foliage in this part of the world, especially in October.)
There are a wide variety of campgrounds to choose from both north and south of Yosemite Valley, each with its own limitations given RV accessibility and size. Some sites include access to amenities like hot showers and toilets, and dump stations are available at several spots as well.
Click here to see RVshare rentals near Yosemite National Park in California.
5. Bryce Canyon National Park, Utah
Arches and Canyonlands might get all the glory, but of the five national parks in the state of Utah, Bryce Canyon National Park may just be our favorite — especially for a fall visit. Because while the most popular parks in the state are liable to be overrun no matter when you make your visit, if you plan your Bryce trip at the right time, you may just get a trail to yourself… at least for a few minutes.
Known for its unique rock formations (known as hoodoos), Bryce is just as exciting by night as it is by day, offering some of the darkest skies in the entire United States of America — perfect for stargazing. Motorhomes and travel trailers are welcome in the park campgrounds, though no hookups are available. Prices for RV campers start at a very reasonable $30 per night.
Click here to see RVshare rentals near Bryce Canyon National Park in Utah.
Is a National Park Pass Worth It?
If you're a frequent national park visitor, chances are you've seen the signs advertising America the Beautiful Passes — the nifty little card that gets you into the whole wide world of American national parks (not to mention other NPS-managed sites, like national monuments and battlefields), all for one payment of $80 for the year.
And if you're wondering whether or not those passes are worth it… in our view, they absolutely are.
Think about it this way. Even if you're only hitting two national parks a year, if you're going to the really big, popular ones — like Yellowstone or Glacier — you could be spending as much as $35 just to get in the gate. And while the America the Beautiful Pass doesn't cover national park camping or other facility use costs, those entry fees alone can add up fast, even if you're only a casual visitor. (In some cases, pass holders do get a camping discount.)
Still not convinced? Don't forget that certain demographics get access to reduced price passes! Click here for the full details and to see whether or not you qualify for a lifelong or reduced-cost pass. (And whether or not you buy into the pass, do invest in a national parks passport! It's a great low-cost way to create a lasting memento, and the whole family will have fun collecting stickers and stamps.)
Where are the National Parks Near Me?
Even if none of the parks on this list are on the docket for your fall travels, we're lucky to live in a diverse country that offers beautiful public lands almost anywhere you look — likely including in your very own backyard. Even if it's not a national park, the state parks and other open wildernesses in your own city or state may offer generous camping accommodations, and all of them can offer a welcome change of pace from the hustle and bustle of work-a-day life.

So no matter what you do, get out there and enjoy the fall! It only comes once a year, after all… and soon, Jack Frost will be around to take over.

This post may contain affiliate links.

[similar_ai_related]