Travel Inspiration
October 19th, 2019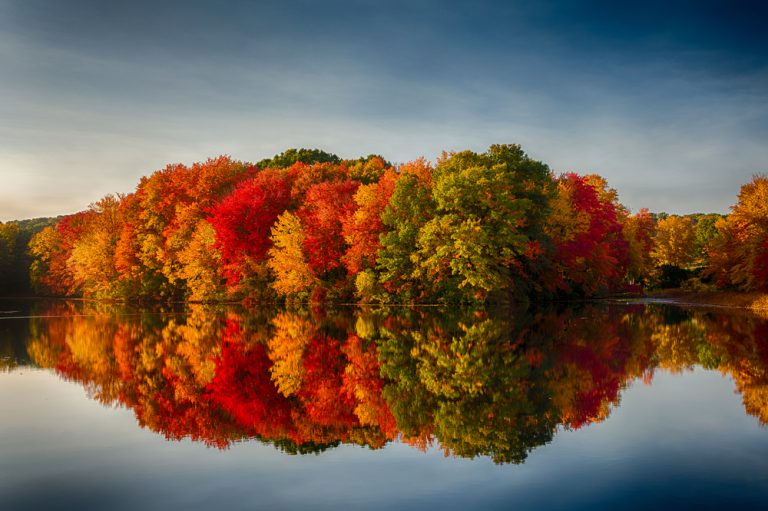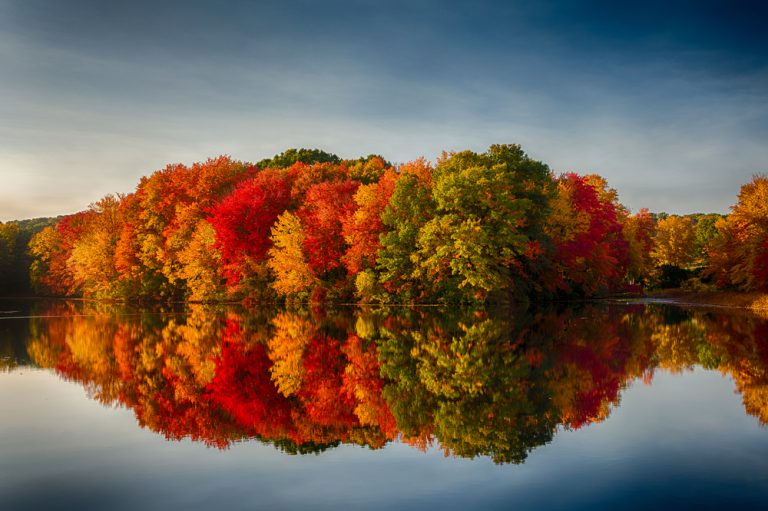 You probably already know that we think fall vacations are some of the best vacations there are. Sure, summer may get most of the big-name travel glory, but fall road trips mean cozy clothes, delicious warm beverages, and best of all, destinations that aren't totally crowded (or hot enough to leave you dripping through your clothes).
But sometimes, you just don't have very much time to devote to a fall getaway. Maybe you just have a free day during an otherwise-blocked-out weekend, but you still feel like you just need to take some time away from it all.
Fall is a great time to take a quick break, even if you don't have very much time to spare. In this post, we'll name some of the best spots for fall day trips across the U.S., as well as some suggestions for weekend getaways if you have just a little bit more time to devote to the project.
The Best Fall Getaways — Even if You Just Have a Day
Here are some of the best fall getaways around the U.S.
1. Russell Cave National Monument – Alabama
The national parks have made a name for themselves, and for good reason. They're often some of the most beautiful and celebrated landscapes in the country, and are well worth making the journey for.
But don't overlook the national monuments, which are even more numerous, and are often small enough to see in just a few hours! (Plus, yes, you can usually still get your National Parks Passport stamped at them. 😉 )
One of our favorite national monuments is Russell Cave, which is tucked into the northeastern corner of Alabama. One of the most ancient archeological sites in the continental U.S., this landscape was home to prehistoric peoples some 10,000 years ago, and you can see the entire thing, including the scenic hiking trail, easily in a day trip. Plus, it's less than an hour from Chattanooga, a worthy destination in its own right.
Click here to see RVshare rentals near Russell Cave National Monument in Alabama.
2. God of the Gardens – Colorado
If you live anywhere near Denver, or in one of the many southwestern states surrounding the state, Colorado Springs, Colorado is likely already one of your go-to getaways… and if it's not, it should be. Whether you want to start your morning with a challenging hike up the Manitou Incline or take the easy way (that is, a shuttle) to the top of Pikes Peak, this city is unique in its multiplicity of ready-at-hand outdoor recreation opportunities.
Easily the most scenic of these opportunities is Garden of the Gods, whose 300-foot sandstone rock formations provide the perfect backdrop for sunrise, sunset, and even night sky viewing. Whether you take to the park on foot or only have time for a drive-by, this National Natural Landmark is well worth seeing.
Click here to see RVshare rentals near Garden of the Gods in Colorado.
3. The White Mountains – New Hampshire
For those looking for a dose of fall color, there are few places better suited than New England — and if you want the rugged wilderness experience as well as the quaint downtown stroll, we recommend making your way to the White Mountains by way of Jackson, New Hampshire.
Tackle one of the forest's many miles of hiking trails, which include a section of the Appalachian Trail. In fact, this section is well known among thru-hikers as one of the most exposed and challenging in the entire trek, so be grateful you're only spending a few hours!
Once you're nice and tired out from your adventures, head to Jackson for restaurants, boutiques, and spa-style accommodations to help you relax away your troubles (and those tough climbs). There are also a number of campgrounds in the area to choose from, including several with full hookups and resort-style amenities.
Click here to see RVshare rentals near the White Mountains in New Hampshire.
Best Fall Vacations for Those Short on Time
Looking for even more fall vacation ideas?
Here are some of the best places to travel in the fall — even if you'll only be gone for a day or so.
4. Hocking Hills State Park, Ohio
Swooping waterfalls and fairytale granite stairways may not be the first things that come to mind when you think about Ohio. But if you're a midwesterner who doesn't quite have the time to get out to the northeast or northwest, don't worry: there's an all-too-often overlooked hidden gem, right in the heart of it all.
It's called Hocking Hills State Park, and it lies in the southeastern quadrant of the Buckeye State, about halfway between the city of Columbus and the college town of Athens. And if you haven't been, trust us, you want to add it to your list, particularly when it's decked out in its fall finery.
Click here to see RVshare rentals near Hocking Hills State Park in Ohio.
5. Cape Flattery – Washington
Seattleites looking for a break from their city's ubiquitous traffic will enjoy a trek out to this, the most northwestern point in the contiguous United States. The drive itself is a sight to behold, and once you arrive at the trailhead, you'll find it's a very manageable (and breathtaking) 1.5-mile round trip, with some of the most dramatic coastal overlooks in the country.
The cape lies on tribal lands, so you will need to purchase a separate permit to access it, even if you hold a Washington state parks Discover pass or an NPS permit. But it's only a few bucks and readily available from a grocery store in the nearest town, Neah Bay — and as someone who's been there in person, this writer guarantees it's worth it.
Click here to see RVshare rentals near Cape Flattery in Washington.
Fall Weekend Getaways: Slightly Extended Stays
If you have a few more days to spare, some of the best fall getaways can be done over a weekend. Here's where to head!
6. The Olympic Peninsula – Washington
If you're a Pacific northwesterner with a little bit longer to spend, you might want to extend your Cape Flattery getaway to a full-on Olympic Peninsula exploration. (Well, as full-on as possible in a couple of days; we are talking about hundreds of square miles, after all.)
Although it would honestly take a lifetime to fully experience this one-of-a-kind landscape, even just driving the loop is well worth your time. Separated from the mainland by the complex system of waterways in Seattle, the Olympic Peninsula is home to a variety of plants and animals not found anywhere else on earth, and contains ecosystems ranging from temperate rainforests to alpine wildflower fields to coastal beaches.
Plus, this time of year you'll benefit from the changing fall foliage, not to mention the bountiful harvests of apples, the fruit the state is perhaps most famous for. (That said, be sure to come back in the summer sometime, because the peaches, nectarines, and cherries are also well worth your drive time.)
Click here to see RVshare rentals near the Olympic Peninsula in Washington.
7. New York's Finger Lakes
You don't have to get a degree from Cornell to experience the sublime beauty of upstate New York, which is especially charming come fall. With majestic mountains, powerful waterfalls, and — best of all — some of the best wines in the entire country, a weekend in the Finger Lakes is the perfect fall getaway for city dwellers of all stripes.
Looking for a place to set up camp? There are a wide variety of state parks in the Finger Lakes region, from Watkins Glen to Keuka Lake to the Finger Lakes National Forest itself. You can also find resort-style private RV accommodations, not to mention the range of boutique inns and B&Bs in the area's many quaint towns.
Click here to see RVshare rentals near the Finger Lakes region in New York.
Best October Vacation Destinations
Even if none of these fall vacation spots is on your itinerary this year, there are plenty of other beautiful places to check out in the months of September and October. Whether you're looking for a spooky, haunted getaway or just to relax with some fallen leaves and hot cider, here are some more RVshare posts about the best October vacations:

Happy fall!

This post may contain affiliate links.

[similar_ai_related]