Travel Inspiration
May 31st, 2023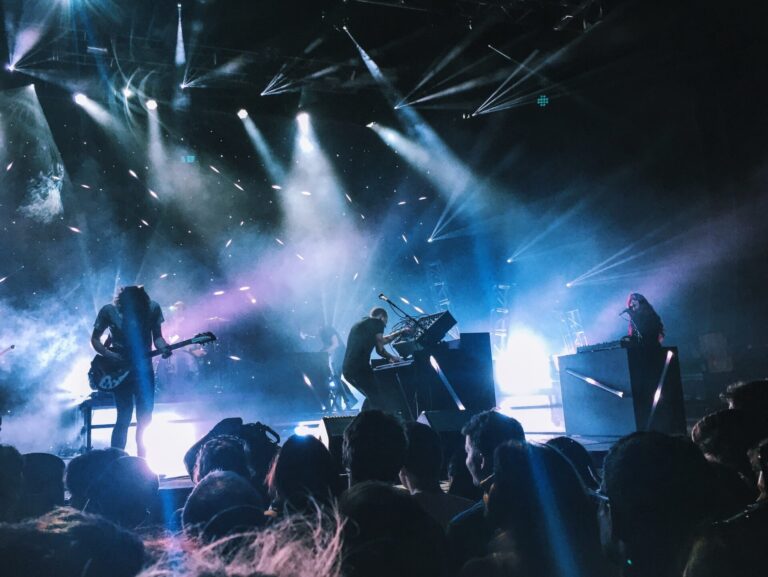 Are you a fan of live performances under the open sky? Then you will love visiting the best amphitheaters in the United States. These venues offer stunning settings for outdoor concerts, plays, and other shows, with magnificent views and acoustics that will blow your mind.
Of course, the best way to enjoy a trip to an event at one of these amazing theaters is in an RV. This allows you to stay nearby no matter where the theater may be, and in some places you'll even be able to stay on the event grounds without sacrificing comfort or amenities. Who wouldn't love to retreat to their own private space after a long day of enjoying music surrounded by other enthusiastic fans?
Pack up the RV, because here are the top 10 best amphitheaters and outdoor concert venues you need to visit in the US!
The Hollywood Bowl
Los Angeles, CA
This iconic amphitheater has been around since 1922 and offers breathtaking views of the Hollywood Hills. Its shell design and exceptional acoustics make it one of the best open-air venues in the world. The Bowl hosts concerts, movie nights, and music festivals that attract thousands of visitors every year.
2023 Summer Events at The Hollywood Bowl
The Hollywood Bowl has a huge number of events coming up this summer season. There is plenty of variety, so there's sure to be a show that suits your fancy!
Some upcoming events at this amphitheater include:
Mariachi USA on June 3
Janet Jackson: Together Again on June 10
Hollywood Bowl Jazz Festival June 17–18
King Gizzard & The Lizard Wizard on June 21
Jill Scott on June 22
Harry Potter and the Deathly Hallows Part 2 in Concert on June 24
The Game Awards 10-Year Concert on June 25
Snoop Dog & Friends June 27th–28
Louis Tomlinson: Faith in the Future World Tour 2023 on June 30
July Fourth Fireworks Spectacular with the Beach Boys July 2–4
A Midsummer Night's Dream with Dudamel on July 6
Camping Near the The Hollywood Bowl
Unfortunately, The Hollywood Bowl does not have onsite camping options. That said, there are plenty of campgrounds in the LA area, so parking your rig nearby shouldn't be a problem.
Hollywood RV Park is one of our favorite campgrounds in the area. This park is as close as you can get to the city's many attractions while staying in an RV. It features full hookups, cable TV, Wi-Fi, a gym, a dog run, and more, so you can feel completely comfortable during your stay.
Rent an RV near The Hollywood Bowl!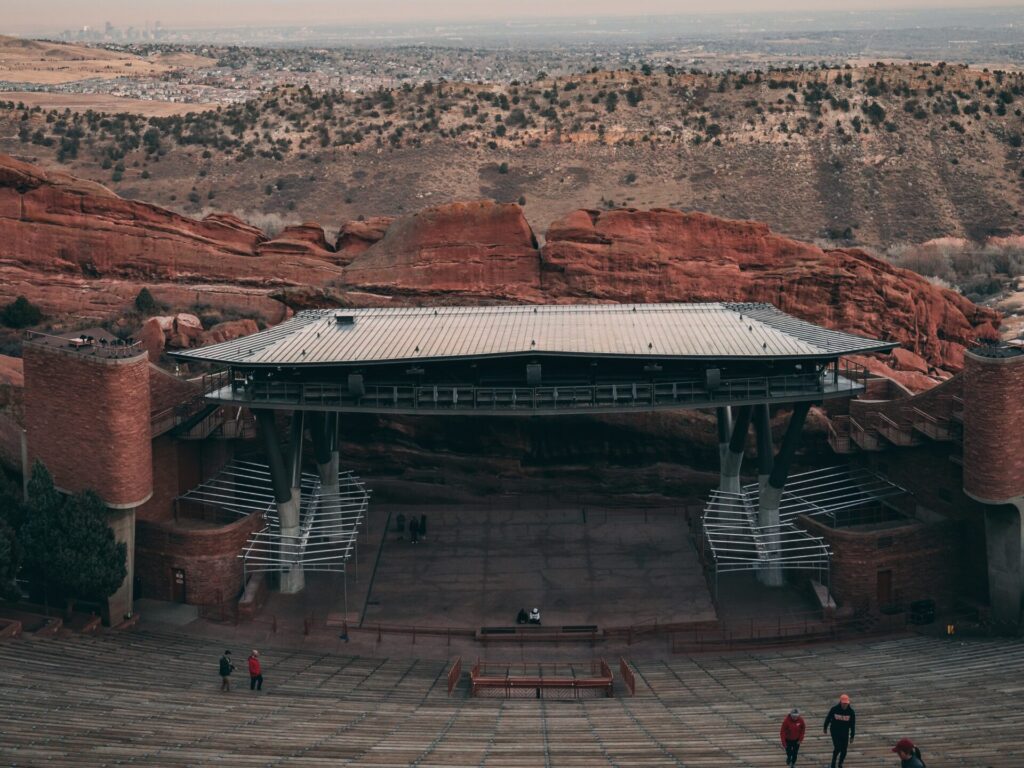 Red Rocks Amphitheatre
Morrison, CO
Carved out of natural red sandstone, the Red Rocks Amphitheatre is one of the most gorgeous outdoor concert venues. Located near Denver, it offers an unforgettable audiovisual experience. The 9,525-seat amphitheater is surrounded by towering rock formations and boasts excellent sound quality.
2023 Summer Events at Red Rocks Amphitheatre
Wondering what's going on at the Red Rocks Amphitheater this summer? A lot! Below we've put together a list of some of the amazing events you can expect at this awesome venue this season:
Film on the Rocks outdoor movie events
Lord Huron May 31–June 1
Michael Franti & Spearhead June 2
Joe Russo's Almost Dead June 3–4
Yeah Yeah Yeahs June 5
Quinn XCII, Arizona & Julia Wolf June 6
King Gizzard & the Lizard Wizard June 7–8
Brit Floyd June 9
Big Head Todd and the Monsters June 10
Many, many more daily concerts and events!
Camping Near the Red Rocks Amphitheatre
Okay, but where do you stay when visiting Red Rocks Amphitheater? The answer is always to take an RV and camp, but this amphitheater doesn't have an onsite campground. Fortunately, there are plenty of other camping options nearby.
Our top pick is Bear Creek Lake Park Campground. This city-run park is located just outside of Morrison, meaning easy access to the amphitheater as well as the many other nearby attractions. Partial hookups are available and there are toilets in the campground, as well as a dump station.
Rent an RV near Red Rocks Amphitheater!
Greek Theatre
Berkeley, CA
The Greek Theatre at the University of California, Berkeley, is a stunning 8,500-seat amphitheater modeled after the ancient Greek theater of Epidaurus. It is known for its superb acoustics and picturesque setting in the Berkeley Hills. The Greek Theatre hosts concerts, plays, and other events during the summer season.
2023 Summer Events at Greek Theatre
Summer events at Greek Theatre are plentiful and varied. This is perfect because it means there is something for everyone who wants to check out this amazing amphitheater. Some of our favorite upcoming summer events are listed below:
Yeah Yeah Yeahs on June 10
Seven Lions on June 16
John Legend on June 17
Louis Tomlinson on June 29
Charlie Puth on July 6
Jason Mraz and His Superband on July 19
Big Thief on August 8
Young the Giant on August 17
Fleet Foxes and My Morning Jacket August 18–19
Weezer on August 24
…and many, many more events!
Camping Near Greek Theatre
Greek Theatre is another amphitheater that does not offer onsite camping. So what's an RVer to do? Find offsite camping nearby, of course! Don't worry, there are options.
Anthony Chabot Regional Park Campground is our favorite nearby campground. This lovely little campground features affordable camping fees, full hookups, and easy access to the amphitheater and other local attractions.
Rent an RV near Greek Theatre!
Gorge Amphitheater
George, WA
Since its 1986 opening, the Gorge Amphitheater has made its mark on the world. The theater is located near the beautiful Cascade Mountains, which make for an incredible backdrop to any concert or performance. It can accommodate up to 27,000 visitors, and because the venue often hosts high-profile performances, all of that space is often needed.
2023 Summer Events at Gorge Amphitheater
Gorge Amphitheater has an awesome lineup for summer of 2023. No matter what kind of event you're looking for, Gorge Amphitheater has something for you. Just be sure to grab your tickets before they're gone!
Brandi Carlile's Echoes Through the Canyon June 9–10
Beyond Wonderland June 17–18
Dead and Company July 7–8
Bert Kreischer's Fully Loaded Comedy Festival July 15
Above and Beyond July 21–23
Boygenius July 29
Watershed Festival August 4–6
…and more!
Camping Near the Gorge Amphitheater
One of the cool things about the Gorge Amphitheater is the fact that you can camp onsite. Pack up the RV and head straight for the amphitheater, where you can make yourself at home for a few days!
The campground at Gorge Amphitheater has potable water, hot showers, and portable restrooms available to campers. There is a convenience store onsite, and 24-hour security means you can rest assured you are safe. You do need an event ticket to camp, so be sure to buy yours before you head out.
Want something even better? You can have more amenities and less hassle with an RVshare event package. RVshare has several event packages for the festivals and concerts that will be happening at Gorge Amphitheater this season. These all-inclusive packages include an RV rental, a campsite at the very nearby Wildhorse Campground with electric hookups, water servicing, a bag of ice and credit at the campground coffee shop, merch, and more!
Tanglewood Music Center
Lenox, MA
The Tanglewood Music Center is located in the Berkshires region of Massachusetts and features a stunning outdoor amphitheater that can seat up to 5,000 people and is one of the best amphitheaters around. It is the summer home of the Boston Symphony Orchestra and presents a wide range of classical, jazz, and popular music concerts.
2023 Summer Events at Tanglewood Music Center
Wondering what you can expect from Tanglewood Music Center this summer? There are several fantastic performances to look forward to. Check out the events listed below to see if something suits your fancy, or head straight to the amphitheater website for more info:
Wait Wait… Don't Tell Me! with Special Guest Dorinda Medley on June 22
Steve Miller Band with Very Special Guest Bruce Hornsby & the Noisemakers on June 23
Elvis Costello & The Imposters with Very Special Guests Nick Lowe & Los Straitjackets on July 1
Robert Plant and Alison Krauss with Very Special Guest JD McPherson on July 2
James Taylor July 3–4
Opening Night at Tanglewood on July 7
Ragtime: The Symphonic Concert on July 8
Andris Nelsons conducts Brahms, Habibi and Montgomery featuring Julia Bullock, soprano and Hilary Hahn, violin on July 9
…and more!
Camping Near the Tanglewood Music Center
You may not be able to camp onsite when visiting Tanglewood Music Center, but you can certainly stay nearby in your RV. This is a beautiful place to do some camping during the summer months, and you definitely won't regret making your visit to this amphitheater a camping adventure.
Bonny Rigg Campground is one of the best places to camp nearby. This is a quiet campground with water and electric hookups. There is a dump station onsite, and a swimming pool is available for those who need to cool off during the summer months.
Rent an RV near Tanglewood Music Center!
Merriweather Post Pavilion
Columbia, MD
This legendary venue in Maryland opened in 1967 and has since hosted some of the most iconic names in music, including The Who, Janis Joplin, and Jimi Hendrix. The Merriweather Post Pavilion features a unique design with a tent-like roof that can be raised or lowered for the perfect acoustics for any outdoor concert.
2023 Summer Events at Merriweather Post Pavilion
The summer lineup at Merriweather Post Pavilion is seriously phenomenal. If you don't find something on the summer calendar to suit you, we can't imagine what it is you're looking for. Here are some of the awesome things you can expect from this venue this season:
Capital Jazz Fest June 2–4
Noah Karan: The Stick Season Tour on June 9
Young the Giant with Milky Chance on June 10
Re:Set Concert Series June 16–18
Boygenius on June 16
Weezer – Indie Rock Road Trip on June 23
Dave Matthews Band on June 24
The Cure on June 25
Shania Twain: Queen of Me Tour on June 27
Luke Bryan: Country on Tour 2023 on July 7
The Revivalists + The Head and the Heart with Jaime Wyatt on July 8
Counting Crows: Banshee Season Tour with Dashboard Confessional on July 12
Noel Gallagher's High Flying Birds & Garbage on July 13
Big Time Rush: Can't Get Enough Tour on July 14
…and more!
Camping Near the Merriweather Post Pavilion
No, you can't camp at Merriweather Post Pavilion. That said, you can totally park an RV nearby and stay in complete comfort as you enjoy the music festivals and concerts offered at this incredible venue.
The Hollofield Area Campground in Patapsco Valley State Park is a great place to stay while enjoying Merriweather Post Pavilion. This is a basic campground with electric hookups at the campsites, potable water, and a dump station. It offers a great escape into nature while still putting you right by the amenities of the city.
Rent an RV near Merriweather Post Pavilion!
Blossom Music Center
Cuyahoga Falls, OH
Owned and operated by the Cleveland Orchestra, the Blossom Music Center is a beautiful 5,700-seat amphitheater surrounded by 800 acres of parkland. It offers stunning views of the Cuyahoga River and hosts a variety of concerts and performances throughout the summer season.
2023 Summer Events at Blossom Music Center
Summer events at Blossom Music Center are already in full bloom! There are tons of different kinds of events, meaning finding something you will enjoy at this amazing venue is a cinch. Here are some of our favorites:
Louis Tomlinson on June 1
Dierks Bentley: Gravel & Gold Tour with Jordan Davis & Molly Tuttle on June 3
The Cure on June 11
Matchbox Twenty & The Wallflowers on June 13
Weezer, Modest Mouse & Momma on June 16
The Used & Pierce the Veil on June 17
TLC, Shaggy, En Vogue & Sean Kingston on June 21
Eric Church, Ashley McBryde & The Red Clay Strays on June 24
Robert Plant & Allison Krauss on June 28
Shania Twain on June 30
Yellowcard, Mayday Parade, Story of the Year, & This Wild Life on July 12
Big Time Rush, Max & Jax on July 17
Fall Out Boy, Bring Me The Horizon, Royal & The Serpent, and CARR on July 18
…and more!
Camping Near the Blossom Music Center
Cuyahoga Falls is a beautiful place to go camping, so it really just makes sense to take an RV when you visit Blossom Music Center. Unfortunately, you cannot camp at the music center, but you can camp nearby.
Silver Springs Campground is an excellent place to call home while you explore Cuyahoga Falls. This is a small city-run campground with potable water and a dump station. There are no hookups at the sites so you will need to be prepared to dry camp, but the price and location make this a great option nonetheless.
Rent an RV near Blossom Music Center!
Wolf Trap National Park for the Performing Arts
Vienna, VA
The Wolf Trap National Park for the Performing Arts is a fantastic cultural venue in Northern Virginia that features three separate performance spaces, including a one of the best amphitheaters, an outdoor performance venue that can hold up to 7,000 people. It presents music, dance, theater, and other events year-round.
2023 Summer Events at Wolf Trap National Park for the Performing Arts
As you might expect from such a venue, Wolf Trap National Park for the Performing Arts has an amazing lineup of performers for the 2023 summer season. The concerts below are just some of the amazing things happening at this spot this year:
John Legend June 2–3
Charlie Puth on June 4
Indigo Girls on June 7
Ms. Lauryn Hill on June 9
SOJA on June 10
Buddy Guy on June 11
Kenny Loggins: This Is It! June 14–15
Broadway in the Park June 16
Trombone Shorty & Orleans Avenue Ziggy Marley June 17–18
Straight No Chaser on June 21
Steve Miller Band on June 22
Charlie Wilson on June 23
Brandi Carlile June 24–25
Tedeschi Trucks Band June 27–28
Robert Plant & Allison Krauss on June 29
Marisa Monte on June 30
Diana Ross on July 1
Tori Amos on July 5
National Symphony Orchestra: The Planets in HD on July 7
National Symphony Orchestra: Star Wars: Return of the Jedi in Concert on July 8
UB40 on July 9
…and many, many more!
Camping Near the Wolf Trap National Park for the Performing Arts
Yes, Wolf Trap National Park for the Performing Arts is an NPS site, but unfortunately, that does not mean you can camp there. Still, there are camping options near the park, so you can totally take an RV on your adventure to this amazing NPS site.
One of the best places to camp while visiting Wolf Trap is the Lake Fairfax Park Campground. This county-run campground is small, clean, affordable, and in an excellent location. Amenities include electric hookups, water, and a dump station, as well as restrooms with flush toilets and showers.
Rent an RV near Wolf Trap National Park for the Performing Arts!
Germania Insurance Amphitheater
Austin, TX
The Germania Insurance Amphitheater (formerly Austin360 Amphitheater) is a state-of-the-art venue located at Circuit of The Americas, an international motorsports and entertainment complex. It offers seating for up to 14,000 people and features a cutting-edge sound system and a massive video screen that enhances the concert experience.
2023 Summer Events at Germania Insurance Amphitheater
Want to know what's up at the Germania Insurance Amphitheater this summer? You've come to the right place! Below, we've put together a list of upcoming events at the theater. We're sure you'll find one that you love!
Weezer: Indie Rock Road Trip on June 8
Garbage & Noel Gallagher's High Flying Birds on June 18
Peso Pluma on July 12
Slightly Stoopid on July 22
Taking Back Sunday on July 26
Steve Miller Band on July 27
Young the Giant with Milky Chance on July 28
Eric Church on July 29
The Offspring on August 11
Boy George and the Culture Club on August 12
Snoop Dogg on August 18
…and more!
Camping Near the Germania Insurance Amphitheater
Germania Insurance Amphitheater is one of the best amphitheaters for RVers because the venue offers RV camping onsite. You can choose to park in one of the sites at the Circuit of the Americas campground or do some dry camping on the amphitheater grounds (during select events).
The Circuit of the Americas campground offers full-hookup sites, a restroom and laundry room, Wi-Fi and cable TV, and even a swimming pool. It's the perfect place to relax after an exciting event, and the location truly cannot be beat!
Rent an RV near Germania Insurance Amphitheater!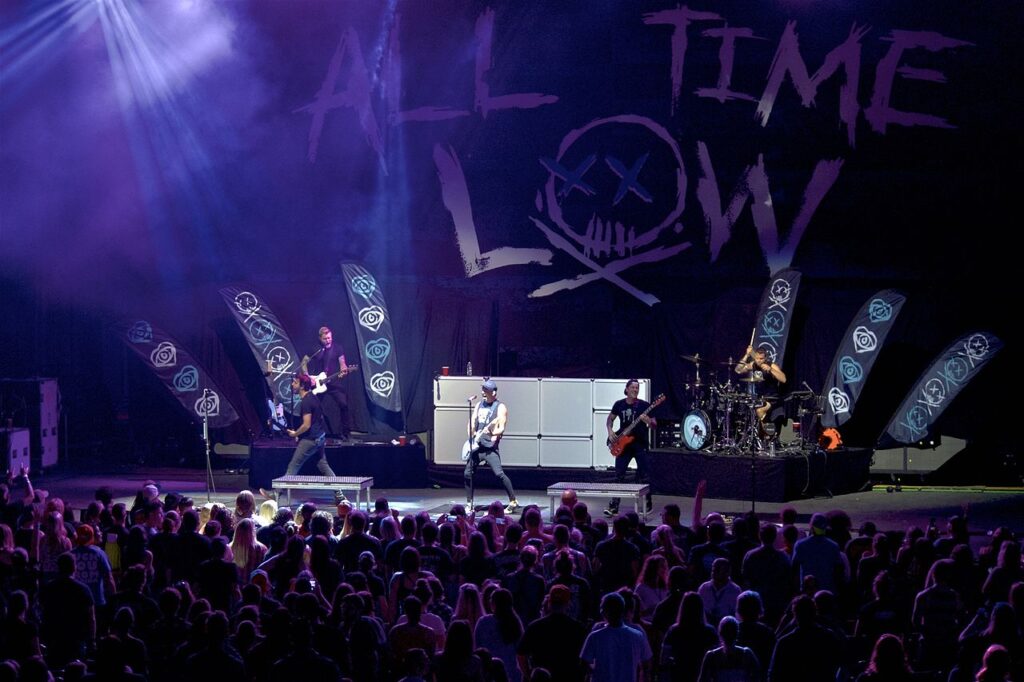 Saratoga Performing Arts Center
Saratoga Springs, NY
Last on our list of the best amphitheaters, this venue is located in upstate New York is part of a 2,400-acre park that includes mineral springs, hiking trails, and picnic areas. The Saratoga Performing Arts Center hosts more than 70 events each year, including classical music concerts, ballet, dance, and popular music shows.
2023 Summer Events at Saratoga Performing Arts Center
Hoping to learn about what to expect from Saratoga Performing Arts Center this year? This is the article for you. We've compiled a list of upcoming events that you can scroll through to see what piques your interest:
TLC & Shaggy with En Vogue and Sean Kingston on June 16
Dead & Company June 17–18
Desmond Kennedy on June 19
Saratoga Jazz Festival June 24–25
Tedeschi Trucks Band on July 1
Tears for Fears on July 2
Big Time Rush on July
Counting Crows on July 5
An Evening With Goose on July 7
Noel Gallagher's High Flying Birds & Garbage on July 8
Kidz Bop on July 9
Dave Matthews Band July 14–15
Jason Aldean on July 16
…and more!
Camping Near the Saratoga Performing Arts Center
Unfortunately, this is another of the best amphitheaters that does not allow overnight camping. The good news though? You can definitely find camping nearby, so don't give up on the idea of RV camping during your music getaway just yet!
McConchie's Heritage Acres Campground is located near Saratoga Performing Arts Center and is a lovely little escape. The sites include 30-amp power and water is available, as are a dump station, restrooms with showers, and a laundry room. There's even a swimming pool!
Rent an RV near Saratoga Performing Arts Center!
So, there you have it—the 10 best amphitheaters in the US! Whether you're a fan of classical music, rock, pop, jazz, or something else, these venues offer something for everyone.
Don't miss the chance to experience live performances in these incredible outdoor concert venues and create memories that will last a lifetime. Rent the perfect rig for your family, reserve your campsite, and get ready for the trip of a lifetime when you visit one of these amazing amphitheaters.