Travel Inspiration
Last updated on November 4th, 2022. Originally published on April 2nd, 2022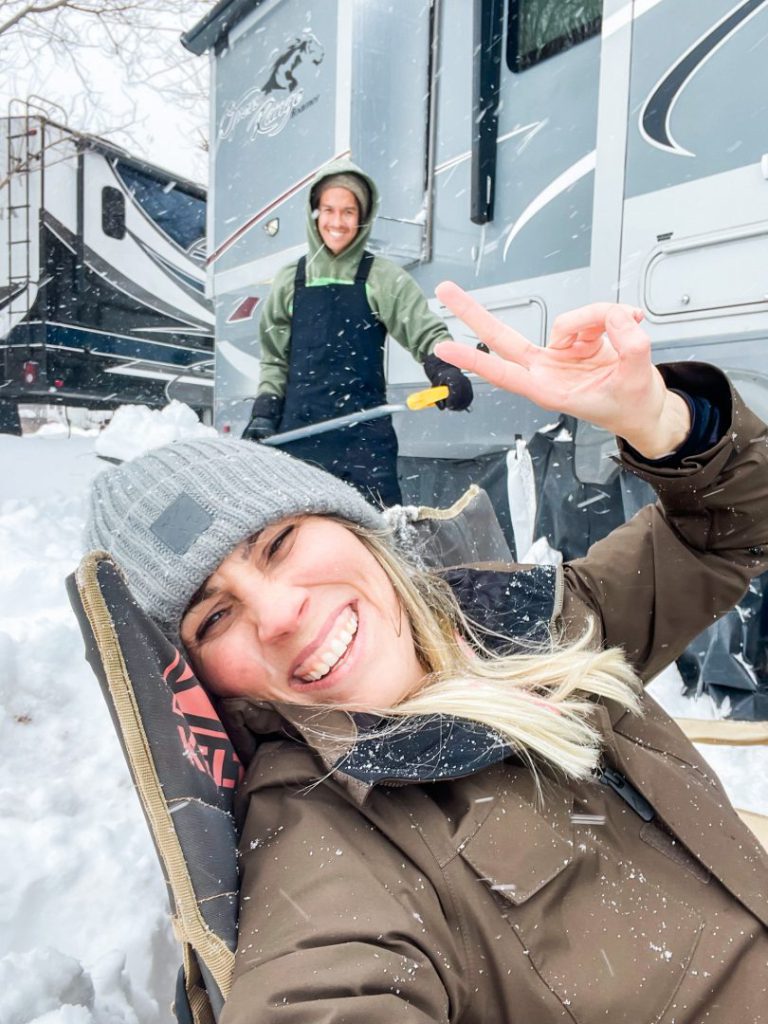 When most people think of Utah, they picture the magnificent national parks like Zion and Bryce Canyon. And while there's no doubt that these parks are worth a visit, there's another side to Utah that often gets overlooked – the state's amazing ski resorts. Park City, for example, is one of the most popular ski destinations in the country, and it's just a short drive from Salt Lake City. Whether you're looking to hit the slopes or just enjoy the snow-capped mountains, Utah is the perfect place to do it. And what better way to experience all this than in an RV? You can enjoy all the comforts of home while still being surrounded by nature.
Why Park City?
Whether you're interested in winter sports or more fair-weather activities, Park City, Utah is a destination all to its own. The former sleepy town of less than ten thousand residents blew up after hosting several events of the 2002 Winter Olympics. Today, Park City is a world-renowned ski destination with over seven thousand acres of terrain. It's also home to the United States Ski Team and was the site for the 2019 International Ski Federation's World Championships.
If you're planning on RVing to Park City, here are a few things you should know. Even though the median home price in Park City rose to $2.9 million in late 2021, the city and immediately surrounding area are actually quite RV friendly. The big box stores surrounding Park City proper, host several RVs nightly. Due to the rising costs of homes in the area, many of the seasonal workers reside in camper vans and small RVs throughout the area. The Sinclair fuel station at the intersection of I-80 and Highway 40 offers competitively priced fuel, pump DEF, and propane refills.
Where to stay?
There are several RV parks in the Park City surrounding area that offer full hookups and dry camping, but only 2 that stay open year round. The RV park near Kimball Junction – Park City RV Resort is one of the most popular, but it does fill up quickly in peak season. They also offer paid dump services for those passing through and it's conveniently located just off the I-80 exit just west of town. If you're planning on visiting during the winter months, be sure to make your reservations early. At just under $700/month + utilities, its a steal for being just a 10-15 minute drive to the base of Canyons Village for skiing and snowboarding.
The other RV Park – River's Edge Campground – is in nearby Heber City, UT. It's competitively priced and under a 30 minute drive to Park City Mountain Resort. For those looking for a more primitive camping experience, there are several BLM (Bureau of Land Management) areas nearby that offer dry camping.
What to do?
The obvious Park City trappings are skiing and snowboarding, but other winter activities like snowshoeing and cross country skiing are plentiful here. Coming here for the warmer months? Mountain biking is one of the most popular activities here with riding trails all over the city. Park City is actually the only IMBA (International Mountain Bike Association) Gold-Level Ride Center in North America. Speaking of biking, paved trails weave throughout the city offering bikers and pedestrians easy access to all of the surrounding communities.
Body a little sore from all that shredding? There are plenty of little shops and artists' studios to walk through and enjoy. Although Utah doesn't exactly champion its liquor sales, there's no shortage of ski bum pubs and microbrews to enjoy. As far as restaurants go, fine dining is in season year-round, but be prepared to pay the PC premium. Some of our favorites include Prime Steakhouse, Zoom, and Wahso. We did find Park City to be lacking authentic ethnic food, but don't fret – a robust Chinese community exists just 30 minutes into downtown Salt Lake City.
Looking for something fun off the beaten path? We loved Escape Room Park City. They have multiple puzzle rooms with intricate clues and fascinating reveals throughout. Woodward Park City – an indoor/outdoor action park is a must see. It boasts its own terrain park, snow tubing, indoor parkour, indoor pump track, and trampoline park! If thrill rides are your thing, give dog-sledding a go! There are several local vendors offering partial/full day dog sled adventures.
Pet Friendly Park City
Bringing your four-legged pal along to Park City? This is by far one of the most dog-friendly cities we've ever spent time in. Adjacent to the Park City Library is an off-leash dog park with no less than 3-4 dogs at any given moment. Several of the city parks we walked, also had "unofficial" off-leash rules.
If there's anything that can't be found in Park City, you're only a short drive down Parley's Canyon to Salt Lake City – where literally anything you could need can be located. Several RV parts stores including Camping World can be found there. Did I mention there's a low-key chinatown there?
Whether you're RVing to Park City for the winter season or the summer, there's no shortage of things to do. In the winter, hit the slopes at one of Park City's world-class resorts like Deer Valley Resort or Park City Mountain. If you're visiting in the summer, take advantage of the city's proximity to several national parks like Zion National Park, Bryce Canyon National Park, and Capitol Reef National Park.
Have you RV'd to Park City? What are your favorite things to do in the area? Let us know in the comments below! Happy RVing!
About the Author
We are the Axness family; Nate, Christian, Ella, and Andersen. Five years ago, we sold everything, quit our nine-to-fives, started working for ourselves, and began traveling full-time in our RV. Our goal in sharing our story with you is to encourage you in your pursuit of long-term family travel.
We have been so positively impacted by nomadic life and believe that travel has not only brought us closer together as a family but also made us better citizens in our ever-changing community. We look forward to speaking life into your dreams of travel, helping you navigate the difficulties that travel can inevitably bring, and inspire you to embrace the RV lifestyle. Follow along with our adventures on Instagram @ProjectTrek.