Industry News
Last updated on November 13th, 2023. Originally published on November 11th, 2022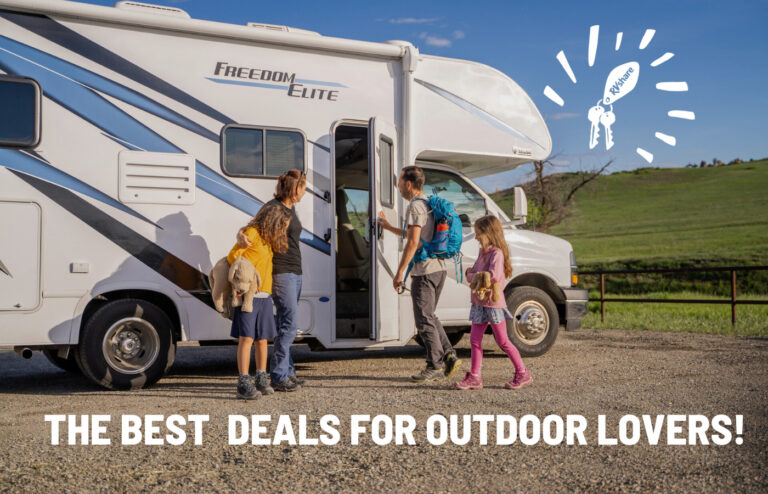 We all love a good deal, and when some camping gear tends to run really expensive – looking at you tents – Black Friday is a great time to stock up! Here we are collecting some of our favorite items that are on sale now. Whether you've been eyeing a new coffee machine for yourself, or are planning to stick some reusable utensils in everyone's stockings this year, there's something for everyone on this list!
This post contains affiliate links. RVshare may receive compensation if you make a purchase after clicking on a product link. Prices can change quickly and we are doing our best to keep up!
Experiences
This year, give the gift of adventure, choosing experiences over material gifts. The holidays remind us how valuable it is to spend quality time with the ones we love, so why not gift opportunities to create long-lasting memories?
These are two special holiday deals that are sure to bring about adventure, connection, and treasured experiences. 
An RV trip is the perfect way to gift experiences. Picture it: cruising along scenic routes, discovering hidden gems or national parks, and sharing unforgettable moments around the campfire. These experiences create bonds that last a lifetime. 
Renters who book between 11/9/2023 and 11/30/2023 will receive a gift card based on the value of your booking. Trips that are under $1,000 will earn a $25 gift card and over will receive $50. Claim your gift card and find more information here!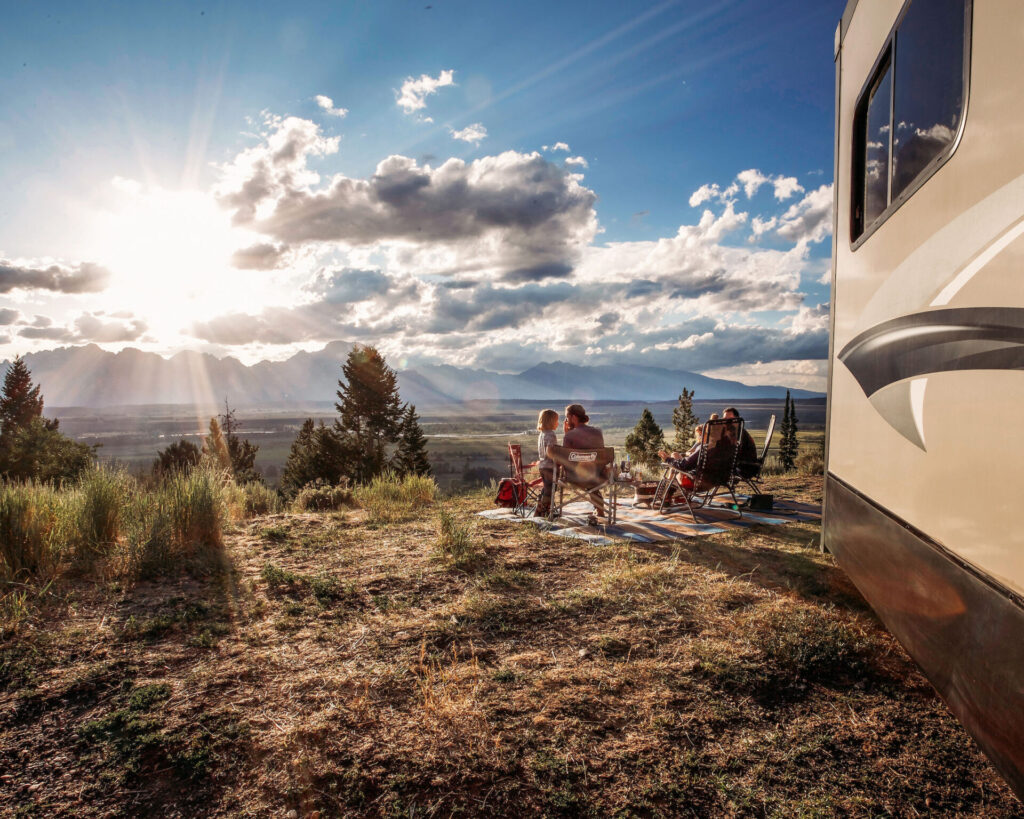 Harvest Host
With over 4,000 locations across North America, Harvest Host makes it easy to gift unique and everlasting experiences. Harvest Hosts members have access to unlimited overnight stays in some of the most unique locations. Spend the night at a museum, wake up to beautiful vineyards, visit unique attractions, or enjoy a local brewery. There is something for everyone to enjoy. 
Save 30% on your first year of membership* or use this deal to gift a year of membership to a friend. This deal is eligible when you purchase before 01/01/24 with the code HOLIDAYHH.
Outdoor Set-Ups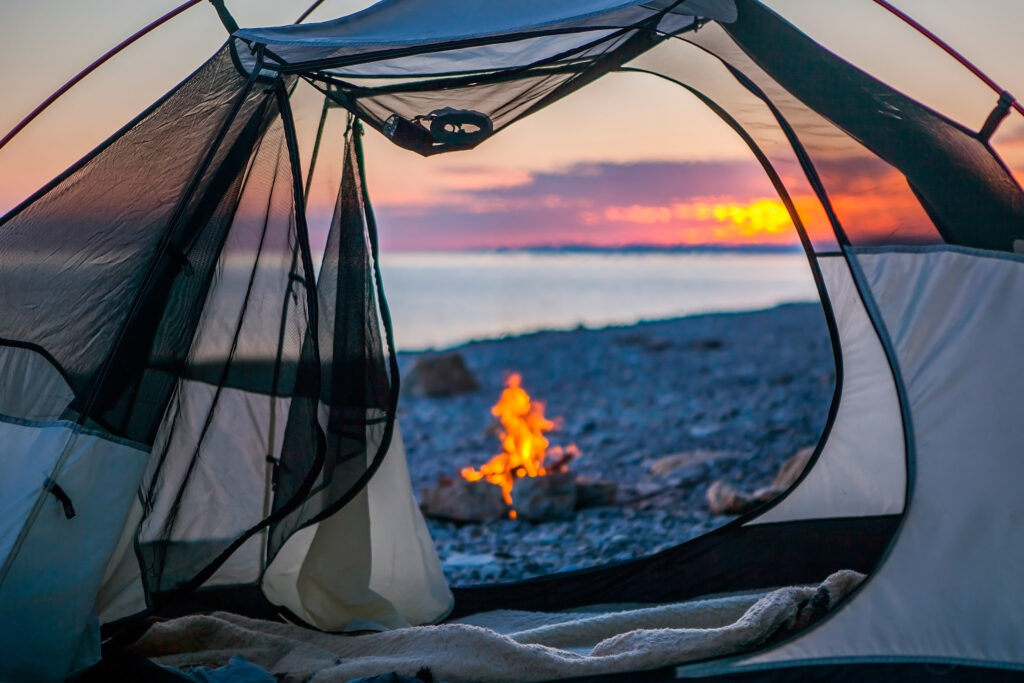 While we may prefer the comforts of a cozy warm RV when we camp (perhaps we're a bit biased?? hmm), we know that plenty of folks enjoy the occasional tent camping or backpacking excursion. For anyone looking to make their off-grid adventures a little comfier, these items should do the trick!
Dome Tent: This Ascen Orion tent sleeps 2, it's lightweight, and is perfect for backpacking trips.
Backpacking pack: This adjustable pack has what every hiker needs; it's lightweight with padded back support and is hydration compatible with an internal sleeve and hose port.
Sleeping bag: This sleeping bag with a mummy hood, innovative fiber fill, double-layer construction, and draft tubes that all work together to keep the warmth in.
Camping chair: Take in the views or relax with a book with a heavy-duty folding chair. Cup holders and a side pocket keep your essentials nearby.
LED lantern: This rechargeable lantern lasts up to 12 hours, is water resistant, and can also serve as a power bank for mobile devices in an emergency. 
Camping Chefs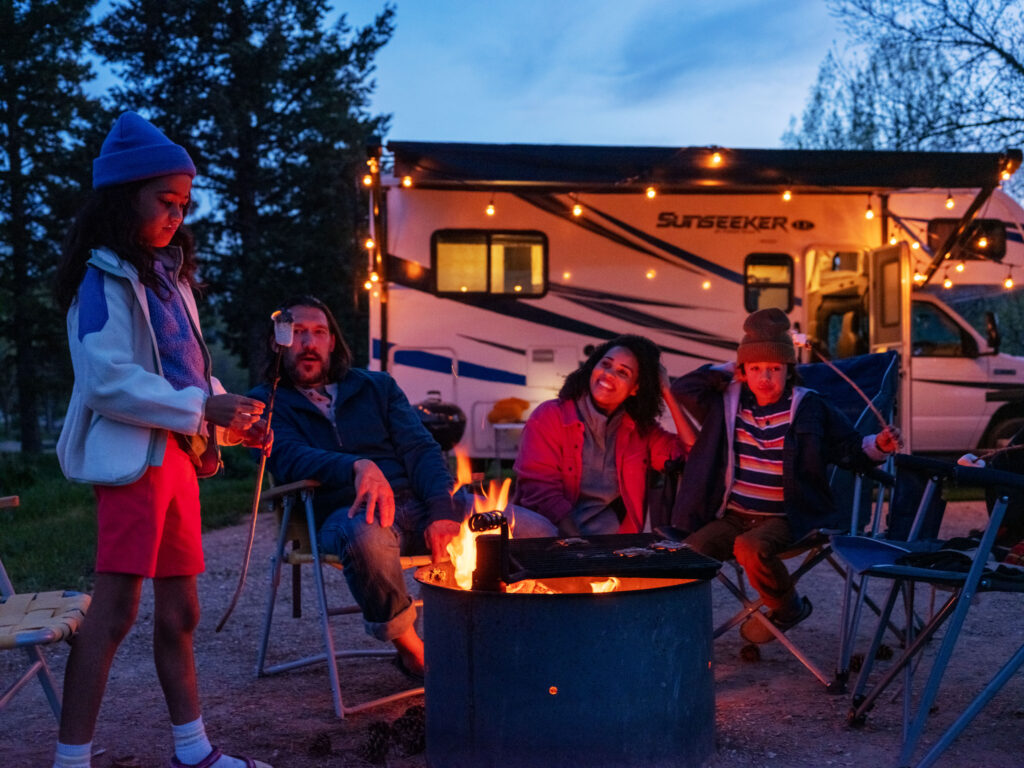 One of the most fun parts of camping is stretching your culinary skills beyond the kitchen. Campfire cobbler anyone? These items make cooking on your camping trip delicious and easy.
Cookware set: Pots, pans, dutch ovens, plates oh my! If your cookware is in desperate need of an upgrade, this set has something for all your cooking needs.
Stanley Pour-Over Set: If you can't give up your coffee mornings have no fear, this cute and compact coffee maker can easily fit inside your camper for a fresh cup any time.
Cooler bag: Whether you want a cold one stationed next to the grill, or something you can roll to the beach or your favorite picnic spot, this Igloo cooler keeps contents colder for longer with 25% more foam for insulation.
Propane stove: No matter what kind of camping setup you have, this stove will have you cooking up gourmet meals just about anywhere!
Endless Entertainment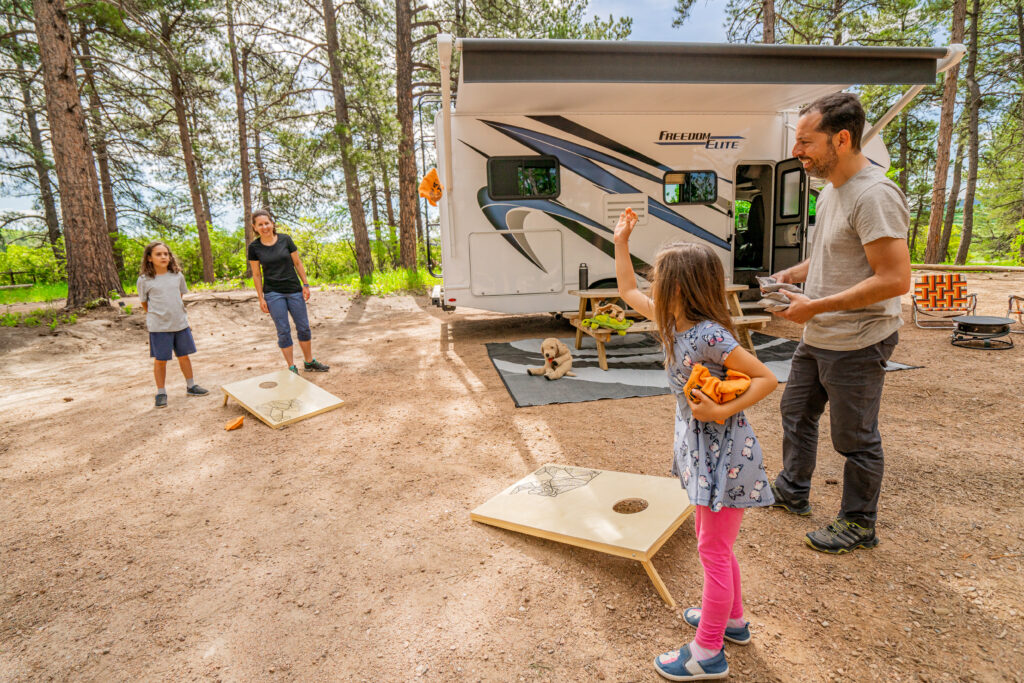 The whole point of camping is to unplug and spend some time in the outdoors. Keep it fun and get big savings with these 2023 black friday camper deals.
Portable speaker: Play some fun music, listen to your favorite podcast, or enjoy an audiobook as a family. This portable, waterproof speaker can be taken anywhere and wirelessly streams from any Bluetooth-enabled device.
Jumbo connect four: The connect four from your childhood made giant-sized. Kids and adults alike will have a blast playing this supersized iconic game.
Wireless headphones: Perhaps your family is on the louder side, and you can't imagine traveling without some peace and quiet. Enter wireless headphones. If you read our RVshare employee must-have travel item blog, you may have noticed headphones were quite popular among us for dealing with unwanted travel noise.
Pickleball Set: The new outdoor sport that is here to stay or take on the road with you! This portable set has everything you need to set up your pickleball court anywhere and get playing.
Ultimate Outdoors Apparel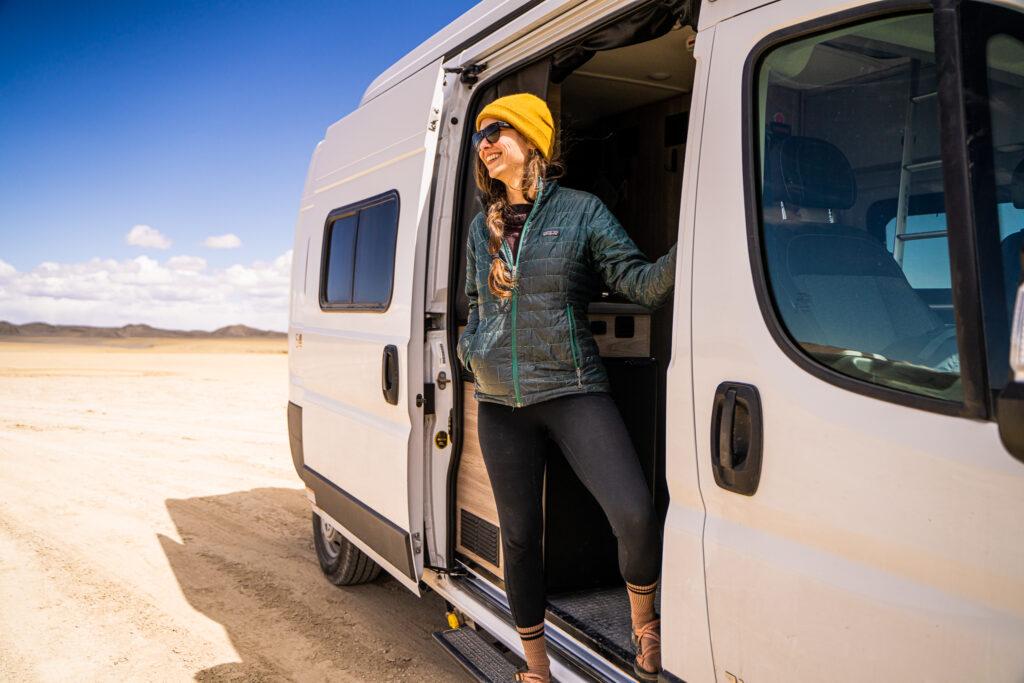 No one wants to be caught unprepared for the weather. Often when we camp, the temps can drop really quickly as soon as the sun goes down. Or a sudden downpour creeps up out of nowhere. These items will help keep you warm and dry. Black Friday is a great time to upgrade your closet at a fraction of the price.
Men's thermal jacket: Columbia is known for its high quality and this jacket is no exception. Designed for warmth and maximum breathability while moving in cold weather.
Women's quilted jacket: This Cotopaxy jacket is hooded, insulated, and warm to keep you toasty and bright on those brisk days.
Reversible Kids Jacket: REI has the little ones covered too. This jacket is waterproof, breathable, and seam-sealed to keep cold and wet out. And did we mention reversible?
For the Dogs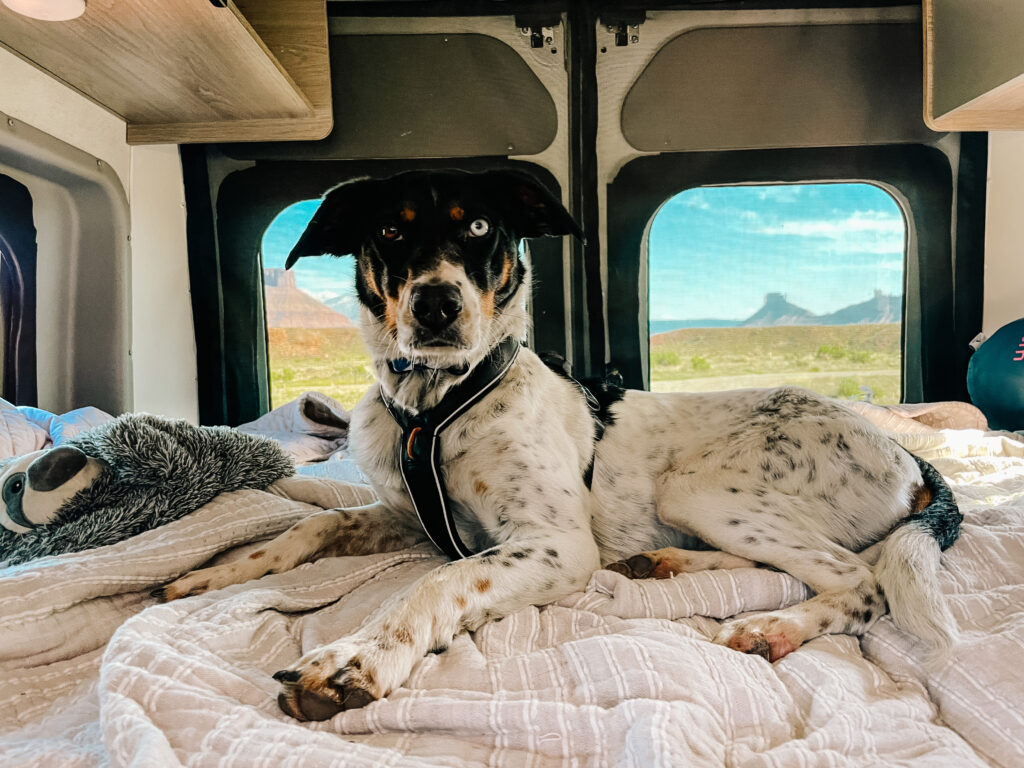 Dog bed: The pups deserve to be comfortable on their travels too! This calming pet bed is machine washable and made with pet-safe materials.
Collapsible dog bowl: If your furry friend loves a hike as much as you do, this bowl is a must. Pop it open anywhere and fill with food or water.
These 2023 Black Friday Camper deals are a great way to upgrade or add items that you've been wanting for a fraction of the price. Hope they encourage you to spend more time outdoors and we look forward to seeing you there!